On my summer 2021 trip to Iceland, I had the last night before heading into Greater Reykjavik in Akranes. Hotel Laxarbakki is located very close at the ring road and also persuaded my with appartment-style rooms and rather moderate pricing. Here is my full review.
Hotel Laxarbakki – Location & Access
Laxarbakki is located outside of Akranes, North of Reykjavik. The location of the hotel is actually really nice, as it is located right at ring road 1 with nice connections to route 51 and 47, which is a scenic drive around Hvallfjördur. There is sufficient parking in front of the hotel and in its premises.
The disadvantage is that the location is also a bit of remote. Especially if you want to you the cooking facilities, the nearest suitable shopping locations are in Akranes or in Borgarnes. You should thus not be too spontaeous in deciding what you actually like for diner if you cater yourself.
Hotel Laxarbakki – The Appartment
I booked a standard appartment, which has finally been located at the end of the main building. Booking.com gave me a price in Euro, which was roughly 92 EUR. Breakfast was an additional 15 Euro, the rate was a flex one.
The apartment was a bit of basic, but in fact really nice. The bedding is fine (and even had a puffin cushion which made me smile…), the work desk was good – but, of course, the well-equipped kitchen at the entrance is what finally makes the Laxarbakki rooms special. All necessary equipment is there, at least in limited numbers. You need to bring all ingredients with you (i.e. there is no oil/salt/pepper supply or similar). Last, but not least, relaxing on the balcony was really nice and peaceful as well – even though Route 1 is in rather short distance.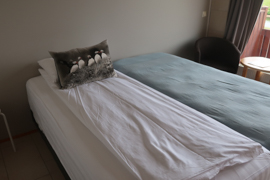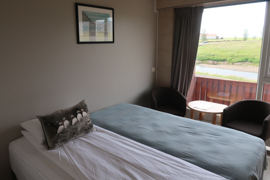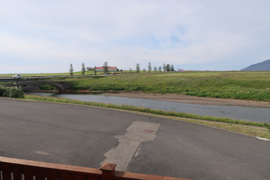 The bathroom with shower was really nice as well. The basic amenities as well as towels etc. have been provided. The rooms were fully serviced.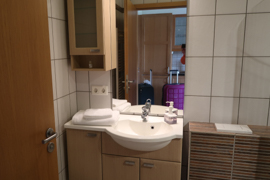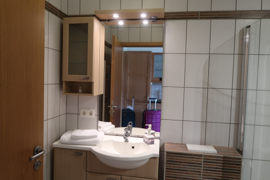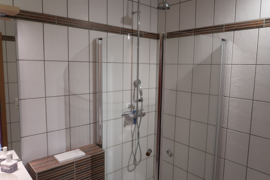 Hotel Laxarbakki – Breakfast / Food
In this review you will read so many good things about Hotel Laxarbakki – the breakfast, however, has really been a huge disappointment. Iceland is typically not the right country to have a huge variety to start the day – but even for Icelandic relations, this buffet was simply too poor. The breakfast felt to be managed by the father of the owners – this guy was significantly less hospitable compared to the lovely experiences I made during the afternoon and evening.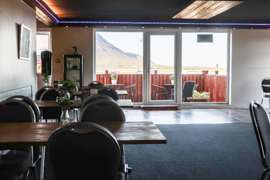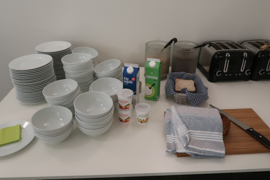 The dinner performance was such a contrast to that: The hotel offers a brief dinner menu with some fixed dishes and a meat, a fish and a vegetarian option of the day. I had a lovely cod stew, which was a great taste, even though I would have loved to have slightly more food. Nonetheless, the dinner experience has been really good. I did not take pictures of the food, unfortunately.
Hotel Laxarbakki – Services
Right next to my room (but outdoors) has been the lovely hot tub and sauna building. I could enjoy the relaxation after a long day on my own and really loved it. Great plus for Hotel Laxarbakki here. The WiFi connection worked sufficiently well.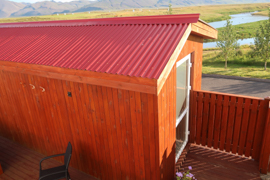 Hotel Laxarbakki – My View
There are a lot of good things about Hotel Laxarbakki. For example, there is the nice scenery, the great rooms (a nice value for money) and the friendly hosts. I loved to relax after a long travel day in the hot tub. In the other hand, the last thing which stays in my mind about my night there is the absolutely poor breakfast. Laxarbakki is a great place to stay a few nights (and care about breakfast on your own), even though you have to drive always some distance for the most popular destinations in the region. My rating is based on my hotel preferences and biases – depending on your needs you may come to a different conclusion.
Flyctory.com and Iceland
Here are all my postings related to Iceland:
Folk Music
Here are all Flyctory.com postings related to Folk Music: