After I had a lovely stay on my Four Countries, Four Trains trip in the Hilton Milan and this was just too pricey on that day, I went for a very budget location close to Milan Central Station (Milano Centrale): the price and the excellent location were the key arguments to go for Hotel Flora. I was especially curious as I had chosen the place for my original rail trip itinerary in May 2020, which had to be shifted due to Covid-19.
Hotel Flora – Location
If you step out of the main entrace gates of Milano Centrale and head straight with a touch of left, you just cannot miss Hotel Flora: it is really very close to the rail station – and in Via Napo Torriani, where it is located, it is also one of the first buildings on the right hand side.
The area around the hotel is excellent. There is a massive number of other hotels, but also a bunch of restaurant. Two blocks away, there is a quite well stocked Penny Express supermarket. Of course, there is also access to some of the train station facilities. Metro access is very close to the hotel.
Hotel Flora – Rooms
I booked a double room for single use, which was 65 Euro including breakfast. The room was not really large, but felt quite comfy. The bed was quite nice, the room featured sufficient areas to store your staff. I liked the large working desk (with mini bar) next to the window. The TV set was rather on the compact side, though.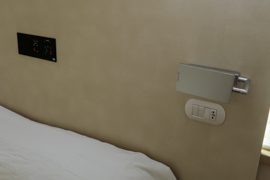 The bathroom felt compact as well. Like the room it was very clean, even featured a bidet (which is quite characteristic in Italy, though). Very basic amenities were available. It absolutely suited all my traveler's needs.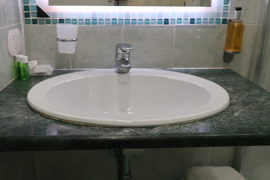 Hotel Flora – Breakfast
Like the whole lobby area of Hotel Flora, the breakfast are is really cute. Unfortunately, the breakfast performance was maybe the only really disappointing part of my stay. The staff was limited in English (but my Italian was just fine to have a wonderful large cappuccino). All additional food was packed food, a lot of sweet food and stuff like that. Might be that it was partially in order to easier be in line with Covid-19 regulations, but still a bit too thin.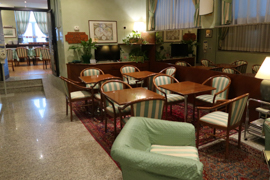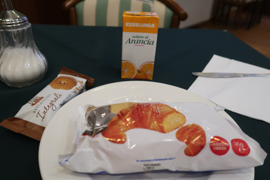 Hotel Flora – Service
Especially the reception staff was very welcoming. Even housekeeping spoke some English (after they recognized my limitations in Italian). The in-room WiFi was absolutely fine.
Hotel Flora – My View
Hotel Flora in Milan had a big chance to get a really good rating. It was a budget stay, but they did great in staff, in the room and with their awesome location. The breakfast performance was just too weak, unfortunately. It was still a very pleasing stay in this place. Especially if you are not a (hotel) breakfast person, this place might be perfect for a Milan stay for you. Good one!
Flyctory.com in Milan
Here are all postings related to Milan:
"Rides on Rail" Postings
Here is everything about trains, trams and other rail vehicles: