Even though Mannheim is not too much of a touristic highlight in Germany, it is a very important rail traffic junction: from the North, there are some key mainlines to Frankfurt Main Station and the Ruhrgebiet Region via Frankfurt Airport, while South of Mannheim Main Station the tracks split into routes to Stuttgart and Munich (South-East) and towards Switzerland (South). Thus, Mannheim Main Station is rather crowded. Hilton Garden Inn drives a hotel right next to main station – which thus always felt to be a very interesting stay. In February 2022, I had a look into the Hilton Garden Inn Mannheim.
Hilton Garden Inn Mannheim – Location
The hotel is in fact located right North of platform 1 (the Northernmost platform) of Mannheim main station. The walking time from the hotel doors to the platform is less than two minutes. In case you arrive by car, you may also use the parking garage for a charge. The main station offers all kinds of local, regional, national and international connections, as mentioned above.
You won't find proper sights around the main station area of Mannheim, but, at least, it provides a nice range of shopping and dining opportunities. The main shopping district of the town is in walking distance.
Hilton Garden Inn Mannheim – Room
I booked a King Room at a flex rate of 95 Euro. Breakfast has been included due to my Hilton Honors Diamond status. I received a King Deluxe Room as on the upper floor as an complimentary upgrade. In addition, I have been really surprised that I could check in early at 9:00 hrs already. The room actually came with a nice size and a good view (even though Mannheim is not that much of a beauty from above). The design of the room felt very modern. The hallway are maybe had a bit too significant color contrasts – but overall, it was a really nice one.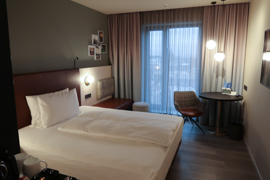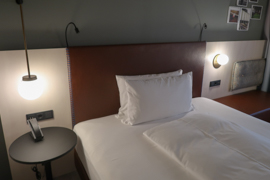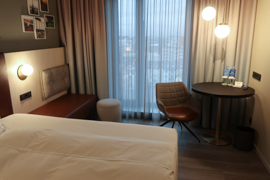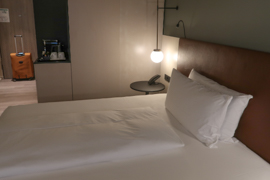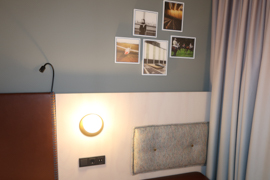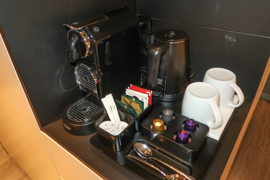 The shower bathroom was fine as well. The toilet felt a bit of narrow, therefor I liked the shower even more. Good experience.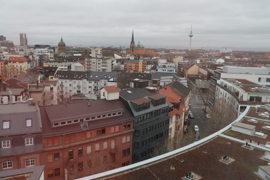 Hilton Garden Inn Mannheim – Breakfast
I had such a good one-night stay at the HGI – if only there wasn't the breakfast. Breakfast times were 6:00 to 10:30 hrs on weekends during my stay (until 10:00 hrs Monday to Friday). I arrived at the really nice restaurant at about 6:15 hrs. I waited some three to five minutes at the restaurant check-in, no staff around, just some guests already having their start of the day. I felt like I was at least 20 minutes too early for breakfast: the signs showing what is available in the buffet were not set up, there were quite some gaps in the buffet (e.g. scrambled eggs), you had to serve yourself on the coffee machine etc. Even when staff was in the kitchen, they did not care about the guests. Only the poor chef was trying to somehow save the situation.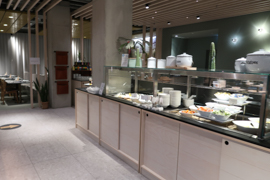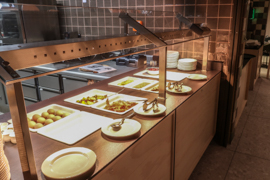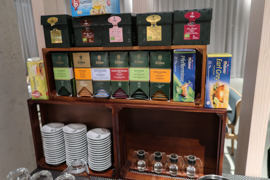 The selection was okay. It is a Hilton Garden Inn. Other HGI buffets in Germany like the one at Hilton Garden Inn Frankfurt City Centre were significantly better, for sure. I was wondering that the ads in the hotel elevator state dishes like French Toast, which was not in the cooked-to-order menu. The staff seemed to be really present about the time I left, which was around 6:55 hrs. Missing staff was likely also one factor that foreign guests ran around the buffet without a mask, which I felt was very unacceptable at these times in January 2022. Apart from that, it was not at all in line with the policies at that time, which required FFP2/KN95 masks in all public areas (the serving staff, by the way, wore ordinary medical masks).
Hilton Garden Inn Mannheim – Service
Apart from the parking garage, the hotel drives a small gym on basement level. I had not issue with the WIFi, which I highly appreciated.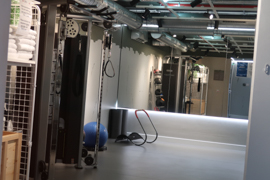 Hilton Garden Inn Mannheim – My View
I had a really good stay at the Hilton Garden Inn. Unfortunately, the breakfast issues prevent an excellent rating. Nonetheless, the hotel is an excellent choice if you want to go for a late / early rail trip.
Rail Station Hotel Reviews
Here are hotel reviews of places which are close to a main long-distance rail station:
Soccer-related articles
Here are all soccer-related postings on flyctory.com: