Doing some local attractions in the Papenburg region like the huge Meyer Werft shipyard, the Dat Otto Huus in Emden or the lovely Leeraner Miniaturland / Leer Miniature Land, my wife and I had one night in Papenburg in Northwest Germany in October 2020. We selected the hotel as it was the only local major hotel chain hotel (which I feel to have some advantages during the pandemic times) – on top of that, it allowed me to have my first ever review of a Park Inn hotel on Flyctory.com.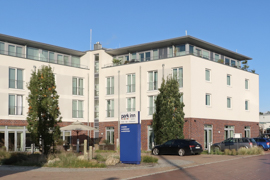 Park Inn Papenburg – Location
The hotel is located right at a channel in Papenburg. The location is very central, there are a lot of stores in walking distance – but still, the street as such was very quiet. The distance to the shipyard area was definitely very convenient.
As said, shopping is in easy walking distance. The hotel offers some parking in front of the hotel. There is a lovely fish restaurant right across the channel – which demands a short detour to catch a bridge to cross the water.
Park Inn Papenburg – Rooms
We decided to go for the posh option (apart from the very posh one, the proper suites) and went for a Junior Suite room, which was roughly 150 Euro including taxes and breakfast (refundable rate). I liked the design of the room with a central, rotatable TV set, but overall the room felt too narrow for this kind of an investment. However, the room was very clean and also extremely functional, so that there were a lot of different kinds of storage as well as nice seating and working facilities. The minibar was filled and all consumption was included to the price, which is a great feature while you are travelling, indeed. The room also featured a coffee/tea making facility based on discs. Matter of taste, but I enjoy some of the peers significantly more. The room featured a nice balcony as well.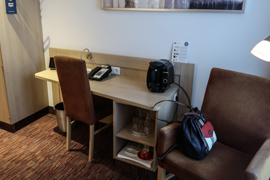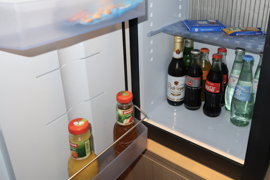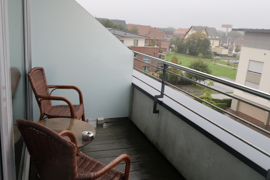 The bathroom was a pure shower bathroom, comparably compact, but again well designed and equipped with all necessary amenities. The Park Inn Papenburg overall did a good performance regarding the room – however, the value for money was a bit on the arguable side.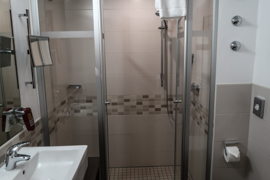 Park Inn Papenburg – Breakfast
The breakfast area and restaurant on ground floor is a real beauty, indeed. Even despite Covid-19 times, they had a good concept (including a good one-way system) and a huge selection of items. You also had a nice range of items, from "traditional" egg dishes to a lot of fruit and healthy choices. I felt the breakfast was really, really superb and overall much better than I did expect it to be initially. At the reception area, there is also a small kiosk for snacks.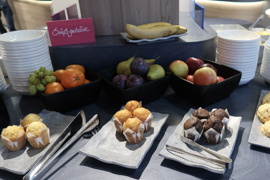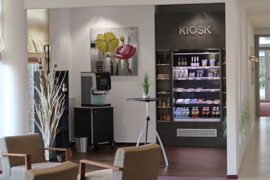 Park Inn Papenburg – Service
There is no reason to complain about the staff. Check-in, Check-out and all services including the staff at the breakfast area was really great and friendly. The WiFi connection in the hotel was also absolutely in the range you expect in a business hotel. The hotel features a fitness and spa area, even including whirlpools and a sauna. Unfortunately, these facilities could not be driven during our visit.
Park Inn Papenburg – My View
Finally judging about Park Inn Papenburg is very straightforward in my point of view: we had a really great stay, we felt welcome and the service exceeded our expectations. The only issue is finally the room – which is a good design, but just too compact. Even despite the great minibar and all the good service around, 150 Euro is quite an aggressive pricing for that room. On a business trip, I would definitely go there again – and hopefully enjoy sauna and whirlpool next time. For touristic reasons, it is up to you how much you are willing to pay. If you go with their prices, you will have a great time.
German Hotels
Here are all Flyctory.com postings dealing with hotels located in Germany:
Technical Museums – Other Postings
Here are all other Flyctory.com postings dealing with technical museums and exhibitions: