Oberhausen might not be regarded to be one of the most beautiful cities of the German Ruhrgebiet region – but their Christmas market is likely one of the most popular in the area. The reason: it is next to the Westfield Centro. The shopping mall, which opened its door in 1996, is still Germany's largest one. And: there is a lot of space, so that you also have a lot of potential for different festive experience. I visited the 2021 Christmas market under Covid-19 conditions.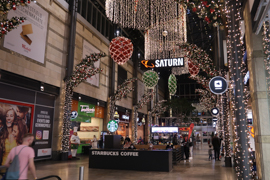 Centro Christmas Market – Location & Admission
The Westfield Centro is located at the Neue Mitte borough, which translates to "New City Centre" roughly. It is perfectly linked to the A42 motorway, which is just some two kilometres away. The shopping mall is driving a couple of free parking garages. For the market, parking decks 2, 3 and maybe 7 are the likely the best. You can also easily reach the mall by public transport (tram and bus services)
The 2021 Christmas market opened at 24th November 2021 and closes on 23rd December 2021. Monday to Friday opening times are 11:00 to 22:00 hrs, Saturdays 10:00 to 22:00 hrs and 11:00 to 21:00 hrs Sundays. Please be aware that the stores in the mall are closed on Sundays. Admission is free – the only control in 2021 is that you are either vaccinated or recovered from Covid-19 within the last half year. Times in future years are likely similar, with slight variation depending on the exact weekday Christmas is happening to be.
Centro Christmas Market – Atmosphere
The Christmas Market is located on the promenade side of the mall, which also faces the large arena (König-Pilsener-Arena, soon: Rudolf Weber-Arena) and a couple of restaurants. I personally like the wide aisles between the huts, especially in pandemic times – but you might also argue that narrower walkways give a touch of coziness. The design of the booths is typically very traditional with nice light installations. During evening times and on weekends, masks are mandatory – I could imagine that it is a bit tricky to have a step away from the crowds and consume your food, especially on the very popular Saturday and Sunday.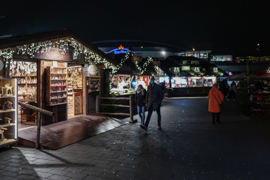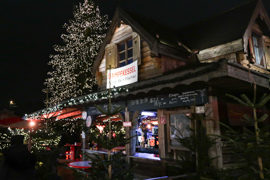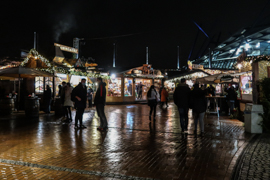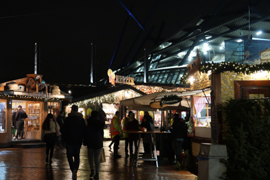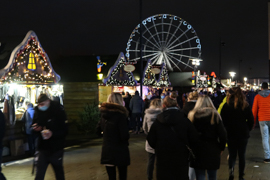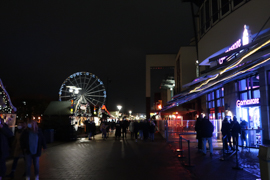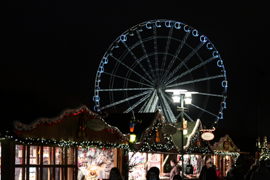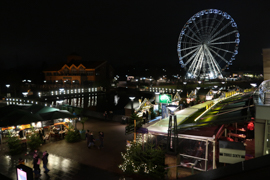 There are also some nice additional attractions on the Centro Christmas market grounds. In the pictures above, you saw the some 50 meters high Ferris wheel and the artificial sleighing hill, which is presented by one of the sponsors. There are also some kids' rides, if your smaller ones fancy to have a carousel trip. I also included some pictures of daylight times below. Christmas markets are, of course, somehow nicer to visit from dawn onward.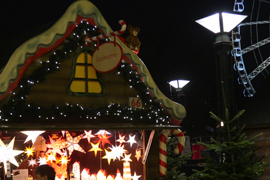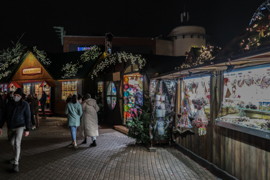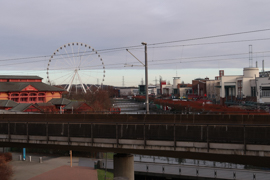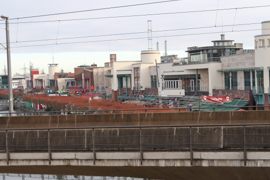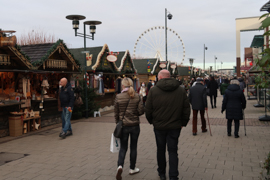 Centro Christmas Market – Eat & Drink
Overall the Christmas market at Oberhausen Centro has a nice balance between food sellers and handcraft (some markets more or less just have nutrition offers nowadays) as well as a good range of traditonal, but also more modern food. The classics are of course a Bratwurst (grilled sausage), a Glühwein (mulled wine) or items like flame-grilled salmon and candied almonds. There are plenty of ways to fill your stomach – or to raise your alcohol level, if you came with a driver.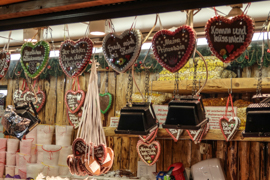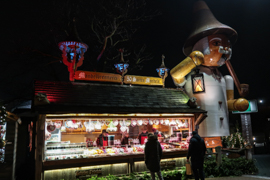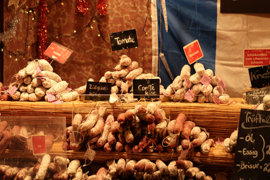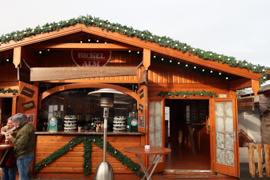 Centro Christmas Market – Shopping
The market offers a nice range of handcraft items – or at least items which feel to be handcrafted. For example, you find Christmas decoration or leather goods. Funnily, I ran into the same vendor I had a look some years ago while being at the Pittsburgh Christmas Market.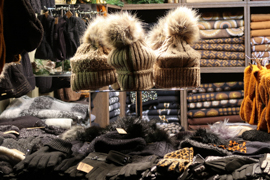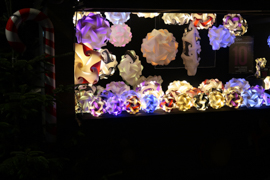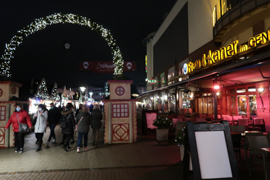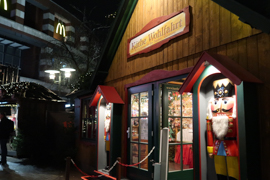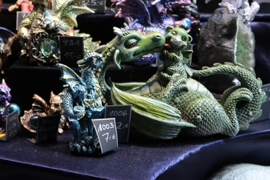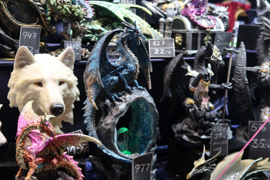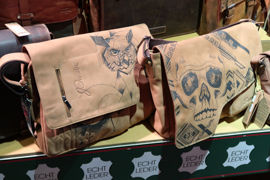 Centro Christmas Market – My View
The Christmas market at Oberhausen Centro is indeed a beautiful one. However, during peak times, it may be extremely crowded. Even when I left Oberhausen on my trip there around Friday noon, it was significantly more full than the relaxing evening I had before – with the shopping masses still about to arrive during the afternoon. It has a nice leverage of attractions and items offered and a good working Covid-19 management so I really enjoyed it.
Flyctory.com about Christmas
Here are all Flyctory.com postings which deal with Christmas in any way:
IHG Hotels
Here are all my postings related to IHG Hotels: