Nightjet Single Deluxe Compartment
depends on trip
While – especially for business reasons – trans-European rail connections may still take too much time for daytime transfers, night trains are having an increasing popularity, on private as well as on the professional travel side. Thus, it may have been a bad decision by the German Rail System, Deutsche Bahn, to have withdrawn from this part of their business a few years ago. The Austrian Rail ÖBB, however, believed in their project Nightjet. Additionally boosted by Covid-19 and discussions about plane travel health safety, the Nightjet is extremely successful.
On my Four Countries, Four Rails trip in August 2020, I was thus really looking forward to my night trip with the Austrian product. I chose their absolute premium product, the Single Deluxe, which is a one person sleeping car product with an en-suite bathroom. Here is my experience from Nightjet NJ 294 from Rome Termini Station to Munich Main Station in the night of 9th to 10th August 2020.
Nightjet NJ 294 – The Route
My ticket showed a departure time of 18:10 on the 9th August and an arrival in Munich at 8:19 the next day. However, the train was postponed by forty minutes without any notice – which did not have an impact in the arrival time. I marked the route in the Google Maps below. The train started in Rome as a train to Munich and Vienna, which is quite typical for night trains: in certain stations, the configuration of the train is changed (while people are sleeping), so that cars from other destinations are added or the train is split. Due to sleeping in the train, I cannot give you all details in which stations the train re-configured. We definitely added cars from Pisa and Livorno in Florence and split the train into the Munich and the Vienna branch around / in Villach, Austria. Some of the Nightjet routes and stations allow to transport your car on separate wagons.
The travel time is surprisingly fast, especially as the train does not feature the direct connection via Bolzano. A daytime rail trip would just be about three hours quicker. My ticket was 219 Euro, which included the (nominally: 2nd class) rail ticket with a limited change option and the reservation of the Single Deluxe cabin. Especially sleeping cars currently sell out quite fast, so that you have to book quite early. Online ticketing is very strange: once you retrieved your ticket online, you cannot cancel it any more. If you however grab your ticket at an Austrian rail station, this constraint does not apply.
The train additionally stopped in Traunstein, right at the German-Austrian border, for German border control / customs. For that reason, you already had to be awake. This was around 6:30, some 100 minutes before arrival in Munich.
Nightjet Night Train – The Rolling Stock
Austrian Rail has a few generations of night train cars. There are three categories of travel. If you go for budget, you can book a Seating car, which is then a seat in a six seat compartment. If you are a group of three, you may however book the whole compartment. The couchette / Liegewagen is likely the classic and comes in configurations of four or six bunk beds per compartments. Again, you may be mixed with other passengers (gender separated) as long as your party is large enough. Couchette bookings include a small breakfast. Finally, of course, there are the sleeping car compartments, which I had. You have sleeping cars for one, two or three people. Again, you may book just single beds. There are sleeping car compartments with and without shower / toilet.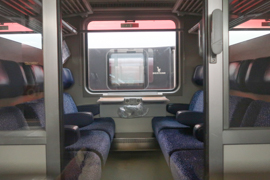 For 2022, the Austrian Nightjet are planning to run new night train cars, which will then feature additional comfort, especially on the sleeping car side. One added feature will be the availability of WiFi.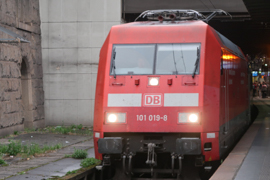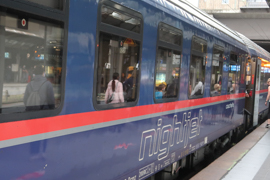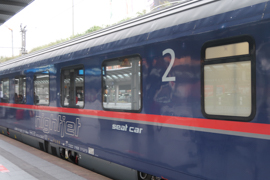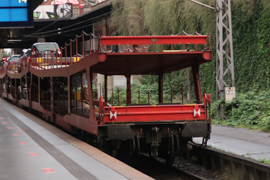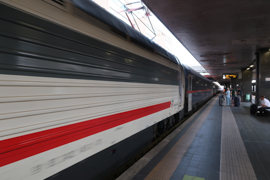 Nightjet Night Train – The Deluxe Single Cabin
With my booking, I have already been assigned to a fixed cabin. The bed was made according to my booking, i.e. the other two beds, which are located on one above the other, were folded back to the wall. The cabin is naturally not super-large, but it was sufficient to put some hand luggage and my suitcase into the corner of the cabin, which featured a door to connect to the next compartment, if desired.
The compartment also featured a table, which you can but into a rail next to a window or put it away. The table is slightly heavy, but overall easy to handle. It has nevertheless been my biggest concern regarding the cabin, as the height of the cabin suited the height of the seats (which you could still use, they are underneath the bed), but not the height of the bed: I could not sit on the edge of the bed using the table, which was very uncomfortable. Though Nightjet advertises the option to convert the lower bed to three seats, I was not sure whether this option was "desired" by the rail company.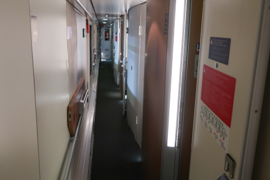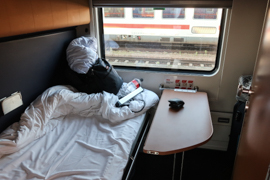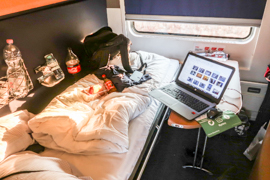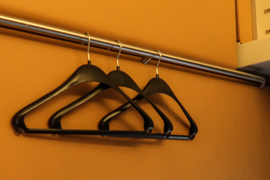 I loved the compact bathroom. The coolest feature was definitely the sink, which you could move to the left or to the right, depending on your current need: if you want to have a shower, you move it to the right, above the toilet – and if you long to do your business there, you can move the sink over the shower area. Showering was of course a slight challenge with my body size, but overall, I was quite amazed that it finally turned out to be quite comfortable. There was shower / hand gel provided in the bathroom as well as three towels – which was of course very comfy for me. Especially with the table in place, getting into and out of the bathroom was a bit of challenging. There were just two power plugs in the compartment, one in the bathroom and one below the bed. I was a bit skeptical here, as the one below the bed clearly showed that it is for shavers only, but it worked very well to work on my notebook and load my camera batteries and mobile in parallel.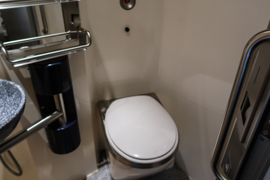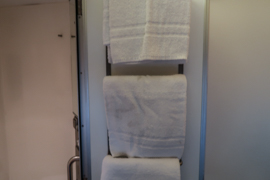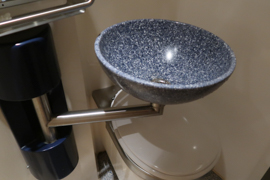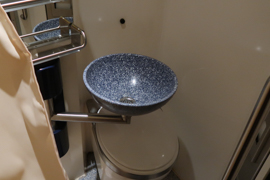 I had a short look into the neighboring compartment, which was configured for three guests and just had a sink instead of the bathroom. if you book that configuration, showers and toilets are located at the end of the train car.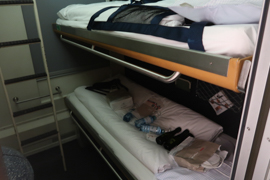 Nightjet Night Train – The Trip and Service
As said above, my trip was delayed by 45 minutes. I do not understand that I did not get any notification – in fact, my booking shows the wrong departure time when I retrieve it online. As my train was even not on the boards at the scheduled time of departure, I felt a bit of nervous about that. I do not understand the service attitude by ÖBB here. On top of that, the train operates with a slightly different train number as Euro Night train in Italy, which may be confusing. As the ticket does neither count as an Italian one nor as a First Class ticket, there is no lounge access with Nightjet tickets.
The service in the train was very good, though. There was already a welcome bag in the cabin, including slippers, ear plugs, some sweets etc. The conductor also brought a small bottle of sparkling wine. You also had two bottles of water and even a glass. After checking the tickets, you also received the door key, which could be locked from inside and was locked from outside without the key (couchette compartments can only be locked from inside).
Dining limited due to Italian regulations
You may grab snacks and order hot meals from the service cabin in your car. I was really looking forward to a chicken dish – unfortunately, Italian regulations due to Covid-19 only allowed sealed and packed cold dishes, so that I went for a sandwich. A definite lack of service was that there is no WiFi in the train (see above, aimed to be upgraded). Especially during the hilly route between Rome and Florence, it was nearly impossible to have a reasonable internet connection by tethering, so that this was really bothering.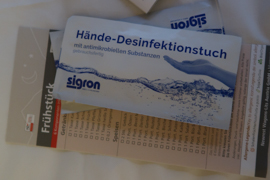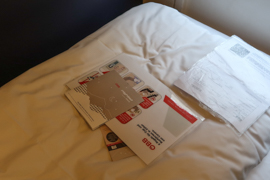 Breakfast
Already short after departure, you could hand over your breakfast booking (which you select from a bunch of items). The system was quite odd: you could select six items, each additional one was 1.20 EUR. One "item" is however a tea or coffee, free refill, or two bread rolls, as well as one small package of preserves. The system is easy and transparent, but also unreasonable, somehow. My order (see below) was a 1.20 Euro supplement. The breakfast quality, however, was really nice and gave me a very enjoyable start of the day while watching the Austrian and German alps through the window.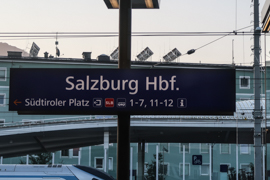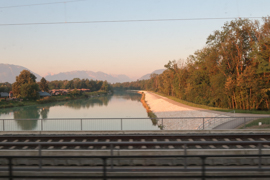 Nightjet – My View
The Nightjet was definitely a great experience. I might not be a customer for couchette or seating car travel overnight, but the sleeping compartment was definitely a comfortable way of traveling. There were some downsides – majorly the missing WiFi and the uncomfortable table. What I feel is absolutely not acceptable thought that even though you haven an online ticket, you do not receive a mail when the scheduled train time is altered. The breakfast was delicious, but pricing is absolutely weird.
A lot of negative points – but my overall thoughts are definitely very positive. The trip was stylish and comfortable, having an own shower and toilet was just amazing. A really good way to travel – and some of my critics will likely already be improved with their next car upgrades.
I took some of the Nightjet rolling stock pictures from outside the week before in Hamburg.
"Rides on Rail" Postings
Here is everything about trains, trams and other rail vehicles:
Flyctory.com and Austria
Here are all Flyctory.com postings related to Austria: