The B&B Hotels group, mainly operating in Germany, operates in the quite strongly growing of budget hotels. When you book into one of their hotels, you should expect functional, reasonably sized and well-cleaned room with all basic equipment you need. You can leave your soap and shower gel at home, but don't forget body lotion and shaver. So far, I just had one B&B stay in Wroclaw, Poland. As an overnight in late October, I chose the B&B Hotel Aschaffenburg. It was conveniently located near the Lordi concert venue (some pictures on the flyctory.com Instagram) and a good hub to head to Speyer Technology Museum.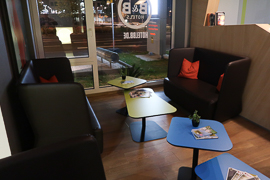 B&B Hotel Aschaffenburg – Location
The hotel is located at the Heinrich-Böll-Strasse in Aschaffenburg, in very close proximity to the train station (in fact, you see the platforms). In addition, across the street, there are two ordinary supermarkets and a supermarket for biological food, so that you definitely won't starve. The hotel gave an additional address for the main road, nearby, Lange Strasse. However, the adress given was located on the opposite side of that street, so that this information rather confused that helped me. If you come from Aschaffenburg Main Station, you won't miss it – it is a bit more tricky if you approach from the A3 motorway. From that location, all central areas are within walking distance.
B&B Hotel Aschaffenburg – Rooms
The room is simple, but reasonable. A double bed, a table with stool-alike seating, a small cupboard, a small TV, that's it. B&B does not need to be impressive, it is not their brand identity. They concentrate on the basics – and at least, the room including the bathroom was absolutely clean. I did not like the table, because it felt just too small for me. There is only just a power plug on one side of the bed, which I feel to be quite disappointing, regarding that the hotel feels to be quite new. The room rate was 58 EUR for one night, breakfast not included (see below).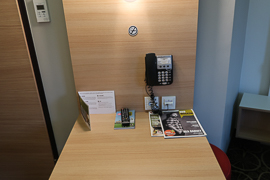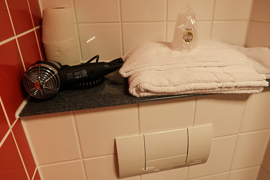 B&B Hotel Aschaffenburg – Breakfast
B&B Hotels are places of precise organisation – and their breakfast reflects it. You see on the pictures you geometrically it is organised so that all items fit into a relatively small area. Thus, there is quite some variation of items and the overall quality is quite good as well. What I did not like is that the eggs were soft-boiled – as there was no sign at them, I assumed the eggs to be hard-boiled. You know the rest of the story. Just leads to a mess 😉 Nevertheless, the breakfast performance was definitely positive. The price is 8.50 EUR per person and night, which is also just acceptable for this kind of breakfast.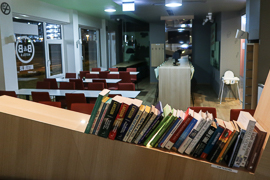 B&B Hotel Aschaffenburg – Other Services
The hotel concept does not allow to elaborate too much about other services. The key one is the (free) Wifi, which offers really reasonable quality. Quite amazingly regarding the location, on-site parking was free. The parking lot's size is quite… optimistic… however. I felt that the reception desk was reasonably friendly. I also feel that if when you leave (no check-out necessary, of course), the desk should ask you if you had a good stay. To have some snacks, there are selling machines in the lobby. The prices are within the expected range.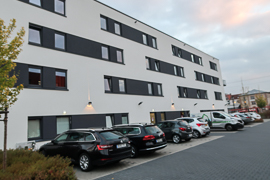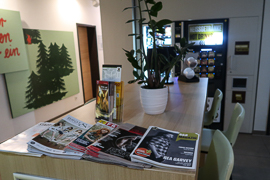 B&B Hotel Aschaffenburg – My View
B&B operates in the German market with peers like Motel One or ibis. You cannot expect thrills from a hotel, which does not want to be thrilling at all. I feel the B&B Hotel Aschaffenburg did a pretty solid performance with some weaknesses. If I compare my stay with Accor Hotels, the stay was more fancy than an average ibis budget and less fancy than an ibis or ibis styles. Having a bar or similar would be nice. I also like to have a 24 hours in house contact person. The table is too small as the parking lot is. On the other hand, parking is free. Finally, I would say the price is cheap, but in a reasonable range. I personally like other hotel chain concepts more and also would pay an add-on to my overnight bill. But B&B has an obvious market potential. Especially if you just need a quick overnight stay or a budget city break, they may be an option for you.