Yullbe Wunderland (Yullbe Pro experience)
29 EUR
Flyctory.com Pros
Impressive technology (with just very few lags)
Very cool way to explore Germany's best-rated attraction
Motivated / friendly staff
Flyctory.com Cons
Just barely set up for operations on opening day
No directions, especially from MiWuLa main entrance, partially dangerous route
Staff was not really well trained
Already the partners of the project and new Hamburg attraction Yullbe Wunderland sound amazing: on the one hand, there is Miniatur Wunderland. The huge model train landscape beats Cologne Cathedral, Castle Neuschwanstein oder Allianz Arena in Munich: it is the best-rated tourist attraction in Germany. The technology for Yullbe Wunderland is delivered by the Europapark, which is regularly awarded to be Germany's best amusement park. In Yullbe Wunderland, you explore parts of the scaled landscape in a VR experience. I visited the place on the very first day of opening, on 1st April 2022.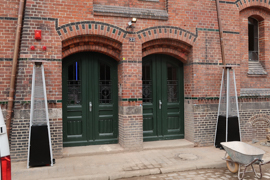 Yullbe Wunderland – Location & Admission
Yullbe Wunderland is located at Am Sandtorkai 33 in the Speicherstadt in Hamburg. Thus, it is not located exactly at the same place like the model landscape's attraction main entrance, but one street (and canal) behind, in the same building as the new "MiWuLa" (short for: Miniatur Wunderland) extention, e.g. the Rio de Janeiro region.
If you just aim to visit the main attraction as well, the directions / signs to the place were awful and you even had to pass a road work from MiWuLa's main entrance to Yullbe, which was a bit of dangerous. The attraction as such was ready to operate, but a lot of stuff was still missing – which you may also see on the comparably few pictures of this review. If you are visiting the MiWuLa in parallel, there is an elevator link. Otherwise, I recommend to navigate for Spicy's Gewürzmuseum (Spicy's Spices Museum), which is next door. Like for the whole area, using public transport (underground station Baumwall or bus number 2) is highly recommended.
The opening times of Yullbe Wunderland differ by day and are not in line with the main attraction (which has massive opening times). It feels that, once operational, they want to open between 12:00 and 21:00 hrs during the week with prolonged opening times during weekends and school holidays. However, you should definitely pre-book a ticket and have a fixed time slot. There are to "games", the more simple Yullbe Go and the posh Yullbe Pro. Yullbe Go is 12 EUR per game, Yullbe Pro 29 EUR. There are combined tickets with MiWuLa entry, of course. Adult combined tickets are 30/45 EUR.
Yullbe Wunderland – Check-In
As you will read a couple of times in this review, the attraction just haven't been ready to open on that 1st April 2022. But finally, I feel that's the same like at Flyctory.com hotel review: they decided to open and I have to rate how they did it in that moment – your experience might be better. The entrance area of Yullbe Wunderland looks really posh and gives a cool atmosphere. From there you head into the reception area, which is a bit too dark for me (which is funny, as the attraction is in an illuminated room, not in a dark one). You can lock your items like jackets and bags there as well. The number of lockers felt a bit too small to me, though. There are check-in machines, which did not operate. Therefor, the check-in process was done by the staff, who did their best to somehow manage it.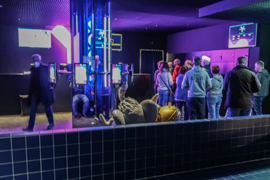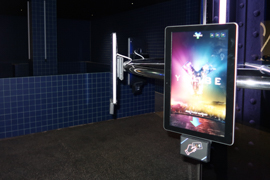 Yullbe Wunderland – Yullbe Pro
The two games are done in two separate environments – which is also due to the fact that YullbePro is using much more cameras. The first stage of your YullbePro travel is putting on your equipment and getting instruction videos how the attraction is working. You get a backpack with batteries (which are replaced once during the game) and sensors. In addition, you have to put sensors on your shoes (around the ancle) and on your hands. Finally you wear a helmet. The helmet also includes a microphone, so that you communicate with the people in your party (which were six people in my case – but they seem to be able to handle eight).
I don't want to spoiler too much of the story / quest of your visit. In brief, you are transformed into a model scale figure of the MiWuLa and should take a tour through the model landscape. However, something is going wrong, so that you have to stand some "dangerous" situations and help out other MiWuLa inhabitants. In fact, you are just walking around in a major square room (after you did some camera calibration). There are really some physical elements in that room like major switches, so that the virtual experience becomes somehow a bit of real.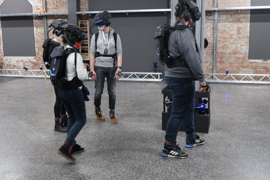 Sometimes, you have to walk over high bridges or similar situations. Some people in our party were a bit of afraid of that. In fact you are always on a flat floor, so everything is safe. The more, I was surprised that the instructions did not name the most basic rule they had at other places like VR Park or Hub Zero in Dubai: if you are afraid of feel motion sickness, close your eyes. Your trip takes you through the USA, Switzerland, Knuffingen (incl. the airport), Venice and some other places. There are no screens or similar so that guests could explore what their beloved ones are just doing.
Technical Experience
There were some technical lags, e.g. that one virtual alter ego "lost" an arm – but none of them was longer than a few seconds. In one part of the game, they virtually take a picture of you in your role. I would have loved to see that in real as you naturally rarely see how you look alike in an VR experience. The whole Yullbe Pro game is intended to take 30 minutes – we had some more minutes, which was fine as well.
I felt that the technology was overall really impressive. Unfortunately, the organization around getting your equipment off after the game was also not too well structured. Despite the quite heavy equipment, the game is not physically demanding. Naturally, it is not possible for people with vision or mobility issues. You are asked to keep distance to each other, but if you follow the game, it is not always possible.
Yullbe Go
I did not visit Yullbe Go. However, the experience is significantly different. You see that it is working with significantly lighter equipment. The game time is also just ten minutes.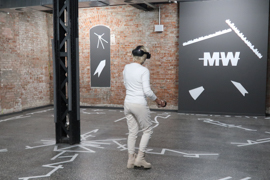 Yullbe Wunderland – Services
I have been at the very first public available session of Yullbe Pro. The service level was a mess. I I generally feel that the staff did not have the support you need on an opening day. The credit card payment machine was not there, for example. The operational tests the evening before did not charge the batteries of  the backpacks again – and maybe the staff was also too late in the place to manage all the mess. You could buy a few souvenirs, which did not relate to the MiWuLa, though. There is also a bar area, which was not operating yet. The seating reminded me of a steam bath. There were also no signs to the location of the toilets, for example. I am sure a couple of things will be sorted out, when you visit the place.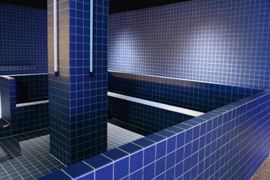 Yullbe Wunderland – My View
I feel that Gerrit and Frederik Braun, the key heads behind the Miniatur Wunderland, are true entrepreneurs and so visionary people. Yullbe Wunderland, especially the Yullbe Pro experience has so much potential – it is really giving you a new view on the attraction. The technology is impressive. They just should have opened later to fix the organisational issues – even though I economically understand that they did not want to miss the Easter school holidays. Bad luck here – I am sure my rating would be better if I would have visited in May or June 2022. Until then, the staff will also really know what they have to do to work efficiently.
Hamburg – Travel-related postings
Here are all my Travel-related postings about Hamburg:
Scale Modeling at Flyctory.com
Cars, Trains, Planes and more – here are postings about the world in model size: