After I had some stays at Hilton Munich Airport in the past, I was happy to be back in this place twice in December. In early December, I had a an overnight before flying to Pittsburgh, while some ten days later, I had a trip to the city and relatives and stayed there before heading home via Dortmund Airport.
Hilton Munich Airport was my Favorite Airport Hotel in 2019.
Hilton Munich Airport – Location
Hilton Munich Airport is located right next to Terminal 2, where Lufthansa and a majority of Star Alliance airlines are operating from. I departed after both stays from Terminal 1, which is just a short walk away. To the A-Gates from which Eurowings is operating, there is even a shortcut available. You typically enter and exit the hotel from the lower floor, where the connections to the Terminals are – the main entrance is at Terminal 2 Departure level.
If you are not in the hotel for a conference, you likely stay one evening before or after a flight and before a connection. The area is quite nice, as the MAC Forum offers a lot of shops and some nice restaurants like the Airbräu, the only airport-based brewery in the world. In the holiday season, Munich Airport even offers a Christmas market practically right in front of the hotel.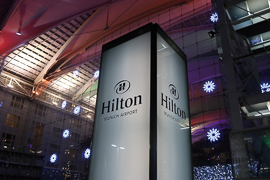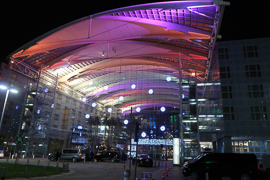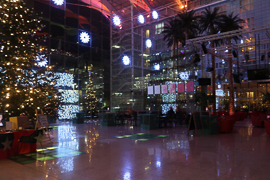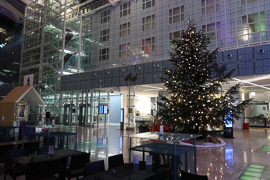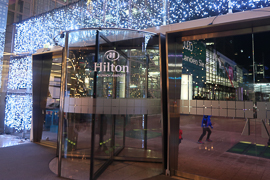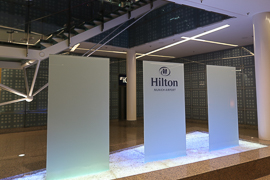 Hilton Munich Airport – The Rooms
As said above, I had two stays in Hilton Munich Airport. In both cases, I booked a King Guest Room. The rates were 85 and 145 Euro for one night, pre-paid, breakfast not included. During my first stay, I was Hilton Honors Gold and upgraded to Diamond before my second stay. In both cases, I have been upgraded to the nicer (and more modern) North Wing rooms in different floors. Both rooms were quite equivalent.
The rooms were really nice and had a good design. They were also really spacious, which is of course very comfortable as you will typically have some luggage when you travel this place. Neither room featured a work desk. There was a large round table with a comfortable chair and a nearby power plug instead. In both cases, I have been welcomed by a nice snack. The room features complimentary tea and coffee making facilities. The rooms also came with a minibar.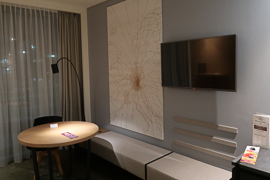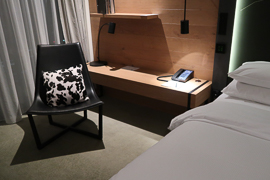 The bathrooms had a bathtub with separate showers. There were sufficient amenities and the bathroom was very clean. Absolutely no reason to complain – a room to enjoy and relax!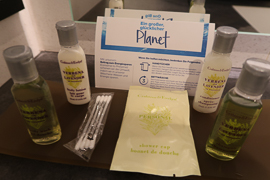 Hilton Munich Airport – Executive Lounge
During my second trip, the Diamond status also granted me access to the Executive Lounge, which is located on the basement floor of the North Wing. The lounge is very large, but still feels cozy. I visited during the Happy Hour, in which the lounge serves free spirits. Thus, it was comparably crowded and the staff had problems to fill up the snacks and drinks in the buffet. Nevertheless, I felt that the lounge is a really nice retreat.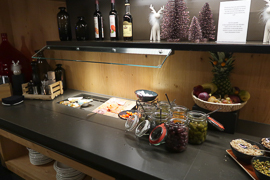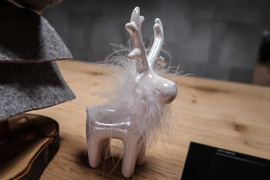 Hilton Munich Airport – Breakfast and Food
In case you are not convinced that Hilton Munich Airport is a really superb stay yet, I might get you with the amazing breakfast. The Charles Lindbergh restaurant offers an amazing breakfast buffet, which is also complimentary for Gold and Diamond members. It is really hard to find items you could be missing – a lovely selection of breads and pastries, warm items, cold cuts, a lot of healthy choices and – of course – Bavarian Weisswurst (white sausage) and Leberkäse (meat loaf) – I absolutely love to start the day here. In the evening, the restaurant offers a couple of themed dinner buffets, which I have not tried yet.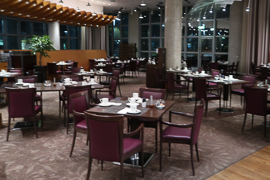 Apart from the Lindbergh, the hotel also offers a lovely hotel bar in the lobby, which is quite famous in Germany as a soccer talk TV show is recorded live from there every Sunday. Undoubtedly, it is the heart of the lobby area.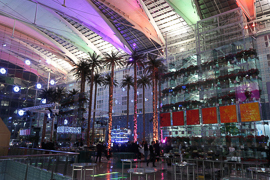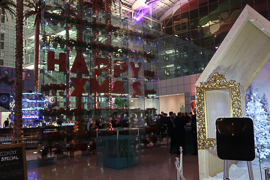 Hilton Munich Airport – Gym & Pool
Right below the reception, close to the lower level entrance, the hotel offers the Fit & Fly Spa, which is offering a gym, a pool, sauna facilities and spa treatments. The gym is lovely, a large room with quite a number of machines which you can use to work out.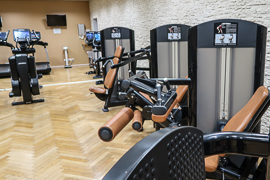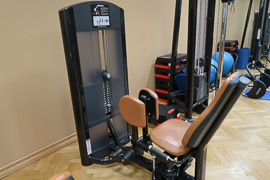 The twelve meter pool and the pool area is just amazing. It also features a Jacuzzi. For obvious reasons, I could not take pictures of the nudist sauna area. Nevertheless, hanging out there, having a relaxing swim at the end of a long day was just lovely. The changing facilities are shared (gym and wet area). What I also liked very much is that the spa offers a tumbler for your swimwear, so that you don't have to put it in a wet state to your suitcase.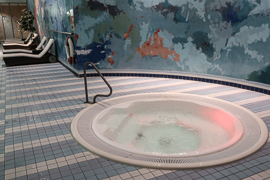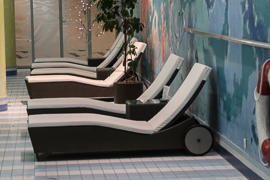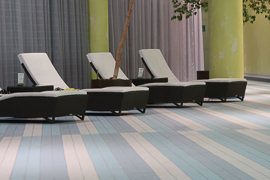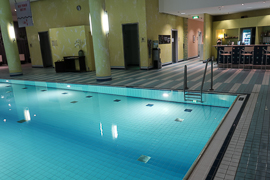 The only minor unfortunate point is that you have to share some meters with the ordinary airport pedestrian traffic and parts of the lobby when you want to visit the Fit & Fly Spa. If you are in the oldest rooms, the access with a direct lift transfer is a bit easier.
Right behind the reception, there is a recreation area, which features table soccer, table tennis and a small mini golf area.
Hilton Munich Airport – Services
The staff members I met were very friendly and helpful. However, check-in and check-out can consume a little time here and there. Hotel guests are also split into ordinary and priority guests here, which always failed when I was at the reception simply because the ordinary guests were served quicker than Gold and Diamond members. The hotel is a major conference facility and offers various meeting rooms. Thus, it is not too surprising that the internet quality was very good. There is a Business Center next to the reception.
Hilton Hotel – My View
In 2018, Skytrax named this hotel to be the best airport hotel in Europe – and I feel it is well deserved. The location is excellent, you have short walks to any check-in counter, the MAC Forum is great to spent an evening before the flight, the breakfast buffet is a must (if your flight is not too early) and the staff is great. Last, but definitely not least, the spa and fitness area is just amazing – you just need to tell yourself again and again that you are in an airport. Agsin, two absolutely brilliant stays at Munich Airport – no doubt that this is what I call a Top Pick!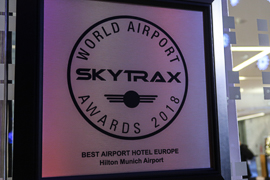 Flyctory.com in Munich
Here are all other Flyctory.com postings related to Greater Munich:
Airport Hotels
Here are all hotels with a good airport connection: