Let's take you on a trip to Iceland. This is the first proper entry to my Trip Report, which takes on a trip along the Icelandic ring road, Road 1. This edition of the trip will take us from Germany to Iceland and on our very first kilometers of the trip. A rather "organisational" first day, but we already had some kilometers in the books when we finally arrived at our first night in Hella in Southern Iceland.
Good Morning Frankfurt
Due to all the hassle with airports, security and also strikes in Germany, my wife and I had decided to have a night in Frankfurt before we head to Frankfurt Airport (FRA) – even though the Icelandair flight was scheduled for 14:05. A rather low price Hilton Group option is the DoubleTree Frankfurt Niederrad, which is some ten kilometers away from the terminals. I just cannot say it is the best place to make you smile, but it was good enough for a relaxing start in the morning, having some complimentary breakfast and then going for a short drive to Frankfurt Airport (FRA).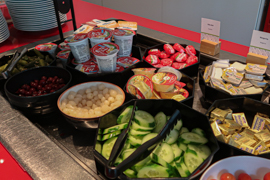 Frankfurt Airport – with a French-Dutch Touch
Despite flying Saga Premium, the Business Class product of Icelandair, we felt it might not be too bad to be at the airport three hours before departure. Icelandair also tells you on their website that they open check-in three hours before the flight. In fact, they didn't – it was rather 2:30 hrs before departure.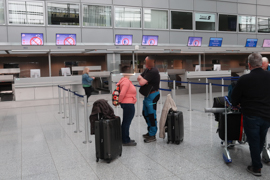 We could then proceed right into the AIr France / KLM Lounge at Frankfurt Airport. I feel it was my first time there, even though the lounge is serving quite a bunch of Schengen flights (including Finnair and Iberia). Solid average – at least they got Orangina.
It's MAX time
For both of us, myself and my wife, the flight was the very first time I flew a Boeing 737 MAX 9 at all. I had a flight with that disputed plane type scheduled for 2022 (also Icelandair), but there has been an equipment change. While I was rather flattered to have that experience in my books, my wife was rather on the skeptical side. The flight was a nice one with really good service.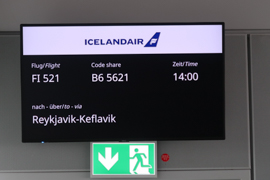 Keflavik Airport (KEF) comes with one of the most beautiful approaches, especially if you arrive from Europe. We had some amazing views of the South Coast. I especially loved to see the recent volcanic eruption site as well as the blue lagoon.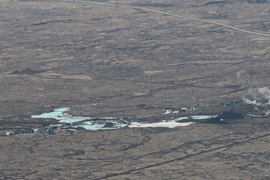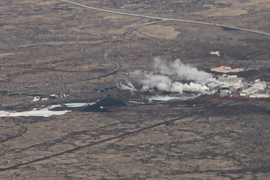 Quick Transfer to Road in Keflavik
The services in Keflavik Airport (KEF) worked out well – not like they used to be in Covid-19 times. We took a short walk to my favorite Icelandic car rental, Blue Car Rental, and headed off towards the ring road. An automated key box system allows an amazingly quick rental. After stocking up drinks and food at a Rekjanes shopping area, we more or less headed right towards Greater Reykjavik.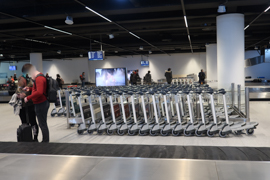 The scenery was amazing. There has recently been massive snow, which even blocked people from comuniting. Not really what you would expect, even in Iceland, in late April. But the drive was really enjoyable.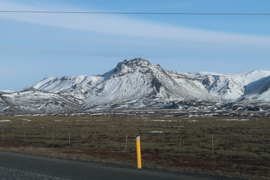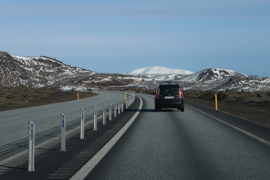 Urridafoss in Winter
I felt that we should at least have one sight on the first day (if you don't count airplanes and lounge visits, my wife and I have some different thoughts on that. Despite it was rather late, short after 19:00, we had an amazing short visit at the lovely Urridafoss, the most water-transporting waterfall in Iceland.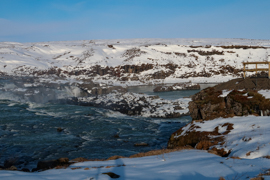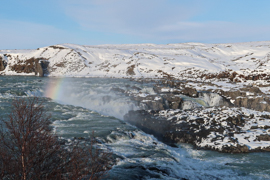 Good Night Hella
From there, it was just about 15 minutes to our Hotel, Hotel Stracta in Hella. However, the parking lot was super-busy. Due to the snow, the capacities are reduced. Even though the hotel manager stated that they are not even fully booked, the place was crowded, but really nice.
The day ended very Icelandic: sitting in one of the hotel's Hot Tub with a dozen of locals, who were discussing about fishing, Icelandic banks and flat rental prices (sometimes, they told me what they are talking about), whil enjoying the sunset at about 23:00. Due to the unexpected cold, there was even a slight chance to spot Northern lights in the night.
Iceland's Ring Road Trip Report – Daily Episodes
Here are the episodes planned for this trip report. The reprise posting is also holding a gallery of major size pictures of the whole trip:
Day 1 – 29.04.2023 – Germany to Hella
There will be no Day 9 report, as this would only cover the flight back to Germany.
Trip Report Inceptions
Here are the starting postings of each Trip Report I posted in here so far
Rock of Ages (Musical)
Here are all postings related to the musical Rock of Ages: