Just being a short walk away from Toronto Union Station, which perfectly connects to Pearson airport, the Novotel Toronto Center felt like the perfect stay for two days exploring the city to us. It is one of very few Accor Hotel outlets in Northern America. Here is my review of the hotel.
Novotel Toronto Center – Location
The Novotel really gives you a tough time if you want to find any critics on its location: the hotel is just some blocks away from Union Station, all the major attractions like Air Canada Center, Rodgers Center, CN Tower, the Ripley's Aquarium or the Hockey Hall of Fame are a short walk away. The hotel is close to the St. Lawrence Market as well, which is rated one of the top Toronto attractions.
The most convenient way to travel in from Pearson airport is likely the Pearson Union Express train (I have to admit that I thought that this "express train" is in fact quite lame…), which is some 13 CAD per person and trip and connects from the airport to Union Station in 25 minutes. There is a parking garage next to the hotel as well.
Novotel Toronto Center – Rooms
Booking via a travel agency (which significantly beat the Accor website with a total of 450 EUR for three nights bed and breakfast), we of course got a standard room at the end of the hallway and did not profit from our Accor status privileges. The room had a very nice size, a huge TV set, a cozy bed, a nice working area and a fridge and felt absolutely nice. The shower bathroom was also very comfortable and large, so that this part of the stay was definitely a nice experience.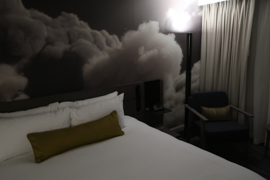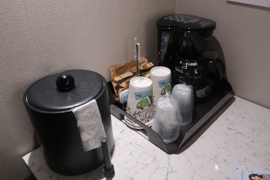 Novotel Toronto Center – Breakfast
The Novotel Toronto Center breakfast buffet served in a cafe-alike corner of the hotel lobby offers quite some variety of breads, pastries, cold cuts, cereal and fruit. The warm buffet is slightly rotating: scrambled eggs, seasoned potatoes as well as sausage and bacon have been available all three days. Other dishes were variable: Friday morning came with poached eggs, British breakfast bacon and grilled tomatoes, Saturday with fried eggs and grilled vegetables. Sunday did not have an alternative egg dish, but baked beans. Overall, the breakfast performance was steadily decreasing: while the staff did a very fine job on Friday, they also seemed to have lost control on Saturday (for example, one guest was waiting for a cappuccino some 15 minutes and other guests waited to be seated for ages), Sunday was a complete mess. There was less fruit, the cereal buffet was not prepared correctly (everything closed, no spoons for nuts etc.), there was no second egg dish and the waiters were again and again arguing between each other in front of the customers. When we came back for check-out, there was a long queue at the breakfast corner confirming that the area just feels too small for an eight-level hotel.
Novotel Toronto Center – Services
Like already stated in the breakfast section, the general service attitude of the staff worried me most. On Saturday, when we came back to the hotel, my wife pointed out on me that somebody has dropped a drink or an ice cream on the floor – when I came back twenty minutes later to print out my boarding pass, the floor has not yet been cleaned and – of course – the mess spread all over a significantly larger area. The check-in was very professional and nice – I however wondered that we haven't been offered help with luggage (we arrived with three heavy suitcases). House keeping was absolutely fine, but even though we used some of the amenities, they have not been refilled. Typically, Novotel also offers body lotion – in that outlet, there was only shower gel and shampoo.
The Wifi connection was surprisingly poor as well. Working on flyctory.com, I had to regularly suffer from time out and DNS server problems – as soon as the connection was stable for a while, the speed was fine. At check-out, we had a terrible experience with the hotel. I took a rental car from an office nearby and when I went up to the room, I recognized that the rain (or any other kind of water) was dripping into the elevator. Don't ask me how things like this may happen – but as the hotel had closed down one of three elevators to the room already, this lead to just one out of three ones in operation during peak check-out time and breakfast – it took us nearly 20 minutes to get from fourth floor down to check-out. What a proof of poor building maintenance. The reception was not really dealing with the complaints (including that my car in the meantime had run out of parking time). Together with the breakfast experience, I felt that there is just a limited interest in a perfect guest experience – something I feel very seldom in North America.
More North American-alike, there are ice and vending machines in selected floors of the hotel. Furthermore, on the sixth floor, you find a really nicely equipped gym with multiple different machines and weights. There was maintenance on the washrooms, but I feel that it is not that critical. Two floors up, there is a typical-sized indoor pool, which looked like a really nice area – I unfortunately could not take pictures, as one family was doing some sort of splash party with loud music when I was around there.
Novotel Toronto Center – My View
Staying at the Novotel starts with a "Wow": the lobby is amazing and feels much more posh and luxurious than you would expect a Novotel to be. The location, of course, is amazing and we got a very good value for money. Nevertheless, I felt a bit disappointed with this stay just as the hotel somehow felt to lack some organisation and standards. Having such a poor internet quality in a hotel like that felt very confusing to me. The terrible Sunday morning experience adds bad feeling to the place, which I would not recommend. However, with other preferences or attitudes, I am sure you may have a very nice time in Novotel Toronto Center.
Toronto 2018 – Other Articles
During my visit in Toronto in July 2018, I visited the following attractions:
On this trip, I also visited Curacao (link to sample posting) and Bonaire in the Carribean. You might also be interesting in
Toronto 2018 – Gallery
A full gallery of pictures taken during my time in Toronto in July 2018 may be found here:
Accor Hotels Reviews
Here are all postings related to Accor Hotels:
Postings about Canada
Here are all Flyctory.com postings dealing with Canada: