As I had to join two workshops in the Zurich offices of the company I am working for, I chose the very closeby Glärnischhof for a two-night stay in early July 2018 in the Swiss economic capital.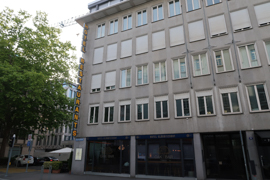 Hotel Glärnischhof – Location
The hotel is located just a couple of minutes walk from Lake Zurich and not too far away from the world-famous Bahnhofstrasse (posh) shopping street. From the main station, you likely connect to Stockerstrasse by tram and there are direct S-Bahn (commuter train) connections from the airport to Enge station, which is just a short walk. There are a couple of banks and financial institutions around, so that – at least during the week – most of the guests are staying in Glärnischhof for business. The FIFA Museum is also just a short walk away.
Hotel Glärnischhof – Rooms
I had a single room at a corporate rate of 285 Swiss Franks, including breakfast. The room was quite nice and spacious. It has been equipped with a coffee machine, a small table with two chairs and a bathtub. The room features HD TV and a free minibar, which even included a Toblerone Swiss chocolate bar. There was additional water and some fruit in the room as well as a good night chocolate on the pillow. Another very nice amenity is a tablet, which does not only give you the most important information and access to the internet, but also the opportunity to order at the room service or an alternative pillow – there is a selection of seven possible options. There are two free power plugs at the desk – the Swiss-format one was beat-up and thus unusable. In addition the table featured a European style plug, which I felt to be very comfortable. The room definitely has a rather traditional than modern design, but there were just very little scratches and dents on the furniture. The only thing which did annoy me is the very small bed table, which in fact just consists of the board, as big as the room phone. No chance for your glasses or a mobile if you do not but the phone down to the floor.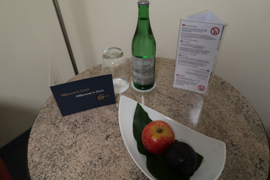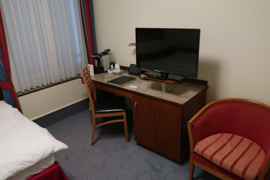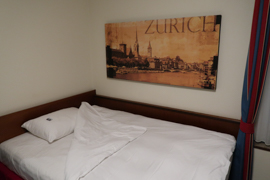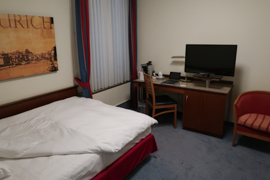 Hotel Glärnischhof – Restaurants / Breakfast
Despite the hotel is not that huge, it features three places to refresh yourself. First of all, on the right hand side of the hotel lobby, there is the hotel bar, which also showed FIFA WM matches during my stay. On the other side of the reception, there are two (not too large) restaurants, which are linked to each other (and seemed to share the same kitchen): the Restaurant Glärnischhof thereby features more traditional and good and solid meals like Cordon Bleu or Bratwurst, while Le Poisson is not just only a fish restaurant as the name suggests, but also offers some other fancy dishes. For hotel guests, Le Poisson offers a three-course meal for just 45 Franks with a choice of two starters and three main courses. I tested the Restaurant Glärnischhof Cordon Bleu, which was just an awesome finish of my first day in Zurich – highly recommend it. The bill for that dish and two sodas was 40 Franks, which is reasonable in Zurich definitely.
Both restaurants are linked for breakfast. The selection of food is nice, including eggs, sausage, salmon, Swiss Bircher Müsli and a huge variety of bread. I also loved their selection of tea and juices. It may not look too large, but the decent variety and the quality of food is the real thing which makes it an awesome one!
Hotel Glärnischhof – Service
The in-room Wifi is very fine – the free minibar is even better as it is refilled during your stay. When I ordered an additional pillow, it took five minutes until the room service arrived. Top notch definitely! All other services I felt, like the reception or in the restaurant, was absolutely professional and friendly. There is also no reason to complain on house keeping.
The hotel does not have an own gym. However, there is a proper gym right around the corner, which you may use as a hotel guest for free with a reception voucher.
Hotel Glärnischhof – My View
The Glärnischhof is an absolutely nice and comfortable stay, close to a lot of Zürichs top attractions. Maybe you should not compare the two hotels, but in contrast to the (German) four-star superior stay I had at the Berlin Estrel, this one really feels like a superior and comfortable stay. Having some fruit and welcome water as well as the free minibar are absolutely key factors why I liked my stay. The design of the room might not be too modern, but reasonable. The quality of the breakfast is awesome. If you need a very good stay in the heart of Zurich, this Glärnischhof is definitely an option.
I visited Hotel Glärnischhof as part of a business trip for my employer, SCOR SE (Reinsurance). Thus, I did not pay for my travel expenses. This does not influence my judgement on the accomodation.
More about Switzerland
Here are all other postings related to Switzerland:
Flyctory.com about Business Class & More
Here are all articles related to Business Class and First Class travel: