Schokoladenhotel Voss
235 (per night, 2 pers. "Chocolate Dream Package")
Flyctory.com Pros
Very interesting concept, trying to hold it the whole stay
Great service
Good quality of food
Amazing pool and sauna
Flyctory.com Cons
Lack in hygienic / Covid-19 measures
Especially: dining buffet concept (breakfast / dinner) not working
Rooms are comparably basic
Savory chocolate dishes are an acquired taste.
Spending the weekend in a hotel dedicated to chocolate? Does not sound too bad, doesn't it? When my wife spotted the Voss Chocolate Hotel in Westerstede, it was only a matter of time, when we would finally do the trip. Here is the review of our stay in early October 2020.
Voss Chocolate Hotel – Location
Westerstede is a town West of Bremen and Oldenburg in Northern Germany. The Schokoladenhotel ("Chocolate Hotel") Voss is located in the very heart of the city. There are parking lots on both sides of the hotel.
Westerstede itself is an average tourist location. From the hotel, you are in the shopping district after a very short walk. The town does not have a train connection, but the central bus station is very close to the hotel. Our room was pointing next to the church, which may lead to some noise in case of religious services.
Voss Chocolate Hotel – Chocolate Dream Package
Our stay costed 470 Euro for a Friday to Sunday weekend, 2 persons (flex rate). We had booked the Schokoladentraum ("Chocolate Dream") Package, which included the following amenities, apart from the room booked and the hotel services like the pool / sauna area:
Half Board, which included breakfast and two dinnerrs, one four course dinner and a three course chocolate inspired dinner
One Chocolate Event, at which you created your own chocolate
One chocolate massage per person
One welcome set of pralines per person
One Chocorosso, a chocolate drink based on red wine, per person
One coffee or chocolate with a slice of tart at the Schokolounge ("Choclate Lounge") cafe, per person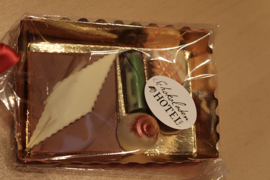 Review of the "Side Events"
Overall, we felt this was a really nice package. What we did not like is that (even though I asked for some timing per mail before) they gave us a full schedule of events right at check-in – the only times you really were slightly flexible in were dinner times. This finally lead to the fact that we did not manage to do a minor excursion we were planned to do. One reason for that was that the massages, where done staggered (by different masseurs) one after another. Nonetheless, the massage was a lovely treat (they really used warm chocolate for it, which they washed off your back at the end).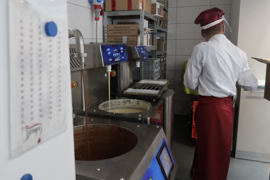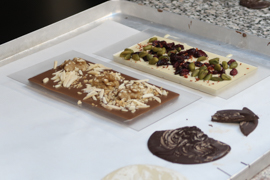 The chocolate event was a mess, unfortunately. The hotel creates their own pralines and chocolate bars in house, so that could do our own chocolate bars in their chocolate kitchen. You could chose from three different types of chocolate (milk, dark, white chocolate) and multiple toppings. However, including the host we were ten people within a too small room with the host not even wearing proper mouth and nose protecting equipment.
Voss Chocolate Hotel – The Room
As I wanted to have some space (also to work on the website) during the two days, we booked the Praline room (2nd) category, family suite, which had a separate sleeping area and more space (given with 45 square meter – funnily, you find this room category not in their list of rooms, but only during booking process). Without any notification, they "upgraded" us to a Truffle room (which is the 1st / highest) category – but these rooms are 30sqm roughly and thus had only two thirds of the size. The bed in there was much wider – but overall, this room did not meet our expectations (including the weird way to put up a TV set and a narrow work desk). This room had some slightly nicer amenities, though.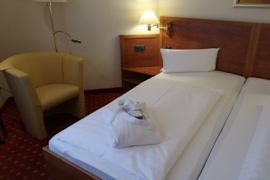 After complaining, we were "downgraded". I had the feeling that the hotel did not really like us to stay in the room category we had originally booked. The family suite (the sofa can be used as bedding as well) was much more spacious. I liked the separate sleeping area, though I have to say both of us really struggled with the bed (you have to note that my wife and I are physically quite different people). The small tables next to the bed and hard edges right behind your head added some discomfort. Like in the higher classed room, the TV set felt a bit tiny compared to other hotels. Neither room, by the way, featured coffee / tea making facilities.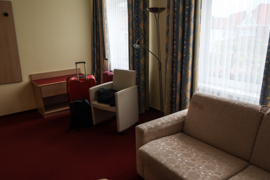 The shower bathroom had a really nice size and was very suitable for our stay. The only thing I feel was a bit of annoying was the cheap quality of the body lotion amenities. On top any time the hotel moved the marquee was extremely loud in the room – unfortunately they did that rather late, much later than sunset, at about 22:15 hrs (Friday night) and about 23:00 hrs (Saturday night).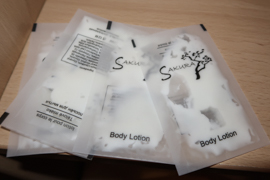 Voss Chocolate Hotel – Food
Finally, if you visit a chocolate hotel, a lot of your well-being simply needs to be based on calories. The hotel runs one restaurant, the Vossini, which is also open to public. At check-in, the reception staff told us we will have our chocolate menu on Friday and the ordinary one on Saturday, which was finally vice versa – and a bit of strange, as the restaurant has buffet dinner each Friday. I loved the location with the stylish, but also a touch of traditional centrally located bar. Unfortunately, this made the place very narrow and unsuitable for buffet-alike dining during Covid-19 times.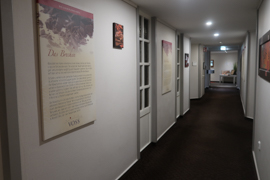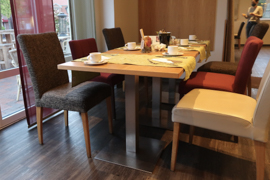 On both evenings, the staff was very nice and was really trying to serve the guests' needs. You had a personalized menu. I personally do not like that too much in regards of data privacy nowadays. In general, the idea made sense because especially on Saturday, people had very different menus, even though for example the "Catch of the Day" fish has been equivalent (but prepared in different ways).
Friday was a main course dinner buffet. In practice this meant that we had four courses. The starter, a salad, the soup (kohlrabi soup) and desert were served at the table, but you could grab your main dish including a side salad to your needs. The dishes included beef fillet and other really good and tasty options. No doubt about the quality of the food – but as stated above, the place around live cooking of the meat was just too narrow and packed with too many people in Covid-19 times. On both days, by the way, you could opt to have the desert in the Schokoladenlounge cafe (see below).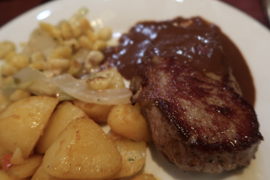 Saturday featured our three course chocolate menu. The starter was a cesar-alike salad, which came with a stripe of bacon, dipped into chocolate. My wife had fish in a white chocolate and caramel sauce, which I went for beef in a dark chocolate one. The menu was finished by a lovely desert. I felt that in both cases, starter and main dish (and the fillet beef, which I had with chocolate sauce the day before as well) that using chocolate for cooking in that way is rather good marketing than good dining. Apart from that we personally felt that the menu would have been better without the cocoa touch in the first two courses, the quality of food was very nice – and as there was no buffet, we also felt much better with our dining experience.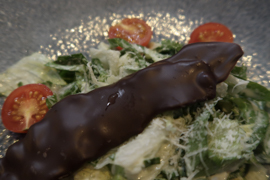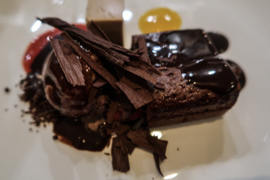 Breakfast
The breakfast experience was quite in line with the dinner one – on the good and on the bad side. The quality of food served by the Voss family is awesome (maybe apart from their omelette, which I would not go for again). They also had some chocolate toppings for their amazing selection of breads, but there were also fish salads and nice cold cuts.
The downside: the location – but also some organisational stuff. The too few waiters tried to be more active than in dinner and asked the people to only have five people in parallel at the buffet – but especially as they did not use a one-way routing system at breakfast buffet, you simply could not see how many people were around. On top of that, they reserved tables for major parties for the whole breakfast time instead of only for the time slot booked, which really made the selection of tables a challenge. If I am paying close to 500 Euro for a weekend, I just don't want to end up in a narrow table at the edge of the restaurant – while other parties (including two person ones) have major tables reserved. Felt random to us.
Schokolounge Cafe
The Schokolounge ("Chocolate Lounge") is located right next to the lobby. I felt that the design of that area was absolutely beautiful. As part of our Schokoladenträume package, we had two experiences in that place, which we enjoyed together in one: having a hot drink with a slice of cake as well as trying the hotel's signature drink, the Chcorosso (see above).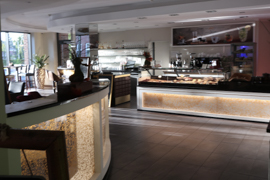 This part of our package has simply been amazing. We haven't been that fond of the Chocorosso, but the cakes were lovely and the way they served hot chocolate (by serving hot milk separate to the warmed chocolate) was an absolute culinary treat. The service in the cafe area was also really good and professional – even when a city tour arrived and had some tasting in parallel to our visit.
Voss Chocolate Hotel – Spa & Wellness
Due to Covid-19 restrictions, you had to book time slots for the pool area as well as for sauna. I unfortunately did not make it to one of the three saunas – but the pool area was just lovely (and we were even lucky to have it on our own – they would allow up to six people the same time. The area even had a self-cleaning whirlpool and some nice features like two sections in the pool, where you could activate a counter-current facility.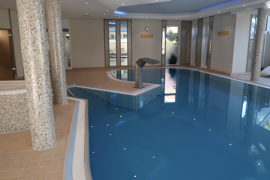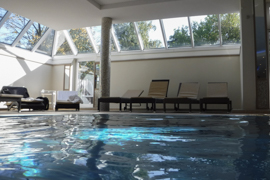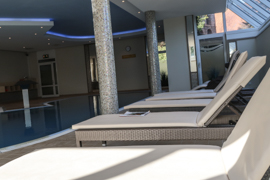 The hotel also drives three saunas, which you could book in private sessions (included in room price) during Covid-19. We did not go for that, but other guests have been very happy with that. The hotel does not run a gym, but you have free entrance to a local gym nearby.
Voss Chocolate Hotel – Services
Overall, the staff in the hotel was lovely. Especially the young hotel employees did an amazing job. We had some struggle with senior persons, including the way our "downgrade" of the room has been receipted by the person in charge. What we did not like is that a vast majority of the staff, including in the restaurant, only wore the tiny plastic face shields, which barely somehow cover your mouth and nose. The design of the hotel was beautiful and also had some nice spots like interactive displays where you could find out, which kind of chocolate person you are. In-room WiFi was sufficient. I had to use tethering once during my stay.
At the reception area, there was (not too surprisingly) a chocolate store with sweets produced in-house. It is definitely a matter of taste, but I personally felt that the chocolate I tasted was a good one, but had less quality than I would have expected in a chocolate-themed hotel. One reason for that might be that, as the host of the chocolate event told us, Voss is not producing chocolate by themselves – they buy chocolate and just create figures, bars and pralines out of it.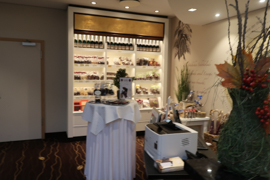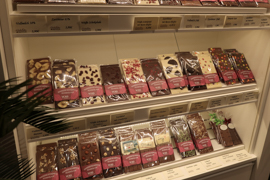 Voss Chocolate Hotel – My View
Including drinks and other expenses, we spent over 500 Euro for the weekend at the Chocolate Hotel Voss. The package they offered to us is definitely a nice one and the price is reasonable and realistic – but finally, I expect some really good service in all areas for that. Chocolate Hotel Voss fulfills that in many area, like the customer centricity and service, the amazing spa and the quality of food.
There we some downsides as well, though. In that location, neither of the rooms we saw (the one they wanted to assign to us and the one we finally took) reflected a weekend package price of 470 Euro. The pandemic handling was not sufficient at all times.
German Hotels
Here are all Flyctory.com postings dealing with hotels located in Germany:
Flyctory.com on Eating & Drinking
Flyctory.com is not a culinary blog. Nevertheless, here are all posts dealing with Eating and Drinking: