Located quite prominently right at the motorway A6 at Sinsheim (home of the TSG Hoffenheim soccer club), the Technik Museum (Museum for Technology) Sinsheim is not just well known for its airplane exhibits on roof of the two exhibition halls, but also for its excellent selection of other exhibits. It more and more developed to a pilgrimage place for geeks who are keen in cars, planes and militaria. In fact, Sinsheim is just one part of the museum. Its sister in Speyer, which is partially having different scopes of exhibition (like musical instruments and machines), is just some 50kms away. You may buy combined tickets, but also also separate ones. Both museums come with an IMAX cinema, which is showing documentaries during the day and blockbusters in the evening (thus, Sinsheim and Speyer are just some of the few places in Germany, which show movies in IMAX quality).
The key arguments for me to visit Sinsheim are just on top of the museum halls: Sinsheim owns the only Concorde airplane in Germany, which is fixed on the roof right next to the maybe even more rare, but less popular Soviet supersonic, the Tupulev Tu-144.
Entering the museum right behind the cash desk leads you to an overwhelming selection of old cars, mainly with a North American focus. My favourte exhibits have been the Dragsters, US Police cars and the DeLorean… But I guess real car nerds would name me a couple of much more interesting exhibits in that area.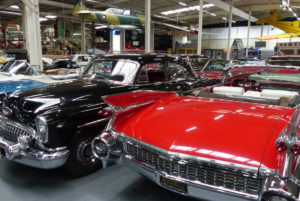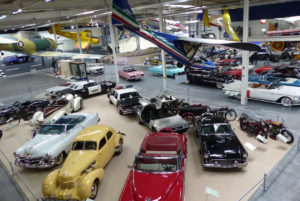 A major part of that "exhibition hall 1" is about military exhibits. One of the most innovative exhibits is the Panther tank which you can control via a joystick. Like other exhibits (quite a selection of those, from a musical instrument to locomotives, you need to insert one or two Euros or one of the – slightly discounted – museum coins to activate this functionality. I particularly liked the musical instruments, but also seeing old steam trains "in action" (these exhibits do not fully touch the tracks, so that they move their wheels without going forward) is absolutely impressing and memorable. Even my wife liked every Euro I spent… Or somebody else put into the machines, so that we could enjoy together. More militaria is found outside. The museum also illustrates how they have to remove parts of the armour and weapons of the tanks – without that treatment, a vast majority of these exhibits like a Pershing rocket launcher would still work, so that it is not allowed to show these items to the public in Germany in that state.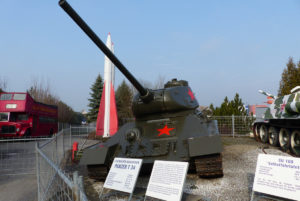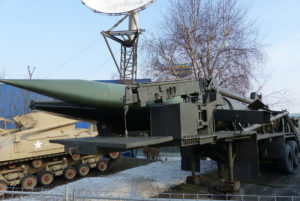 The last major scope of exhibition hall 1 are tractors and other agricultural machines. Quite a lot of cool stuff there as well – and nearly all of them are still able to be driven (quite a lot of them is even used in some of the museum's meeting days).
After a couple of hours, we changed into the second exhibition hall. After you recognize how huge this one is in addition, you also see that you will be really in a hurry to see everything within one nine-or-ten hour day – you should arrive early to avoid that. The key exhibit here are cars. The most remarkable success may be that the museum hosts Europe's largest collection of Formula 1 cars – I personally memorize the Blue Flame, a car which broke the speed record for land vehicles, even more. Car maniacs can spent a day here easily and for example also find the experimental car "Brutus" with a cylinder capacity of 47 litres(!) or several Ferraris.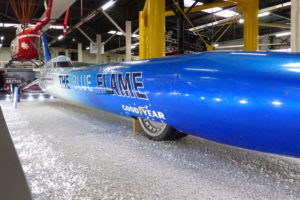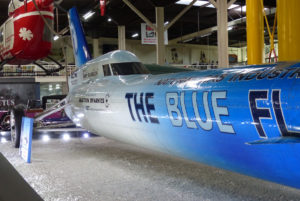 The hall is not just having cars and cycles, but also some really nice locomotive exhibits.
On top of both exhibition halls, there are numerous planes, most them them you can access. The highlight, of course, are the two supersonic ones mentioned, but there is also a quite interesting firefighting plane, a DC-3 or a Junkers 52 / Aunt Annie. To me as a plane addict, these exhibits are really cool (maybe apart from Aunt Annie, I prefer to fly the old lady with the Lufthansa services…). From one of the cockpits, there is a steep slide down to the exhibition hall – an absolute favourite among the kids. However, on the Concorde side, the much more interesting visit was the one I had at Manchester Airport.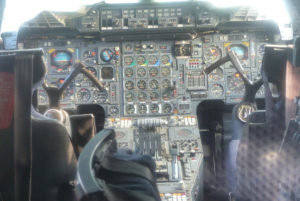 Even the restaurant has been really cool. The ordinary menu is a bit boring with German snack classics like curry sausage and/or fries, but the daily menu was really nice. We had a beef roast, German style, with dumplings and red cabbage for 7 Euro each. Overall, 17 Euros of entrance fees, including one IMAX movie (the short ones, not evening programme) is close to a bargain for that location and an absolute recommend-to-visit place if you have time in the Heidelberg–Stuttgart area. To me, it is one of the best museums I ever visited.
Technical Museums – Other Postings
Here are all other Flyctory.com postings dealing with technical museums and exhibitions:
Postings about Germany
Here are all Flyctory.com postings related to Germany: