INNSIDE Dusseldorf Hafen
82.24 EUR
Flyctory.com Pros
Lovely location, room with a beautiful view
Modern and clean room, good business stay size
A lot of interesting dining options around
Beautiful building
Flyctory.com Cons
Awful parking situation - don't drive here!
Not really happy with the overall service, terrible check-out
As I had couple of Spain and Portugal trips planned for summer 2020 and all have been cancelled due to Covid-19, I decided to go for a Melia Hotel night in order to save my points I collected there (majorly originated by staying at the posh – and expansive – Melia Hacienda del Conde on Tenerife). Due to its nice location, I went for the INNSIDE Hotel Dusseldorf Hafen, which is by the way also the closest Melia outlet from my home. A one night trip to Dusseldorf.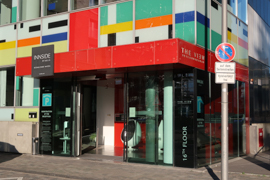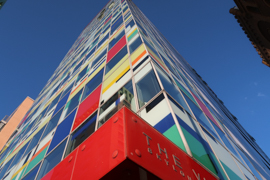 INNSIDE Dusseldorf Hafen – Location
Dusseldorf Harbor is located on the Southern part of the city. You can reach the hotel quite easily by car from the A46 motorway / autobahn. However, I would strongly recommend to approach the hotel by taxi or public transport only – there is a separate section on the parking situation below. A tram station, which is regularly serviced, is in close proximity.
The harbor area (also called Medienhafen = "Media Harbor") is beautiful – and that part of the area where the hotel is located in can be rather seen as a commercial and recreational area. There are a lot of restaurants and bars around and it is nice to stroll around on a sunny day. The Rheinturm (Rhine Tower) offers great views over the city at good conditions as well. There is, however, no supermarket or similar facility around. You may also struggle to find a quick snack / fast food facility around – if you need a bite, it may be a bit more fancy.
INNSIDE Dusseldorf Hafen – Rooms
I booked an Innside Double Room for 84.24 EUR, including breakfast, refundable. I felt that the rate was significantly lower than my expectation. My room was likely an upgrade, it had a lovely view over the harbor on the 13th floor. In some other reviews I read that the rooms on the opposite side may be bothering as they are facing construction work. I cannot comment on that.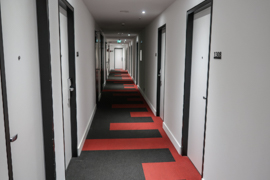 I had a lovely thirteenth floor room. The room had a quite nice size, maybe slightly on the small side. The style was very modern, I overall really liked the design of the room. The key feature of the room, however, was definitely the amazing view through the large glass front. What I did not like that there was no access to basic information like opening time, room service menus etc. Other hotels did that better, e.g. by QR code stickers. The room had a lot of storage facilities, which I definitely liked. What was really bothering me, however, that there was just one pillow available. Similar to the stay at the IntercityHotel Nuremberg, I had to use the blanket as a headrest for sleep.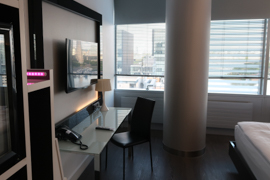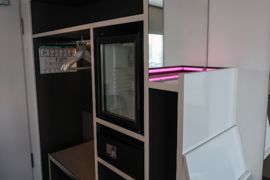 Shower and sink were integrated in the room. I like that, but it is of course a matter of taste. What I did not like, however, was that one of the knobs of the shower were broken and even though the missing part was in the soap basket of the shower, it has not been repaired.
As said, the view from the room was amazing. Here are some impressions.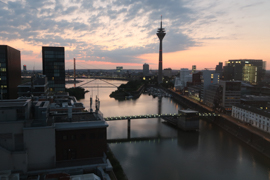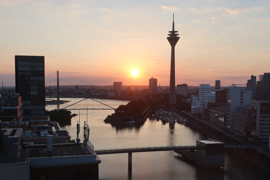 INNSIDE Dusseldorf Hafen – Breakfast / Food
The hotel features a restaurant on top level of the building. The scenery was amazing (as expected after my room's view), the restaurant was fine. The breakfast service, however, was rather limited. All food was brought to the table, which looked quite nice, but was rather limited in selection. There was also no request on dietary requirements. Call me picky, but I also do not like when salami is directly put on top of cheese. I am not vegetarian, but it simply transfers the taste of the sausage too much.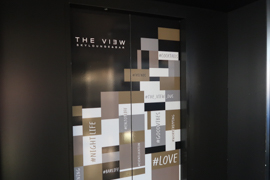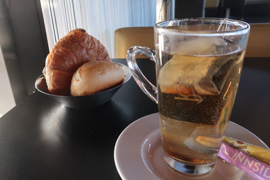 INNSIDE Dusseldorf Hafen – Parking
The INNSIDE Dusseldorf Hafen is definitely a place aiming for business travelers, so I do not understand the parking situation there. The hotel does offer a garage, I would even name the high price of 23 Euro / night to be fair, just due to the limited space available in the harbor area. But at my time of check-in, there were no parking lots available. Other reviews state that if you are arriving with full size cars, the garage will not work out in general. Thus, after check-in (due to the lack of space, I even had to park in the firefighter access area…), they recommended me to use a public garage. The garage is some 400 meters walk away and in fact belongs to a cinema. Pricing there is much better (I paid less than ten Euro for the night), but the place is popular and I do even see a risk that if the cinema was operating (it was closed due to Covid-19), you may not find a spot there.
Furthermore, it was a sunny day and I just had light luggage. If one of these ones would have been adverse, the parking situation would have been absolutely unbearable. The hotels around seem to have significantly better parking situation, so you should keep them in mind if you want to stay around. I do hate valet parking – but if you have a situation like that and you are an upper class hotel like the INNSIDE, you just have to offer it to your customers. Just due to the parking situation, I would already not recommend people arriving by car to opt for this place.
INNSIDE Dusseldorf Hafen – Services
Check-in was strange at INNSIDE Dusseldorf Hafen: there was a plastic glass protection at the desk, but it was far too small and the receptionist struggled with wearing a mask anyway. They did not give me a the typical paper sleeve for the keycard, as they could not disinfect it (?? Aren't they just thrown away??). Thus, he wrote the room number on the sleeve, was asked to take a photo with your mobile and then the sleeve was thrown to the garbage. You were also asked to remember the WiFi password by the same method.
The receptionist at check-in was even worse. I feel it is absolutely fine to be a bit of casual and to have some fun talk during check-out, but if it is getting too personal, it is just annoying. I still want to feel like a customer in a business hotel and not like a beer bud after having some cheers in a Dusseldorf bar. Unacceptable! The staff at breakfast, though, was nice and did a professional job, WiFi was okay. There was no information about services like the menu of the hotel's restaurant. You could find it in the internet by browsing. I prefer solutions like done in the Avalon in Bad Reichenhall, where they just had some QR codes in room for that.
INNSIDE Dusseldorf Hafen – My View
Such a shame. The location of INNSIDE Dusseldorf Hafen is so amazing, the view from the room was a real treat and the design was lovely. But finally, staying at a hotel is also about services. I have no idea why they do the check-out like that (especially as you can find similar thoughts on the check-out in other reviews) and the breakfast was definitely lower than my expectation. The biggest impact on my total rating is, however, definitely the parking situation. I am sure that there would be much better solutions (valet parking, also: renting spaces in nearby hotels) to solve the situation. Yes, my review would thus have been better if I came by public transport, but that's just the nature of the review. The rating is a shame – there is so much potential in this place.
Flyctory.com in Dusseldorf
Here are all my postings about Dusseldorf:
German Hotels
Here are all Flyctory.com postings dealing with hotels located in Germany: