Before we checked out the new Wellnest private spa in Cologne, my wife and I felt it is a good idea to check out a nearby hotel, which also had rather recently opened in Cologne. The edge of the former Carlswerk area, where I already covered quite some concerts in, hosts the Moxy Cologne Mülheim. The reviews are rather mixed – the more I was curious about my second stay in that Marriott brand in Cologne, after staying at the lovely Moxy Cologne Bonn Airport. Here are my thoughts about the stay in late September 2023.
Moxy Cologne Muelheim – Location
The hotel is located in a former industrial area. However, there has been quite a lot of development around the Carlswerk in recent years. There are quite a lot of companies around nowadays, on top of some interesting restaurants. The hotel building, for example, features a burger restaurant by a major German steak house chain. A Five Guys restaurant is nearby as well. More than that, there are four concert venues in walking distance: the Carlswerk Victoria and the Club Volta as well as the E-Werk and the Palladium. In addition, there is also a stage for plays (Schauspiel Köln).
The hotel is having a really nice location regarding the public transport connection. The tram stop Von-Sparr-Straße is driven by tram line 4, which directly connects to the Deutz/Trade Fair station (typically every ten minutes). You can also walk to Keupstraße station, which is additionally connected to multiple bus lines. The hotel is running a small parking garage. Despite the garage was full, there was a green light at the entrance at the narrow street, which was bothering. There are sufficient parking opportunities around the hotel – if there was no concert or show around (which is more or less the case every evening). However, there are some public parking garages around with sufficient capacities (roughly 16 to 20 Euro per night).
Moxy Cologne Muelheim – Room
The design of the hotel reflects the former industrial character of the area as well as being used for rail operations. We had a one night member rate, refundable including breakfast, which was 123.90 EUR for a Friday to Saturday stay in September. The room category was a queen standard. Our room was rather large. Compared to the Moxy I stayed in at Cologne/Bonn Airport (CGN), I especially liked that this foldable work desk something was comparably large and really fit for working. There were several power outlets around the room. Below the bed, there is light with a motion sensor. This is somehow nice if you need to go to the bathroom in the night, but rather felt a bit of bothering to us (as we did not find a way to switch it off).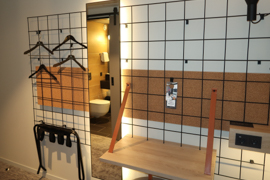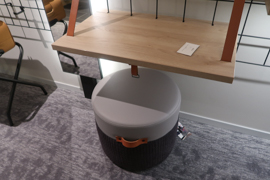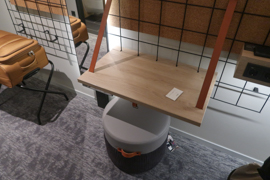 The bathroom was rather nice and had sufficient storage capacity. Even though the large shower does not look too bad, there were quite some issues with water running out of it when having a shower, even for my wife. Amenities are provider in large dispensers. The room was overall clean and well maintained and it was really quiet. The sound of closing room doors on the same floor was a bit annoying, though.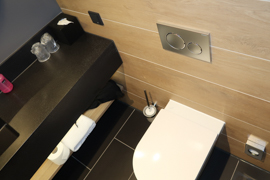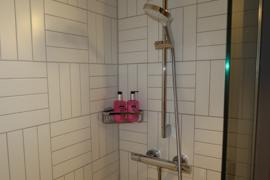 Moxy Cologne Mueheim – Breakfast
The breakfast was fine, but did not touch me too mich. The buffet has been organized in different drawers, which already lead to some slow-downs during a rather low volume of people in the beautiful bar area. There were also some other things I just did not get: there were trolleys to collect your trays after breakfast – but these were significantly too small for the number of seats. Another very transparent example is that the hotel had these touchscreen juice dispensers. While the dispensers were configured to produce a certain amount of the drinks, the glasses simply did not match that. Either you just got half a glass of juice – or the drink ran over. I just don't get how these kind of things can happen. Warm dishes provided were scrambled eggs and baked beans. On top of that, the breakfast times the hotel gave us for the Saturday stay did not match the times given in the breakfast area itself.
Moxy Cologne Muelheim – Service
The check-in has been a mess. The receptionist was friendly, but not overwhelmingly well trained. He should have noted that something is wrong when he insisted that we had already checked in. Long story short: the room we were originally given was occupied – one of the scariest things which can happen in my point of view. It neither leaves confidence in regards of the safety of your own luggage, nor in regards of your data. I have to say that the way the reception handled that serious issue was rather weak.
The second try took a while, but worked better. The hotel is giving you a welcome drink at the bar, which is very nice. WiFi worked well. My Android mobile had issues with the captive, but my wife's Samsung had no issues, so I just mention that without influencing my rating. On reception level, the hotel has a neat, but overall quite nice gym.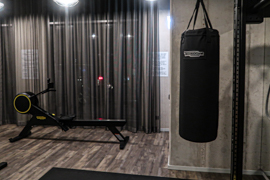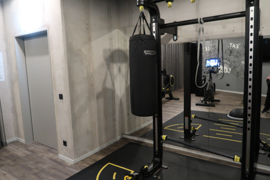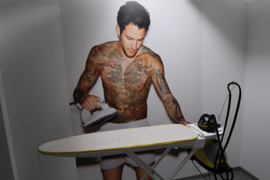 Moxy Cologne Muelheim – My View
We were struggling with our stay in Cologne Muelheim. The location is nice if you don't want to travel after a concert in the region. However, there were too many issues, which significantly reduced our happiness with our stay.
Hotels in Cologne & the Rheinland Region
Here are all my hotel reviews related to the region around Cologne:
Travel Postings with Picture Gallery
Here are all my Travel postings coming with a designated picture gallery: