Solingen, some 30 km Northeast of Cologne, is known as Germany's headquarter of the knife and scissor industry. Thus, it is not too surprising that the city features a couple of places dealing with these kind of items. One of this places is the Deutsches Klingenmuseum (German Blade Museum), which is concentrating on the products, not on the production of knives, swords, scissors and cutlery. Here is a review.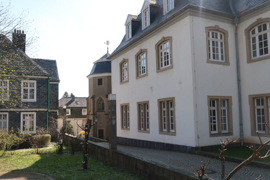 German Blade Museum – Location & Admission
The museum is located in the Northern part of Solingen, in the historic district of Gräfrath. It is quite worth walking around the picturesque area. There is a free parking lot nearby, which is obviously popular among visitors and locals. The Plagiarius Museum which I recently reviewed is some 6 kilometers away.
Adult admission to the museum is 4.50 EUR. There are several discounts for certain groups of people. However, there is no combined ticket with other Solingen attractions.
German Blade Museum – The Exhibition
The museum exhibition starts with the very beginnings of knifes and blades in the Stone Age, Bronze Age and Iron Age. There are various exhibits from different times and cultures.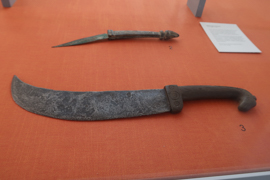 However, the collection of items becomes much more diverse when you reach the Renaissance and Baroque rooms.There are several kinds of exhibitions, like swords of all kinds, but also cutlery. A very interesting part of this part of the exhibition is travel cutlery (you typically traveled with your own cutlery and used it, as it was so sparse). The museum allows you to travel through time, you also get to know the most famous Solingen knife manufacturers. The Hall of Knives finally give you a huge selection and variation of knives of all kind.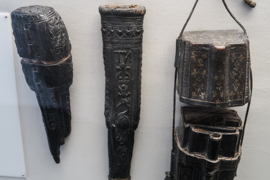 The first floor of the museum deals with more focused exhibits. One room deals with non-European cutlery and weapons, for example. Another room showed blades for special purposes, including medical stuff like knives for amputations. The Industrial Age room has some impressing exhibits including a peacock made of scissors. There are also special cabinets like weapons used in the Nazi Ages.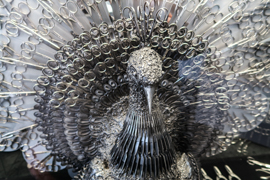 German Blade Museum – Services
The entrance area hosts a small cafe service (majorly drinks) and some souvenirs, including a couple of knives and scissors of Solingen companies. There are no additional services worth mentioning.
German Blade Museum – My View
The German Blade Museum / Deutsches Klingenmuseum is one of these places which are so hard to give a fair rating on. On the one hand, the number and quality of exhibits is massive. If you are in the topic, e.g. because you are collecting cuttlery or swords, you will love the place.
I am not into that topic at all. Some individual exhibits are impressive (like the scissor sculpture). The museum is very traditional, just a massive number of exhibits sorted by topic. There is no movie, hardly any interaction in any way. This makes it hard to get into the topic (especially for younger times) and very often also tiring, because you are simply overwhelmed by the sheer number of knifes, forks, spoons, swords and other items. Thus, I just can assign an average rating to the place, which you – individually – might feel to be much better.
Postings of the Greater Cologne Region
Here are postings which are dealing with the Greater Cologne and Rhineland region:
Historic Museums
Here are all other postings on Historic Museums: