Visiting the women soccer pre-season between SV Menden, a team from my home town St. Augustin near Bonn, and the famous named 1. FC Köln (Cologne) is a quite traditional thing I also did with sport-live.net and the Unihockey-Pics.de Facebook coverages. Both teams have been relegated for the 2018/19 season, Cologne was just about to prepare for the 2nd Bundesliga season, while Menden's top girls would compete in the 4th class Mittelrheinliga in the upcoming season. Though both teams are early in pre-season preparation, Cologne surely dominated these competitions in the past, so a visitors' win was expected.
I visited the same match-up on 31st July 2019.
SV Menden vs. 1. FC Köln – 1st half
Menden had a massive start having the first chance of the match just after a few minutes. Cologne thereafter took more control, but there were just a few chances. The golden goal was scored in the 21nd minute by Carolin Schraa, who just had to convert a nice pass in the penalty area. Thereafter, Cologne had a couple of minor chances, but the score stayed 0-1.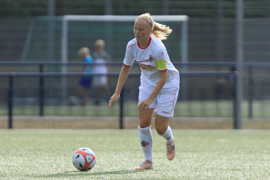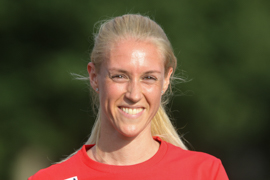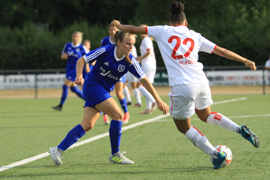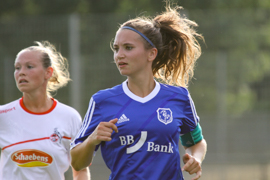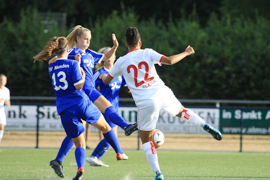 SV Menden vs. 1. FC Köln – 2nd half
In the second half, you more and more felt the early stage of preparation and the intense summer heat. It was a nice game, inviting the spectators to enjoy some nice plays in the sun – or opt for some beer and traditional local food. Cologne hit the net a second time early in the second half, but the ref cancelled the goal due to offside. Menden had a nice fast break later, where some very optimistic home team supporters hoped for a penatly shot. Finally, there was no score in second half, which lead to a final result of 0-1, which was an absolutely respectable result for the hosts.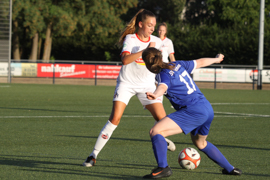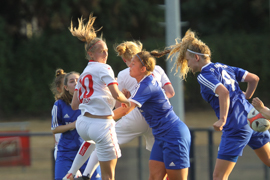 SV Menden vs. 1. FC Köln – Full Gallery
I recently posted a review of Patricia Hanebeck's biography.
SV Menden vs. 1. FC Köln – Lineups
SV Menden:  1 Kristin Kosel – 2 Esther Eich – 3 Dilara Sucuoglu – 4 Annkathrin Schmitz – 5 Frauke Roennecke – 6 Teresa Kohlen – 7 Rebecca Barth – 8 Nicole Günther – 9 Sofie Thiel – 10 Janina Scharnbacher – 11 Isabelle Halang – 13 Carolin Simon – 14 Lauren Antoine – 15 Janina Krimmel – 16 Lea Hupperich – 17 Maike Klemmer – 18 Lina Wipperfürth –  19 Victoria Binot – 20 Jessica Bogdoll
1. FC Köln: 1 Pauline Nelles – 5 Anna Kirschbaum – 6 Janet Stopka – 7 Carolin Schraa – 12 Julie van Vugt – 13 Karoline Kohr – 17 Franziska Wendel – 19 Claudia Hoffmann – 20 Meike Messmer – 22 Lara Heß – 23 Romina Frommont – 24 Theresa Gosch – 27 Kristina Hild
Postings of the Greater Cologne Region
Here are postings which are dealing with the Greater Cologne and Rhineland region:
Soccer-related articles
Here are all soccer-related postings on flyctory.com: