Spa Town Bad Münstereifel, suffering from economic problems in their city center, decided to revamp its commercial concept and opened the City Outlet Bad Münstereifel: the medieval heart of the village kept some of its local stores as well as cafes and added outlet stores to it. This concept, which is quite unique, is now in force since 2014. In late June 2018, I decided to have a quick glance to this alternative to "traditional" outlet shopping, which is located some 70 kms South of Cologne.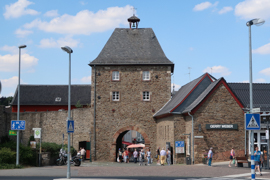 City Outlet Bad Münstereifel – Location
As said above, Bad Münstereifel is located some 70kms South of Cologne, 50km Southeast of Bonn. The next major city is Euskirchen. An S-Bahn commuter train is connecting Bad Münstereifel with Bonn and Euskirchen.
As the Outlet is fully integrated to the city center, there is no real entrance or exit, but you may somehow see the Northern and Southern Town Gates as ways into and out of the outlet. As you see in the map, the train station is quite closeby the Northern Gate.
If you come by car, you will find plenty of opportunity to park your car. The parking lot I used was one Euro per hour, prepaid, which can be comparably strenous and expansive if you fall in love with that place.
City Outlet Bad Münstereifel – Shopping
The outlet officially just features some 35 shops, which is definitely very limited. Some of the brands, though, do not appear in the big outlets around (see below), like German chocolate brand Milka or the traditional games Ravensburger store. Some of the brands rather aim to the traditional, higher age people – even on a weekend you recognize that Bad Münstereifel is a spa town and the average age of people is increased due to that reason.
The stores use the facilities available. Thus, some of the store spaces feel very limited. On the other hand, this gives quite a charming and individual flair. There is also a quite reasonable selection of kids stuff.
Of course, you should mention that there are also non-outlet stores in the city, which add potential to the shopping experience. This sometimes leads to strange neighborhoods: Bad Münstereifel is likely the only outlet where you can buy lingerie next to an undertaker. But on the other hand, this adds a lot of flair to the concept.
City Outlet Bad Münstereifel – Food and Flair
I would feel that the number of cafes and restaurants at least equal the number of outlet stores in Bad Münstereifel's city center. There are numerous opportunities to sit outside as well at good weather. You may choose between numerous cafes and restaurants of different regions. Nevertheless, again, there is a certain focus on German traditional food and afternoon cafe with cake. The prices I spotted felt to be very reasonable.
All other services are integrated to the city center as well – there is an Outlet information and several public toilet locations. I read some critics on their cleanliness, but at least at my visit they were absolutely clean.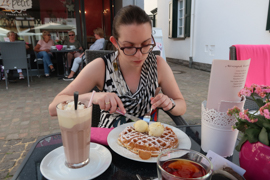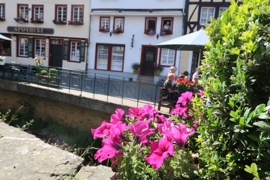 City Outlet Bad Münstereifel – Alternative
Especially if you happen to be in the Cologne-Aachen area, there are two major alternatives for shopping addicts: the Dutch Roermond Outlet is regularly high-ranked and features loads of shops of all price ranges. If you go for shopping, Roermond is a top destination – you should be aware of German bank holidays though – as the Ruhrgebiet is regularly jamming the Autonbahn from Dusseldorf to Roermond at these days.
My preferred alternative is definitely Maasmechelen Village in Belgium, right behind the Dutch border and a couple of kilometres away from Maastricht. Maasmechelen features less brands, but these are in average more posh. The atmosphere is much more relaxed than in the Dutch Outlet. If you are living South of Bad Münstereifel, you may also choose the Fashion Outlet Zweibrücken in the Saarland county.
In general, I feel that these locations offer more variety and better prices.
City Outlet Bad Münstereifel – My View
I was very skeptical before my visit to the City Outlet. There was a lot of critics on the place and one ranking even named it "the worst outlet in Europe". It is not the place where you go when you want to have the best value for money, definitely. On the other hand, it will give you an enjoyable and relaxed day. The non-outlet stores and especially all the restaurants and cafes give you a great time on a sunny day, when I would highly recommend to give Bad Münstereifel a try: it is simply more charming than the standard-architecture out-of-nowhere places built by the big outlet chains. Not a top pick maybe, but a nice place for an enjoyable daytrip.
Postings of the Greater Cologne Region
Here are postings which are dealing with the Greater Cologne and Rhineland region:
Postings about Shopping
Here are all postings related to Shopping: