Just before I boarded the Nightjet Single Deluxe compartment from Rome to Munich in summer 2020, I had a night in the Italian capital. For that night on the third day of my Four Countries, Four Trains trip, I chose the Hotel Massimo D'Azelgio, a place with quite some history and a location right at Roma Termini station.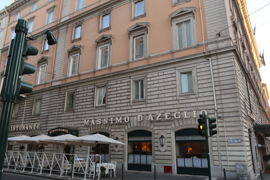 Hotel Massimo D'Azeglio – Location
The hotel, which belongs to the Bettoja Hotel Group is located just a block South of Roma Termini station. Thus, the infrastructure is amazing – there is rail, metro and tram connection in very short distance. The hotel is located at the famous Via Cavour, which more or less connects you to historic places like the Colosseum (which is some 20 minutes walk away).
The area is very touristic. There are a lot of other hotels, restaurants and supermarkets around. In addition, the train station of course offers touristic infrastructure.
Hotel Massimo D'Azeglio – History & Style
The Bettoja family installed this hotel in 1875 already. The hotel thus comes with a very traditional style – but the place is definitely not outdated – it just comes with a classic charm.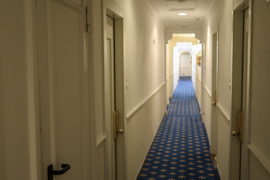 Hotel Massimo D'Azeglio – Rooms
I had a one night stay in the hotel, for which I chose a classic room including breakfast. Including all taxes, the flexible rate was 86.33 Euro. The room had a nice classic style and was larger than I expected. The bed was large and bathrobes were part of the service as well.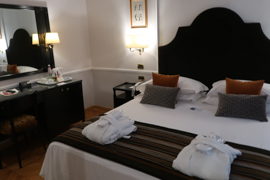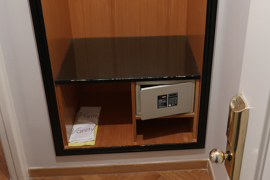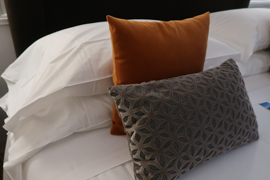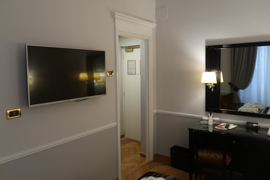 The workdesk area was a bit of limited, but was absolutely fine as well.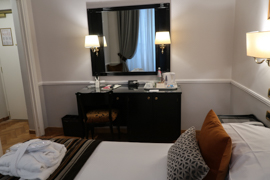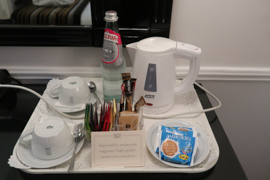 The bathroom even came with a bathtub and a bidet and felt quite large. A bit of traditional in design, but therefor, all necessary amenities have been provided. Like the whole room, the bathroom felt spotlessly clean.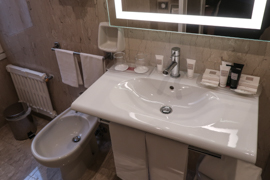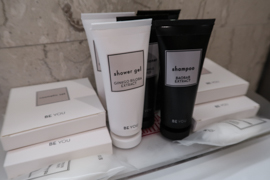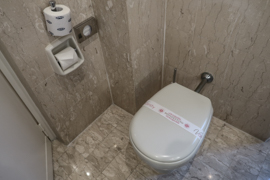 Just to mention two negatives as well: the look through the window was definitely not worth putting away the blinds. Even though the overall condition of the room was fine, one of the mirrors has been rather terrible.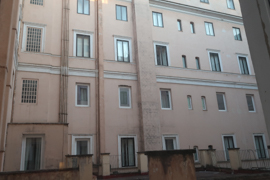 Hotel Massimo D'Azeglio – Breakfast
The breakfast room had a nice chic as well. At least during the pandemic limitations, breakfast was served by ordering from a breakfast menu – which had a nice variety. The dishes were really nice – and, of course, it is always great to start your day with cappuccino.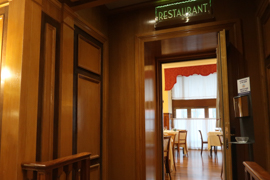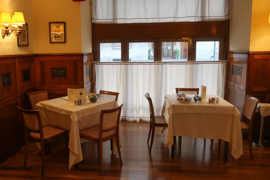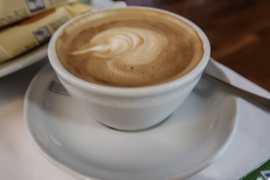 Hotel Massimo D'Azeglio – Service
The staff in the hotel was very helpful and friendly. They also were good in speaking English, so that I did not need my (very limited) knowledge of Italian. WiFi worked absolutely fine.
Hotel Massimo D'Azeglio – My View
Massimo D'Azeglio has indeed by a nice rail station hotel with a classic touch. I finally received much more than I expected. The room and breakfast was really nice, the location was perfect to have some time at the historic sites. If you need a hotel close to Termini station, this one is indeed a great option.
Rail Station Hotel Reviews
Here are hotel reviews of places which are close to a main long-distance rail station:
Special Flights at Flyctory.com
Here are all reports about flights, which are special in whatever way: