One of the things I always try to do when in the United States is to spend some time at Dave & Busters. I just love the arcade-sports bar – restaurant thing and enjoying myself especially in the video gaming / arcade part of the franchise. Unfortunately, there has not really been something somehow equivalent in Germany. The more, German gamers felt flattered when the Dutch arcade group Gamestate opened their first outlet in Germany in the Westfield Centro in Oberhausen, the country's largest shopping mall. In December 2021, I had the lovely opportunity to combine a visit of the arcade with the Centro Christmas Market. Here is my review.
Gamestate Centro Oberhausen – Location
The Gamestate in Oberhausen is located at the CentrO Promenade, the outdoors area majorly featuring a wide variety of restaurants. The best spots to park your car are likely the parking garages / lots 7 to 10 on the rather West side of the mall (and close to the arena). However, other parking spots (which are free in the Centro area) are not too bad as well. Gatestate Oberhausen is nicely located close to the tram and public bus service stop, in case you want to arrive by public transport.
The arcade is opening daily, from 10:00 hrs to midnight. On Fridays and Saturdays, they even close at 1:00 hrs. There is no admission or similar. At the time of visiting, there were Covid certificate controls at the entrance, though. You pay per game you are playing – there are no flatrate options or similar.
Gamestate Centro Oberhausen – How It Works
Gamestate uses the same system as Dave & Busters: you charge a card with funds, which you simply tap at a reader before you play. In contrast to the US market leader, you money is not converted to an artificial thing like chips, the Oberhausen machines show the real price in Euro. You can save some money in two ways: if you boost your card more than 20 Euro, you receive a certain number of free games (you spent these one first – so that smart players head for the expansive stuff first). If you spend 250 Euro in one go, you receive VIP status, which generally slightly reduces the price per game.
Unfortunately, the staff was rather poorly trained regarding the handling of the card: if you happen to have a card from a Dutch or Belgian Gamestate location, don't use that in Germany – players were complaining that their funds / tickets might be deleted. I am sure that there is some roaming option like at "D&B", but they just had no clue about it.
Certain games allow you to win tickets. I was rather shocked that the default is that you get in-fact paper tickets if you win. This was named to be "more motivating". I feel, it is just a ridiculous way to produce waste – and have been very happy that they set my cards to e-tickets (which means after each ticket game, your earnings are transferred automatically. Tickets can be exchanged to goods ranging from sweets to household appliances. I felt that it is even more challenging than at D&B to leave Gamestate with a material earning – however, if you really go to this place to win a video game or a coffee machine, you are likely very optimistic and miss the fun.
Gamestate Centro Oberhausen – Games
The games are arranged on one floor. The Gamestate website states that there are 50 different arcades, which might be somehow reasonable. I liked that they had a nice mixture of rather modern stuff, but also classics like Moto GP or pinball machines. Overall, the state of the machines was good and there was a rather low number of machines in maintenance.
I visited Gamestate twice, on a Thursday evening and the following Friday at noon. Only one machine I spotted did not work on both visits. They did a rather good job with the pandemic distancing. The presentation and the light situation in the arcade is fine as well.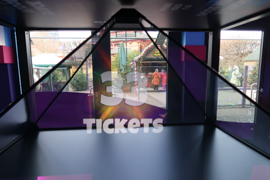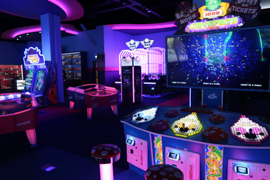 Gamestate Centro Oberhausen – Services
At one edge of the room, there is a bar, which is selling drinks and snacks. There are even a few tables on a gallery-alike balcony above the arcade, where you can enjoy your bite and relax between the games. The staff was really kind, but I felt that they are not too much into gaming. The card loading machines did not work, so that you either had to charge it at the bar or at the price booth. This lead to quite some waiting time, which was bothering.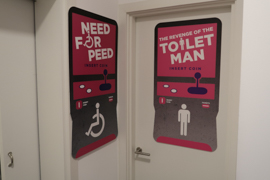 Gamestate Centro Oberhausen – My View
Gamestate is definitely a nice addition to the Centro and to the German arcade scene. There are simply too few places like this around here. Some things are bad though – first of all, cards should work without roaming ideally – or at least the staff should know how to do it. The charging process without the machines working was bothering as well. Apart from that the arcade is simply too small, the worst thing to me was, however, that they use paper tickets. That's just too outdated for a brand-new place.
Ruhrgebiet
From Duisburg to Hamm – here are all postings related to the Ruhrgebiet in Germany:
Gaming & Arcades on Flyctory.com
Video Games and Arcades used to be my passion – and I still like them. Here are all related postings: