In order to collect some new material for Flyctory.com, I recently drove to Remscheid to cover some museums there. The city Northeast of Cologne is likely not too well-known as a touristic hot-spot, but in fact it has some very traditional Bergisches Land (named after the former Duchy of Berg) historic city districts. I just felt that one of these districts, the historic center of the borough Lennep, is so beautiful (even on a rainy-snowy day) that I had to share it with you.
Remscheid-Lennep Historic Town – Location & Transport
As said above, Remscheid is located Northeast of Cologne, between Leverkusen and Wuppertal. The city has some 110,000 inhabitants in total, thereof some 25,000 people live in Lennep, which used to a city by its own until 1929. The historic town district of Lennep is located right at the motorway A1.  Parking in the historic district is very limited and there are many narrow one-way roads – but there is quite a lot of parking right outside, which is very convenient. You may also get there by the S7 commuter rail, which is connecting Solingen and Wuppertal.
View of Remscheid-Lennep Historic Town
The pictures below have been taken from a short walk around Remscheid-Lennep. I started at the Gänsemark ("Goose Market"), I strolled along the street until the birth house of Wilhelm Conrad Röntgen, who explored the x-rays / Roentgen rays. There is also the German Roentgen Museum. Thereby, most of the houses you walk along have the typical slate-covered black style of Bergisches Land houses. However, there are also some buildings, which rather use half-timbered architecture.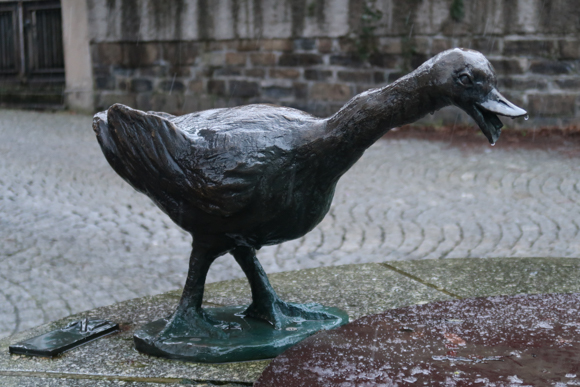 Lennep is also crossed by an old pilgrimage trail. Thus, one of the streets is called Pilgergasse – "Pilgrimage Alley".
That's the Roentgen birth house.
The (protestant) church forms the heart of historic Remscheid-Lennep. There are a lot of small cafes and interesting stores around. You also find quite some arts and handcrafts.
Travel Postings about the Cologne Region
Here are all Flyctory.com travel postings of the region around Cologne:
Flyctory.com Pictured Stories
The key contents of Flyctory.com Pictured Stories are the picture, not the text: