The first evening in Pittsburgh during my March 2023 trip had a very easy schedule: land in Pittsburgh Airport (PIT), grab a rental car – and sleep. The major events of the trip, namely home matches of my Pittsburgh Penguins, laid ahead of me. As I was not very picky about where to stay, I finally opted for the hotel which gave me a good price at a convenient location. I finally ended up at the Hampton Inn in Bridgeville, South of Steel City. Here is my review of the Hilton Hotels franchise.
Hampton Inn Pittsburgh – Bridgeville – Location
Bridgeville is a suburb of Pittsburgh, located some 13 miles South of Downtown Pittsburgh. The hotel is located right at the I-79. The area features some other hotels, restaurants and also an ALDI supermarket, so that it was a really nice place to start a trip and stock up my groceries. I have been quite surprised about the popularity of the location. The large parking lot was packed when I arrived. Finally, it is a good location if you either have a date in Pittsburgh the next morning or got your stuff done and want to head on the next morning.
There is no other option of commuting than using a car. However, if you are shy of traveling into Pittsburgh by car, the light rail terminus South Hills Village is not too far away.
Hampton Inn Pittsburgh – Bridgeville – Room
I had a double queen size room with fridge and microwave, which is finally also the category I received. The price for a one night stay in March 2023, Wednesday to Thursday, was 125.18 USD, incl. all taxes. The room was a typical Hampton one with two queen beds in the legacy design. Nowadays, this feels more and more a bit of outdated (especially if you are more exposed to the European rooms), but maintenance and housekeeping were good, the room was spacious, so that I had an absolutely comfortable stay. The work desk was surprisingly narrow, though. Additionally, the room had a fridge and a microwave oven, which might be very handy if you have a longer stay or are on a road trip.
The bathroom came with a typical combination of bathtub and shower. It was absolutely fine in size. I liked the large area for my toiletries and all the towels provided by the hotel. Overall, I was very pleased with the hotel room – it was absolutely in line with my planning and expectation.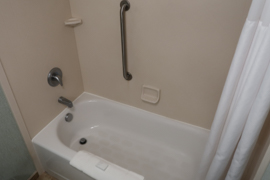 Hampton Inn Pittsburgh – Bridgeville – Breakfast
The next morning, breakfast was served – as usual – in the lobby. The breakfast area was nice and overall offered a decent selection of items.
Hampton Inn Pittsburgh – Bridgeville – Service
The check-in was not as welcoming as in other hotels in the USA (but not unfriendly at all). The hotel offers all necessary services, including a rather large indoor pool. The gym was nice as well in case you go for some exercise.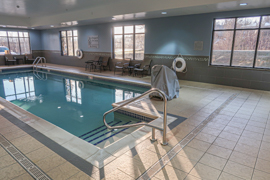 Hampton Inn Pittsburgh – Bridgeville – My View
I had a really nice stay in Bridgeville. The location right at the interstate is nice on top of the dining and shopping opportunities. Drive time into Steel City is not too bad. In contrast to central stays, you also have free parking at the hotel, which was really budget-friendly. I would definitely regard staying at this place again on my future ice hockey trips.
Hotels in Pittsburgh
Here are all the hotels I reviewed in the Pittsburgh area:
Flyctory.com about Ice Hockey
Here are all ice hockey postings on Flyctory.com: