Golf? In Germany, the sport is rather regarded to be elite entertainment, a free time activity for the rich. Our initial experience with "more relaxed" kinds of doing the sports, like playing swingolf (where you only have one club with different ends) was at most rather mixed. The more my wife and I were flattered to have two hours at Topgolf in Oberhausen, the only Topgolf location in Central Europe (thus, the place is also referred to as Topgolf Germany). Here are my thoughts about our Topgolf experience – and the first time ever holding a "proper" golf club.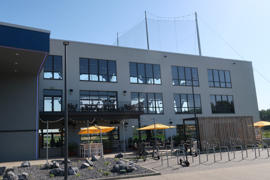 Topgolf Oberhausen – Location & Times
Topgolf Oberhausen is located Southeast of Westfield Centro, which is still one of the key shopping malls in Germany. Similar to accessing the mall, the easiest way to get to the place is to exit at Oberhausen-Neue Mitte at the A42 motorway. Around the shopping mall, there are several other attractions, like Sea Life Oberhausen, a water park or the Rudolf Weber Arena, where I saw Matthias Reim in March 2023. This part of the Neue Mitte mall area can also be nicely visited by public transport. The location of Topgolf is, however, rather remote. There is a huge parking lot at the place, including a couple of Tesla Superchargers. Topgolf Oberhausen also has a shuttle service from the shopping mall.
Opening times are from 10:00 to midnight daily. On Friday and Saturday nights, the entertainment place is even closing doors at 2:00. Pricing differs with the time you start playing, starting from 30 Euro / hours on weekday mornings up to 60 Euro / hour at weekend afternoon and evening times. The price does not differ by the number of people. However, you have to pay a one time registration fee of 5 Euro, valid globally. If available, you may prolong your playing time after the booked time in blocks of 15 minutes. The Ruhr.Topcard gave us a discount on our two hour play.
Topgolf Oberhausen – The Visit
We were welcomed friendly at the reception guests. More experienced guests might simply wait and have a drink – 15 minutes before your reserved time slot (you should definitely reserve beforehand), you receive a text message if you already arrived. If you reply to that, they start the bay assignment process and a few minute later, you head to the bay number you have been assigned to.
102 Bays available
There is a total of 102 bays on three levels – we have been on ground floor. I feel that this is nicer for beginners, even though the ball might make it a bit higher on the upper bays. Unfortunately, it took a few additional minutes until we have been welcomed by our host. She explained us how playing at Topgolf works. Her skills in regards of how to do a golf swing was very limited though. I would have loved to have a better introduction here. Even though I just have very limited knowledge of the sports, I am very sure that the vast majority of visitors do not have any significant golf experience.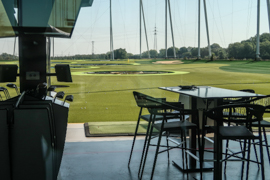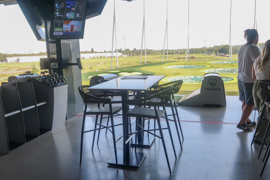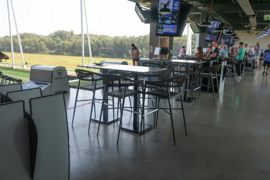 The way Topgolf works is basically rather simple: At each bay there are two sets of clubs (men and ladies ones), which are almost complete (some clubs like a sand wedge or a putter are missing). You may also bring your own equipment. By moving the club over a sensor, the player who is about to play receives a ball. The ball is chipped so that cameras around the large driving range alike cage track your swing. In addition, there are certain targets, which become important when it comes to the different games. Regardless, which mode you are using, there are screens at your bay, which give you basic information about your last shot (e.g. speed, distance, height, scores in games…) as well as visual information necessary for the game you are playing.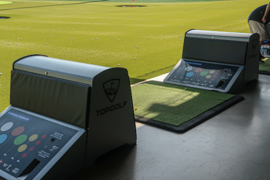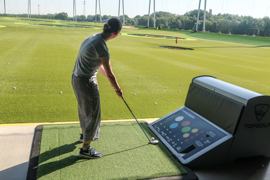 Variety of Games / Playing Modes
We spend the first hour in the practice game. You just hit balls, and even get some points if you hit one of the targets. You can also have a couple of shots in a row. We really enjoyed being in a party of two as you had quite many shots and got a bit of a better touch to golfing during that first hour. It was more and more fun, so that we changed to Angry Birds. This game (which you can play at different levels) displays a typical Angry Birds level on the screen and you have to play the ball to the right direction and height to kill the bad pigs. Sounds weird, but it was actually really fun.
There are a quite some games, also for different skill levels. You may even "play" on professional golf courses virtually – even though I feel that the fun games fit better to the Topgolf concept. By the way, if you ask how they return the balls, there are two collecting vehicles more or less constantly active. This may be bothering if they temporarily block a target you want to hit… But I feel that is a buy-in you just have to take.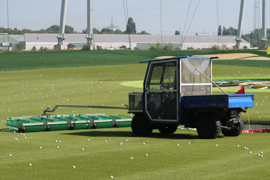 Topgolf Oberhausen – Food & Services
On each of the three levels, there are bars / sportsbars. The uppoer level even has a nice taerrace. However, your host is of course also taking order at your bay. Pricing is reasonable and the service went quite well. The food is American style bar food majorly. We had one of their signature snacks, loaded nachos, which was really nice. Of course, the reception area also features an apparel and souvenir store, if you want to show your friends that you have done / survived Topgolf.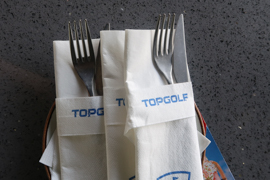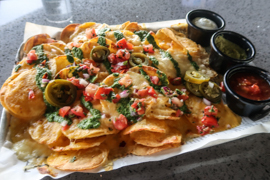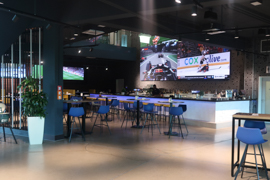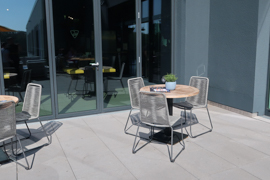 Topgolf Oberhausen – My View
I was really curious about this place. Honestly, I expected much more trouble for us, especially as our swingolf experience has been so bad. But Topgolf Oberhausen was really fun. I would not compare it to real golf – I rather see it as a posh way of playing adventure golf. But you are definitely proud when your shot crossed the 70 meter mark the first time. The price for the bays is rather high in peak times – but the service is overall good. It would be cool to have a coach for five or ten minutes at the beginning (even at a small extra charge), though. Nonetheless, my wife and I will definitely come back.
Mini Golf / Adventure Golf:
Here are all postings related to mini golf & adventure golf:
Ruhrgebiet Travel Postings
Here are all my travel postings related to the Ruhrgebiet Region in Germany: