For my visit of the match of HC Ambri-Piotta in Ticino, Switzerland, in December 2021, I needed a stay as close as possible to the arena. As there are practically no overnights in Ambri itself (there is a motorway motel in Piotta, which is a pretty long walk), I went for a sleep in Airolo, one city North of Ambri-Piotta. The location was absolutely ideal and the price was absolutely right in Swiss relations as well. Here is my review of the Allbergo delle Alpi (also: Hotel des Alpes), based on a one night stay.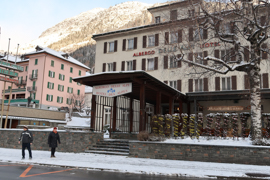 Albergo delle Alpi – Location & Connections
If you arrive at Airolo by train (there are reduced rates available from Germany), you have absolutely no change to miss the hotel: it is really just right across the street from the main entrance to the Airolo train station platform – Albergo is undoubtedly exactly what I call a rail station hotel at Flyctory.com.
During my stay, practically all hotel guests in this hotel were heading to the match. The area is also famous for skiing and hiking. Airolo is one rail stop away (some eight minutes) from Ambri-Piotta. For night returns, the Postbus bus service (some 15 minutes), which is also stopping right in front of the station, may be an option. There are some other hotels and restaurants around. The rail station also features a kiosk and a cash machine. Just very few steps away from the hotel, there is a supermarket. The IR26 driven by the Südostbahn offers hourly connections to Basel and Bellinzona.
Albergo delle Alpi – The Room
My room rate for a single room with shower (there are also rooms with shower on the floor) was 75 CHF. This included all taxes and the option to cancel three days in advance. Breakfast was another 13 CHF extra. The room was absolutely basic, but comparably spacious and clean. The sink and the shower were in one corner of the room, the toilet in a small separate chamber. I struggled a bit with the size of the table, which I had to use as work desk, but it worked out to maintain Flyctory.com. The room featured basic amenities – I am glad not to have shampoo in blister packs too often, though.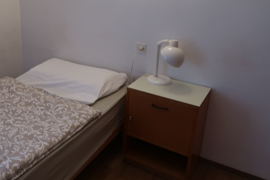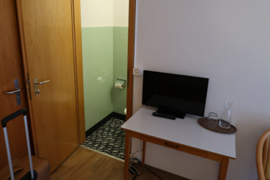 Albergo delle Alpi – Breakfast / Food
While the room was rather a basic accomondation, as I expected, Albergo delle Apli surprised me with a rather rich breakfast buffet. There were no warm items, but overall, they did really great and I enjoyed their selection of breads, home-made sweets, cold-cuts, cereals and fresh fruit. The home made cookies were lovely.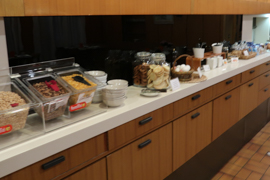 The hotel also drives a pizzeria right behind the breakfast room. Unfortunately, they don't open during the after, even not before ice hockey matches. I was really looking forward to have a pizza there, bad luck.
Albergo delle Alpi – Services
The service was very friendly, but some basic knowledge of Italian does help at this hotel, indeed. The staff did speak basic German, French and English, though, as well. There is no 24 hour reception, but you get a key code for the door if you arrive / come back after 23:00 hrs.The WiFi worked really well.
Albergo delle Alpi – My View
I needed a (locally) convenient stay – and that's exactly what the hotel provided me. Sometimes, the noise in the hotel was a bit of loud – and the place is indeed not a luxury one. But therefor, the price is absolutely right. Especially if you want to explore the area by rail or just have to have a look at Gotthard Arena as I did, this is a pretty good choice.
Switzerland Travel Posting
Here are all my travel postings related to Switzerland:
"Rides on Rail" Postings
Here is everything about trains, trams and other rail vehicles: