Arriving from Krakow testing the Polish EIP high-speed train and heading on to Berlin with the Berlin-Warsaw Express – all I needed for a stay in late August 2021 was a place close to the Warsaw Central Station, Warszawa Centralna. As Hilton operates one of their outlets in closest proximity, this one has been a rather easy choice (also regarding a great price). Here is my review of the Hampton by Hilton Warsaw City Centre.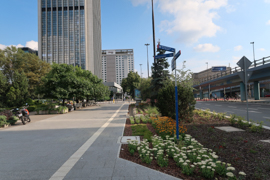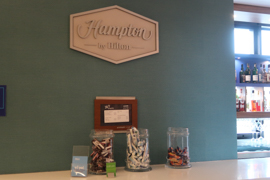 Hampton Warsaw City Center – Location
The hotel is located just two blocks away from Warsaw Central Station, South of the travel hub. The way there is a bit of challenging with luggage, as the connection does not feature any elevators or escalators – be aware that you may have to carry your luggage up / down the stairs. The hotel is located in a large commercial building. The station features a lot of transport options – and finally, you may also go for one of the rather cheap taxis.
The train station, of course, also features a couple of services for travelers, including minor supermarkets. The building of the Hampton features a small Zabka, a mixture of snack stop and supermarket, which is at least good for a yogurt, a sandwich or some crisps. The area is rather a commercial one so that there are not too many dining options around, though. You enter the hotel from street level, while the lobby and reception is on the first floor. Sometimes, I feel, this is very handy.
Hampton Warsaw City Center – The Room
I booked a Queen Room with City View, which had a flexible price (including breakfast, as in all Hamptons) of 225 PLN. The price equals 50 Euro. City Views means being on one of their upper floor – and the hotel upgraded me to a room on the very top floor (17th floor) which gave an amazing view. The room was a bit of compact, but very functional and well maintained. The only thing I missed was a minibar / fridge, but the bed was very cozy, the work desk came with a good size and sufficient power outlets, so that I overall really enjoyed it up there.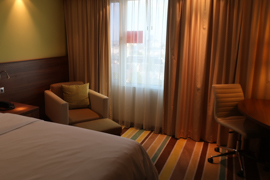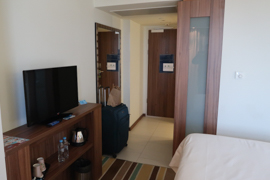 The bathroom featured a large shower. The rest of the sanitary section was a bit of compact, but very nice and functional. Like in most Hampton Hotels in Europe nowadays, amenities were given in dispensers.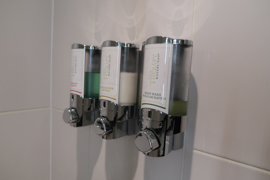 Below are some pictures taken from the hotel room: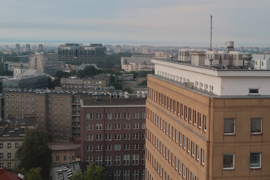 Hampton Warsaw City Center – Breakfast / Food
The hotel is really able to hold a large capacity of people – and the best example for that is the spacious breakfast area, which is in fact equivalent to the whole 2nd floor. Thus, there was also a lot of space when I had my morning bite at about 6:30 hrs on a Monday morning. The breakfast was likely the best one I ever had in a Hampton. Sorry that I have been under time pressure and did not take that many pictures – but there was a great selection of bread, warm dishes (even veggies and spinach), cold cuts, sausages. Finally, the breakfast offered a lovely blend of European / American dishes (they also had two waffle machines…) and Polish delicacies.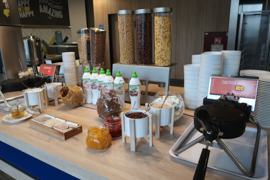 Next to the lobby, there is a bar area, which also serves some simple dishes and works as a sports bar. I felt it is a very cozy option after a long (touristic or business) day.
Hampton Warsaw City Center – Services
The first words on a Polish reception desk always feel a bit of bumpy (at least that was the case my whole trip), but after that, the welcoming was really friendly. Apart from the room upgrade, they honored my Hilton Honors diamond package with a free drink voucher for the bar and a package of two small water bottles (so that I had four, including two in the room) and two chocolate bars. The WiFi worked very well as well.
In the basement area, the hotel features a small gym. It was occupied when I had a glimpse after breakfast, so that I just had few quick snaps. Looked quite fine, though.
Hampton Warsaw City Center – My View
The stay at Hampton Warsaw City was a really good one. The value for money was great (compare it to the almost double priced Hampton in Oswiecim…), the staff was friendly and I loved the view from the upper floor rooms. Last, but not least, the breakfast has been outstanding. No doubt that this review ends up in the Top Pick! category.
Hilton Top Pick Hotels
Here are all my hotel reviews of Hilton Hotels, which I assigned a Top Pick! rating:
"Rides on Rail" Postings
Here is everything about trains, trams and other rail vehicles: