Arriving at Munich Main Station by rail at 22:00, grabbing a rental car there at 8:00 (earliest possible time during Covid-19 times) – for my trip to the Berchtesgaden-Salzburg region in late June 2020, I opted for a real budget stay right next to Munich main station: the Creatif Hotel Elephant just caught me with a ridiculously low price – so I had to give this place a one night chance.
Creatif Hotel Elephant – Location
The hotel is located right one road away from the Northern exit of Munich Main Station, right next to the parking garage which is used for the station's rental car facility. The walking time to the hotel is just two or three minutes. During my stay, the reception of the hotel has not been used.  Therefore, the hotel was serviced by Hotel Alba, which is just across the street. You could make use of a rear entrance of the hotel, which was quite handy.
There are a lot of other hotels, but also restaurants and bars around the hotel. Finally, Munich Main Station of course offers all services which are necessary for the traveler.
Creatif Hotel Elephant – Rooms
Apart from the very advantageous location, the key reason for choosing the Creatif Hotel Elephant was the unbeatable room rate. The hotel offers rooms with and without own bathroom, I had a room with bathroom, prepaid, for 36 Euro. I got a room on the fifth floor, which was quite basic, but clean and absolutely a nice value for money.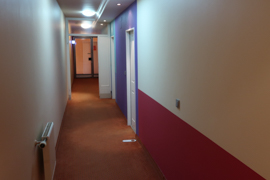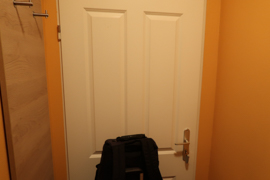 My impression of the bathroom was very similar: it is definitely not a beauty, but it was really large and clean – the latter is the key thing you would expect from a room like that.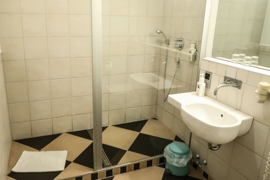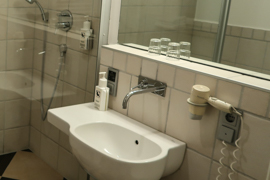 A nice additional feature of the room was a quite spacious balcony. The view was limited, as there are a lot of tall buildings around, but it was nevertheless a lovely add-on to my stay.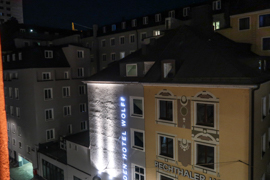 Creatif Hotel Elephant – Breakfast
Breakfast was also served at Hotel Amba, where the check-in has taken place (check-out was by key drop to a key box in the Elephant. Again, the route was short.
As the hotel felt that the current breakfast was too limited due to Covid-19, they upgraded my stay to a breakfast included rate for free. I felt that they did not do a bad job at all: simply bread rolls, croissants and other food separately packed. There were even dishes of cold cuts, nice orange juice and of – of course – hot drinks. The breakfast room was also really nice.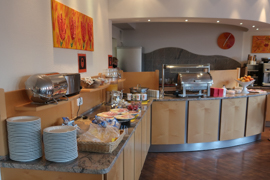 Creatif Hotel Elephant – Services
As said, the hotel itself was unserviced and the reception was done by a sister hotel. In general, they were very friendly and helpful, but I feel it is impossible to hold hygienic standards in a hotel nowadays without having somebody present in the premises. Not too surprisingly, it failed, especially in an international place like Munich, right at the train station. Covid-19 regulations are too diverse on an international level that you could even expect people to know the local interpretation.
WiFi was available in the hotel and in the room. I had some issues, which made me switch to tethering – but overall, it was quite fine.
Creatif Hotel Elephant – My View
The price for the room was super-competitive – and honestly, I received much more comfort for that than I expected. The only really strong downside I do have is that you cannot run these remotely managed hotel places in times of Covid-19. It is a failure of both, the hotel and its guests. Nevertheless, I felt that staying at the Creatif Hotel Elephant was a pretty solid experience.
Flyctory.com in Munich
Here are all other Flyctory.com postings related to Greater Munich:
German Hotels
Here are all Flyctory.com postings dealing with hotels located in Germany: