Even in the United States, you nowadays run into the green coaches of Flixbus. The company turned out to dominate in more and more markets. While my (rare) experience with their streetbound service was very bad (a bus did not stop at a defined point and they did not even reply to mails thereafter), I was quite interested in how they operate on rails. In early November 2022, when Deutsche Bahn, the major German rail provider did not have tickets appropriate for my plans and budget, I opted for the green trains for the first time. Here is my review.
Flixtrain – Network and Tariff
While in general, there is a free market on rail travel in Germany, Flixtrain is the only provider of national rail travel – all other services rather cover regional connections. The only exception might by Austrian Rail ÖBB, which are providing Nightjet night train services in Germany. Having said that, the network on Flixtrain is sparse as well. Their website lists seven connections at the time of writing. From Hamburg, they provide services to Stuttgart (via Frankfurt), Cologne and Leipzig (via Berlin). In addition, Berlin is the starting point and terminus for trips to Wiesbaden, Basel in Switzerland and Stuttgart. The final route is the one from Aachen via Cologne and Berlin to Leipzig and Dresden.
I had a Saturday morning trip in early November 2022 from Cologne to Hamburg. Apart from the rather small network, the frequency of the trains is also much more limited compared to the national peer: The FLX 20 route I took is at most serviced twice a day, for example. This is a rather typical frequency of Flixtrain services. It is worth mentioning that Flixtrain is also operating a route in Sweden, between Stockholm and Gothenburg.
My Trip
As said, I had a Saturday morning ride from Cologne to Hamburg in November 2022. The original ticket value was 23.23 EUR, consisting of a 14.99 EUR train ticket, a 4.99 EUR seat reservation and – what has been a really nice feature – a 3.75 EUR additional fee which blocked the seat next to me for my comfort as well. The ticket is bound to a certain train connection, there are no flexible tickets. Flixtrain does not have different classes. I went for a seat in a set of four with a table in the middle – alternatively, you can opt for a Comfort Seat (for a higher reservation fee), which is having a larger seat pitch. You also have to pay for additional luggage if you travel with more than a carry-on and a larger suitcase. However, I haven't seen that the train staff finally really checked it.
Flixtrain – Rolling Stock
The Flixtrain-branded trains are typically driven by other train company. The customer does not really realize which company is driving it. The cars in Germany are practically standardized and are former Interregio wagons with a high number of seats. While Flixtrain's very early operations used really old material, this more modern rolling stock is actually quite nice and also comes with WiFi and modern toilet facilities. The seat pitch in "normal" seats is more narrow compared with the peers, so that one wagon roughly holds 100 passengers.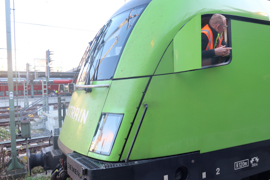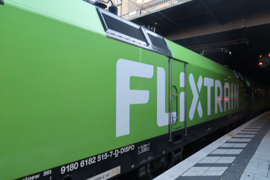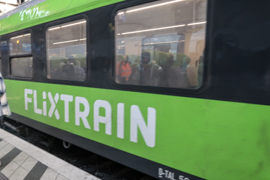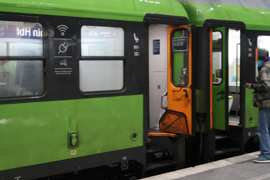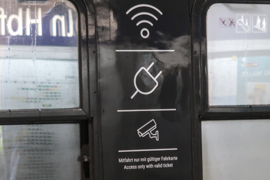 Nonetheless, you see differences to the peers. For example, my train did not have electric opening doors, but the "old-fashioned" manual opening mechanism. I really had to think about how to operate them properly. The interior design in the trains is nice though, coming with a good corporate branding in green and grey. As there is only a one class configuration, there is a 2-2 seating. The aisle felt very narrow during my trip and some people had issues with their luggage. There are tables in the seat in front of you and you can lift up the arm rests. The seat as such is okay and is definitely within expectation of a budget rail trip. There are power sockets between the seats, which also feature USB charging. There are no displays showing you if a seat is reserved.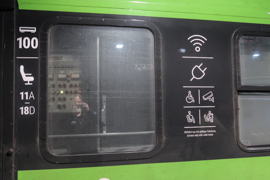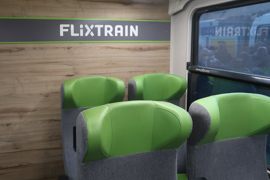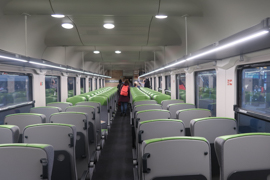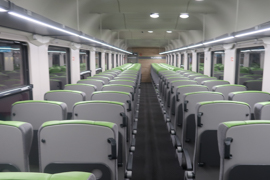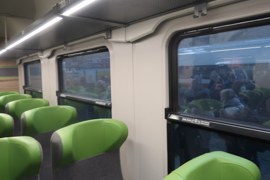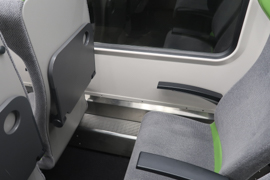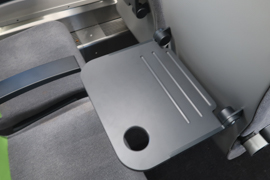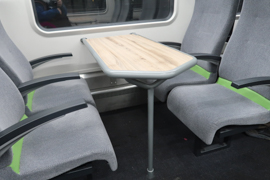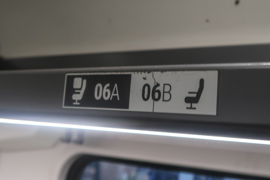 The renovation of the toilets is really an upgrade, compared to earlier rolling stock. Overall, you have to say that you feel that the wagons are coming from a previous generation of trains mainly due to the worse damper – a Flixtrain ride felt much more "bumpy" than an IC2 or ICE trip, for example.
Flixtrain – Service
Flixtrain never offered dining cars or similar services. However, there used to be a snack sale. They stopped this offer with the Covid-19 pandemic. This means you should stock up with your nutrition needs before the trip. The staff was friendly, I was surprised that Flixtrain announcements are in German only, though. Due to track works, my train was re-routed and thus I reached Hamburg about an hour later than the time I booked. However, I have been informed by e-mail about that before the trip already.
The WiFi actually worked better than I expected, even though it did not reach Deutsche Bahn standards. This may, however, also be due to the fact that the train had to take an alternative routing. There is an in-rail entertainment system which also gives you the position of the train. Unfortunately, the page did not show updates in regards of delays.
Flixtrain – My View
Flixtrain does not offer you a level of comfort as you might have it in other European train companies. However, they also don't charge you that much. Thus, depending on the time you want to travel, they are a nice alternative to Deutsche Bahn in Germany, especially in peak time situations. I did not like that there is no snack or drink service at all. This may be especially bothering in summer. The seat pitch is also just turning them into a "backup solution" for me, but if you rather look for a good deal, the green trains will be a nice option.
"Rides on Rail" Postings
Here is everything about trains, trams and other rail vehicles:
Food I Had Onboard
My bites and drinks on flights and trains are shown in Food I Had Onboard: