During each festive season, Cologne is crowded with tourists and visitors due to its Christmas markets. There are masses of bus tours and even additional flights. Thus, I decided to add some coverage of the Cologne Christmas Markets. While the "classic" market destinations are at Cologne Cathedral, Cologne Old Town and the Neumarkt, I decided to first introduce you to a more alternative destination: Close to one of Cologne's key tourist destinations, the Chocolate Museum (Schokoladenmuseum) and the German Sports and Olympic Museum, the Hafenweihnachtsmarkt (Harbour Christmas Market) adds a very special atmosphere.
Cologne Harbor Christmas Market – Location
The Harbor Christmas Market is located South of the city center. It is a comparably short walk from Heumarkt. You may also use bus 133, which connects to Heumarkt and central station (which takes quite a while, though). During christmas time, there is also a trolley rail, which connects all Christmas markets for a 10 Euro hop-on-hop-off fee and a lot of cycle rickshaw taxis. If you arrive earlier, you may visit the Chocolate Museum, the German Sports and Olympic Museum as well as the Historic Mustard Mill.
The Harbor Christmas Market started into the 2019 Christmas Market Season on 22nd November 2019. It will close on 23rd December 2019. Opening times are 11:00 to 21:00 hrs. On Fridays and Saturdays, the market closes one hour later. Due to a special holiday, there were later openings on Sunday 24th November.
Cologne Harbor Christmas Market – Atmosphere
The Christmas Market is beautifully located. The area is a former harbor, so that the the market is separated by a former water access, which is connected by a drawbridge. The adjacent Malakoff Tower gives a nice scenery as well. Though the road in front of the market is quite buzy, this does not kill the atmosphere of the market. The most of the stores are in tent-alike buildings. Some ones have more characteristic architecture. The eye-catcher is definitely the huge pirate ship, which also hosts a shop for mulled wine. Here and there you might take a rare spot of an actor in pirate costumes.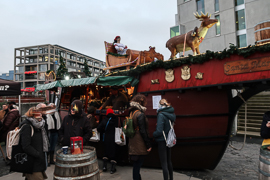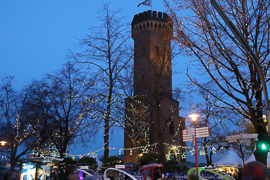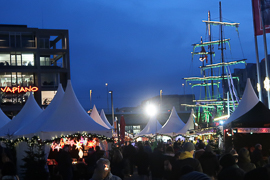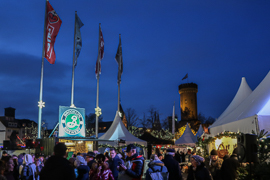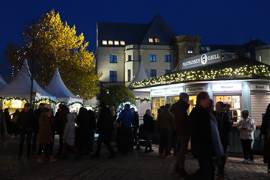 Cologne Harbor Christmas Market – Products & Food
Mulled wine is definitely the key drink on any Christmas Market – the Cologne Harbour one offers plenty of opportunity for a warming nip of it. There is also one stop for brandy punch ("Feuerzangenbowle"), but also more posh options like prosecco. The market also offers all market classics on the food side, like potato pancake ("Reibekuchen") or grilled mushrooms. There is also some fish, including Finnish-style fire smoked salmon and some tasty meat dishes.
A key product in German Christmas markets are handcrafts. You will find a couple of offers at the Harbour Christmas markets. There is also some tea and some spices around. Of course, there is also festive decoration of all kind, hand-crafted ones as well as industrially produced stuff. I especially liked the stand of stadtecken, who offer pictures of Cologne, which are altered in a strange / unusual way. For example, there was a lovely picture of Cologne Main Station which a rhino relaxing on one of the platforms.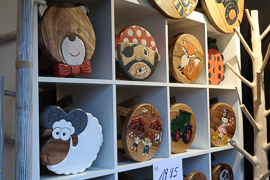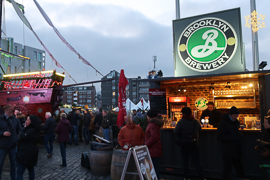 Cologne Harbor Christmas Market – My View
The Cologne Harbour Christmas Market is smaller, but also more intimate and less crowded than the key touristic ones. The atmosphere is very special. The selection of food and goods, though, is rather traditional. You definitely have a nice time when you go there.
Postings about Cologne
Here are all postings about my home town Cologne:
Places & Sights
Locations, which are not a museum or similar dedicated buildings, are found in the Places & Sights category. Here are all postings: