"Why are they allowed to open and we not?" – one of the most frequently asked questions during the Covid-19 lock-down measures, not only in Germany. One German amusement park, the Heide Park Resort in Soltau (which had to stay closed) felt disadvantaged in comparison to local zoos (which could at least open their outdoor exhibits). They went to court – and won. Thus, Heide Park Soltau was the first park to re-open after Covid-19. They started with 3,000 people per day – but it already felt significantly more crowded when I visited the park in early June 2021. I have been really curious how they will handle these challenges – and finally, if I felt safe and enjoy my day in a world of fantasy. Here are the thoughts about my visit.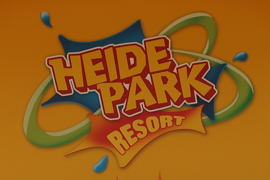 Heide Park Resort Soltau – Location & Admission
Heide Park Resort Soltau, which used to be simply called Heide Park Soltau or Heidepark Soltau, is located quite in the middle between Hamburg and Hanover in Northern Germany. You typically access the park via the A7 motorway. From the the Soltau-Ost exit, it is a some six kilometers drive.
At the time of visit, there were no walk-in tickets. Only online tickets, which you pre-booked for a certain day, were possible and were 44 Euro for adults (comparing to 52 EUR, which is the normal admission rate). The hotel is driven by Merlin Entertainments Ltd. and thus also accepts the German Merlin Annual Pass (if you don't have the premium one, certain dates are excluded). A new Merlin Abenteuer-Pass for adults, non-premium (which then also excludes parking), is 85 Euro and also includes Legoland Germany and other attractions like SeaLife locations. Parking at the Heide Park Resort is 6.50 EUR per car and day. At the day of visit, the park opened from 10:00 to 19:00 hrs – but these times vary depending on the season.
Heide Park Resort Soltau – The Park
The park has been founded in 1978. It covers an area of 850,000 square meters. In non-pandemic times, roughly 1.5 million people visit the park per year. Interestingly, the father of the founder Hans-Jürgen Tiemann originally planned to co-found the Europa-Park in Southern Germany, the most-visited amusement park in Germany. He died unexpectedly and Hans-Jürgen Tiemann used some knowledge about the park in Rust, Baden-Wuerttemberg, to found the Heide Park (the parks are a 650 km drive apart from each other).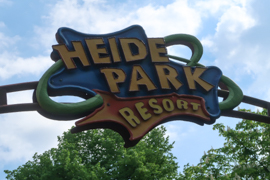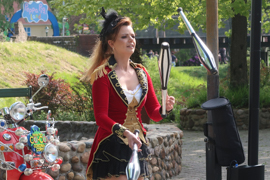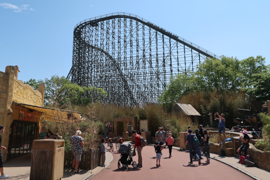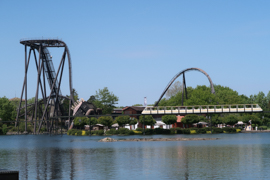 Like most amusement parks, Heide Park Resort is divided into multiple sections. Here is my overview, in the order of my visit (which was a clockwise walk around the park majorly). You can see on the pictures above that they are arranged around a major lake in the middle of the park, which I really like and feel to be somehow relaxing.
Entrance Area
Interestingly, the entrance area does not come with a special naming. The park map simply calls it Eingang & Ausgang – "entry and exit". Apart from the typical services like a customer / service center, the area is rather traditional: the houses are inspired by traditional German half-timber housing, there is a traditional carousel and an "historic car ride". In addition, the area features the main station of the Heide Park Express, a traditional-style train ride around the park.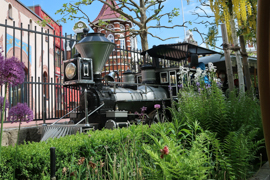 Bucht der Piraten ("Pirate Bay")
The Bucht der Piraten has been the most atmospheric part of the park to me. The first ride I took in there was the Bounty swingboat. I also enjoyed the Topilaula-Schlacht, where you shoot with water guns on targets, other boats – or park visitors. There is also a theatre for shows. Fans of thrill rides will directly head to two coasters at the edge of this section. Krake ("Kraken") is likely the people's favorite. Not too long, but it almost features a vertical drop. Big Loop is home of coaster fans who rather go for loops and corscrews. If you want to have some nice view, you can take the Panorama Bahn elevated train ride.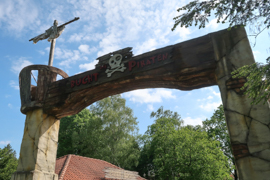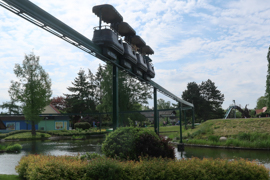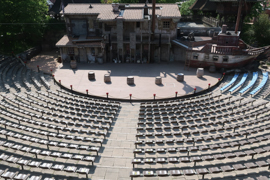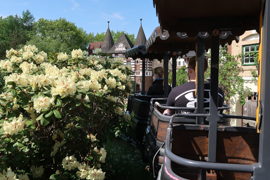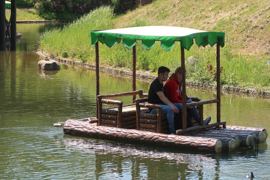 One edge of Bucht der Piraten also connects to the Heide Park Abenteuer Hotel, the hotel of the park. The area is inspired by Frisia-Dutch style architecture and also features the rather slow boat ride Käpt'ns Törn. A bit of a weird contrast to the pirate-inspired area. The Heide Park Holiday Camp, where you have more basic hut-alike accommodation, is also near this area.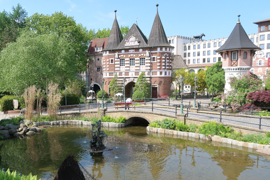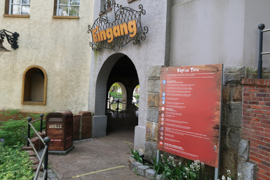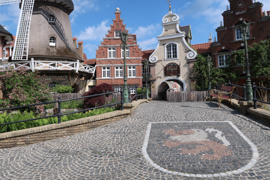 Transsilvanien ("Transsylvania")
This virtual trip to Romania confused me a bit. The "frightening" zone at the Northern part of the park has been branded to the Alps and Switzerland during my last visit. Especially the buildings around my favorite ride in Heide Park, the lovely traditional Bobbahn (a bobsleigh-style coaster) is still branded in that style. Nowadays, there are likely two other reasons why people head to that section: You see the 71 meter free fall tower Scream from all over the park. I loved that they put Screamie, a 12 meter high version of it for kids, next to it. Many people say that Flug der Dämonen ("Flight of the Demons") is the best coaster in the park.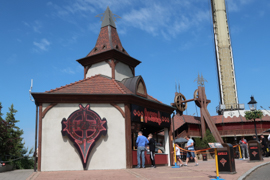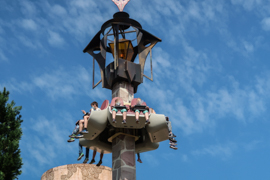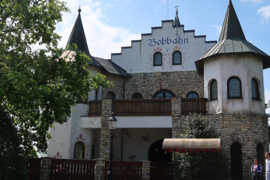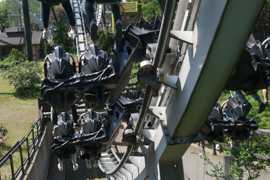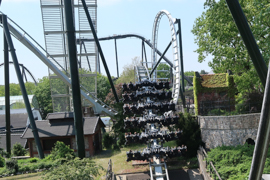 If you like hanging coaster rides and feel like five loopings, Limit is your coaster of choice. It is located quite at the edge of the Transsylvania section. Next to it is an (electric) karting ride, which was more fun than I expected. The karts are, however, the only attraction, which charge you extra. One drive (which was some eight to ten minutes at my visit) is ten Euro.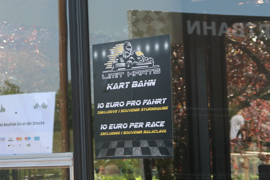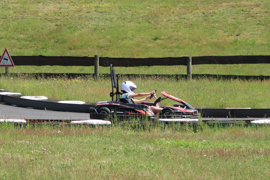 Land der Vergessenen ("Land Of Forgotten")
The next part of the park I visited was the Land der Vergessenen. It is a bit of confusing, as the first area I stepped in was a Maya-themed and branded area, which is – according to the park map – part of this "Land of Forgotten". I really liked the Maya area, as it featured a lot of traditional, but cool, fun fair rides, including the lovely chairoplane / flying swing La Ola. The Maya area is unfortunately very small.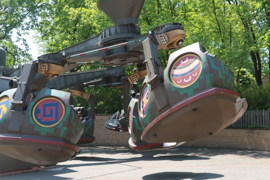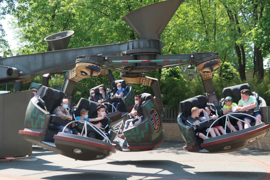 The key attraction of this area is undoubtedly Colossos. I know the attraction from my time during studying at a nearby University. The ride has been recently refurbished, but the wooden coaster is still charming. A catapult coaster, Desert Race, is nearby. When I saw Formula Rossa at Ferrari World, Abu Dhabi, it felt more impressive, I have to admit. Unfortunately, the Wüstenflitzer driving school for kids was closed during my stay.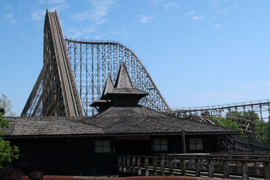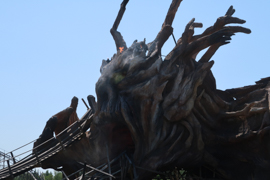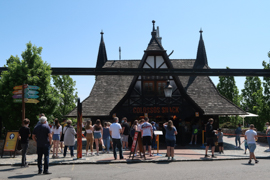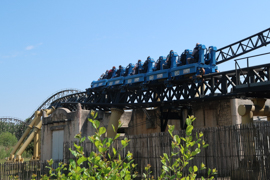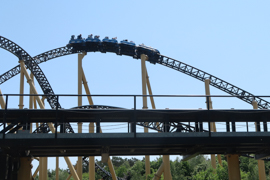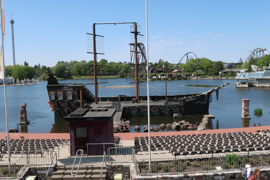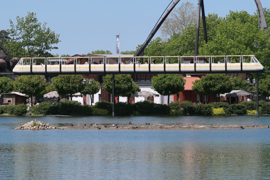 Exploria / Drachenzähmen ("How To Train Your Dragon")
I already stated that I struggled with the branding of Land der Vergessenen. The second last section of the park I visited was even worse in that. Exploria is shown as one area in the park. But in fact, you will feel to be in differently branded areas. The Western town park Lucky Land is really poor and maybe the most disappointing part of the whole park. Neither the atmosphere nor the rides are really well-done.
Then there are some rides which are not branded at all, including two very nice water thrill rides. There is a typical white-water ride with the large drop at the end to be a bit soaked. I really loved the Mountain-Rafting trip. Exploria also comes with another elevated panoramic ride, the Monorail. None of these rides in the park, by the feature something like tunnels with special stories, as you have it in other parks.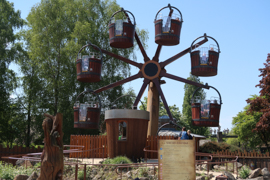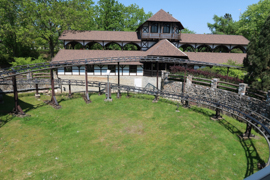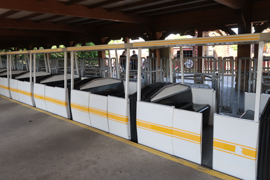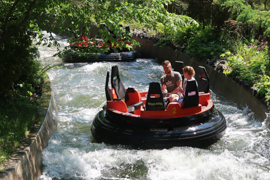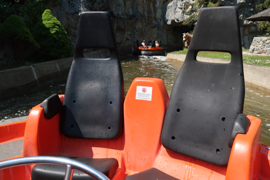 I personally do not like that much if parks are too much branded after movies – but Drachenzähmen – Die Insel themed after How To Train Your Dragon is really well done. I also loved that they had some attractions which you don't have too often in other parks… Like one carousel, in which you lie during the ride, Himmelsstürmer. The boat ride of this section, Drachengrotte, was a bit too thin, though. In general, I feel that Heide Park is not too good in these kind of "atmospheric rides", which take you into another world.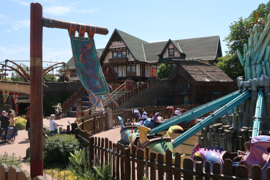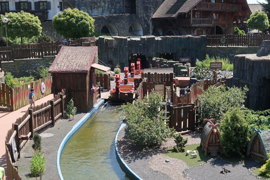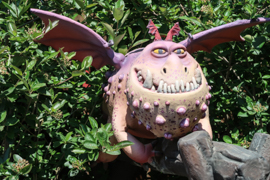 Last but not least, there is a 5D ride themed after Ghostbusters. You are taken through a world where you have to shoot at targets to earn points. As the staff insisted to put me into a car with a small kid (so that the retaining bracket was far too narrow to me and far too wide for her), I had to leave the ride without trying it. I would never compain if I cannot do coasters for safety reasons – but that has been ridiculous for sure.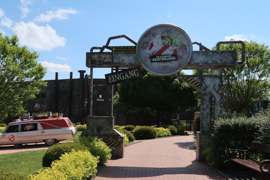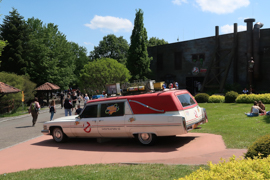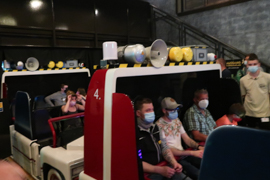 Peppa Pig Land
It's close to the exit – so your youngest ones will definitely leave the park with a smile: you can even meet the protagonist and take a picture if you visit Peppa Pig Land. The area is small, but it is colorful and comparably nicely done. Other parks might still do much better, but I liked the kids attractions and the branding of this area.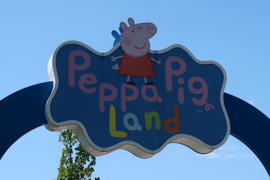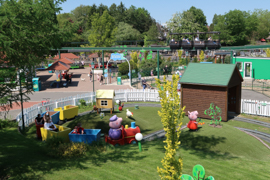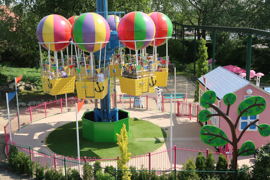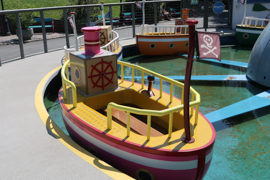 Heide Park Resort Soltau – Food & Services
The park has not been operating on full capacity during my visit. You especially saw that in regards of food. Sometimes I did not understand the options they served there (could anyone explain me what Indian curry has to do with an "Alps hut" in Transsylvania, please?) and popular areas were already quite crowded. Difficult times, as "proper" restaurants are difficult to maintain during Covid-19 regulations.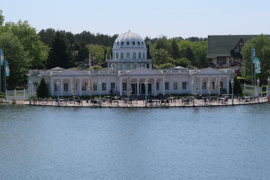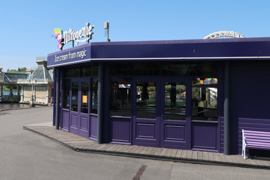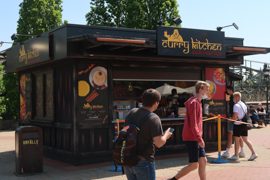 In regards of merchandise, the park was already quite active. There were a lot of souvenir stores (and I feel I haven't spotted a closed one). There were a lot of different items you could buy. I have been too often to amusement parks out of Germany in the last two parks – German parks just charge too much for new plushy friends or games, I feel. Some stuff like jigsaw puzzles of the attractions was really cool, though. The park even drives a small LEGO store. Some of the stuff was quite outdated, though.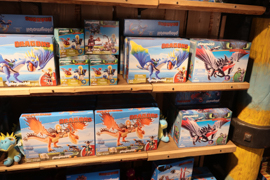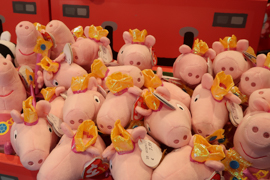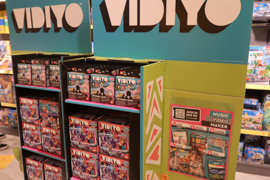 What I did like was that there were a lot of arcades and games around the park. Sometimes, the employees at the gaming huts felt to be pushing too much that people give some more Euro for the chance of a large plushy one. There are also basic services like lockers in the park. In many rides, you could leave your backpacks in drawers or at the boarding area, though. A service I liked is that you can pre-pay for all pictures they take off you during the day. This digital photo-flatrate is 14.90 EUR only when you pre-pay online (19.90 EUR in the park).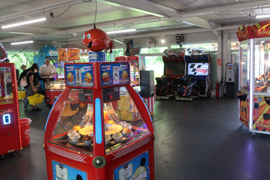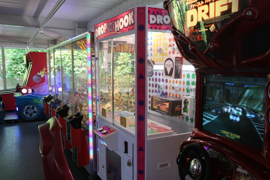 Heide Park Resort Soltau – Hygienic Measures
I became very picky with hygienic measures due to the pandemic. Thus, I was really curious how I felt about my medical safety during this visit. I feel that Heide Park Resort did a really nice job here. You cannot clean a coaster cart after each ride – but I also doubt that this is necessary. In the waiting lines, a huge majority of the people behaved reasonable. You were allowed to take off your masks in the general park areas, but had to have it on in any kind of waiting line, indoor attraction and ride in general – which worked out surprisingly well. Disinfection dispensers were frequently located within the park.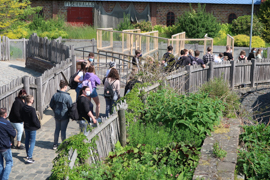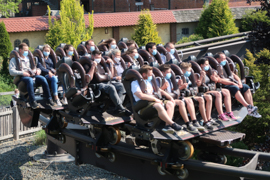 The park also installed plastic walls in the waiting line to maintain distancing. At their initial re-opening, they allowed 3,000 visitors per day – at my visit in early June, this number must have been significantly higher. You unfortunately run into issues you can explore in any supermarket currently: the people do not spread well over the park. You had waiting times of up to one hour in the popular rides, while other sections of the park had almost no time in the line. Reducing the capacity of the park is majorly in favor of enjoying this "minor" attractions. There were time slots on your tickets when you had to pass main entrance, but I did not feel that they checked it. There was no fast pass available.
Heide Park Resort Soltau – My View
My rating of the park will be a combined one: the park itself as well as their Covid-19 measures. Finally any review during these times, no matter if hotel, museum or amusement park has to face it. Regarding the hygienic measures, the park did a good job. They were prepared for the event and I felt safe.
Regarding the park itself, it is of course always a matter of taste. I used to be a coaster lover – and I guess Heide Park does pretty much for the fans of action rides. I am lacking the atmopshere. The pirate area was my favorite, I felt younger at Peppa Pig Land (but just for some minutes, as it is quite small)… But apart from that, the park did not do sufficient magic to me. You pay a lot of money to visit an amusement park – to me, you don't get 20 loopings in return, but the feeling that you are in a completely different world for one day. Heide Park Resort did not manage that.
Amusement Parks – More Postings
Here are all postings about Amusement Parks:
Country Music in Germany
Here is any Music & Media posting related to country music and Germany on Flyctory.com: