I received comparably quite a lot of feedback after I posted a review of MyWellness in Cologne. The place in the North of the city offers timed private spa experiences – my wife and I absolutely loved the place. In fact, we happened to run into the Cologne company, though, as we saw a TV feature about one of their peers on the German market, MySpa. The company runs to places currently, one in Mainz near Frankfurt and one in Munich. In July 2021, we visited their outlet in Mainz, which is roughly a two hour drive away from our home.
MySpa Mainz – Location
MySpa is located in the borough of Mainz-Hechtsheim. The facility is located almost directly at the motorway – it is at most a kilometer from the Mainz-Weisenau exit of the A60 motorway. The spa is located in a commercial area, next to a major gym. The gym comes with timed parking (at most three hours, but there are dedicated parking lots for MySpa guests. I could not spot any public transport connection. A taxi ride to Mainz main station is about four to five kilometers. The spa is opening daily, 10:00 to midnight.
MySpa Mainz – Pricing
Pricing at MySpa Mainz works similarly to the MyWellness pricing – it is majorly based on the duration of your stay and the level of the spa suite. The basic Classic Wellzone, which comes with whirlpool, sauna, a spa shower, adjustable light and entertainment system, starts at 16 Euro per person and hour. There is also the Premium Wellzone (21 EUR / hr and person). We went for their premium product, the Exclusive Wellzone, which was 26 Euro per person and hour at our stay. There are less pre-paid packages. We just went for textiles (bathrobe and towels) as well as the cuddly blanket for both for us. A three hour stay on a Thursday at noon was a total of 182 Euro.
The design of the website is a bit of unfortunate regarding the exact facilities provided: Mainz comes with one item less in their suites, a swaying lounger (which we loved during our Cologne stay). You do not see that in the default setting, only if you actively select the range of functions in Mainz. This also applies for the part of the website, which explains the different Wellzone types and pricing.
MySpa Mainz – Our Visit (Exclusive Wellzone)
Due to the quite long drive to Mainz, we were a bit too early. The receptionist was very friendly and offered us to start our spa experience 15 minutes earlier (and therefor also finish earlier) than we had originally booked. The reception area was very friendly. What I did not like was that you had to choose an infusion for the sauna already there, just by the name of it. Ordering other flavors during your stay was not possible. You could lock your valuables and carry all you necessary things in bags provided at the lockers. There is no luggage control, but bringing food and drinks to the spa is not allowed.
Very Nice and Spacious Wardrobe Area
We were guided to our suite. I definitely liked the spacious wardrobe area. It felt better than the one at our Cologne visit, also the bathroom felt quite nice. Especially as you got a wet body and wet hands in a spa like this, I tend to prefer paper towels over the hand dryer provided. There was (just) one power plug and a basis for contactless charging of your mobile in that area, too.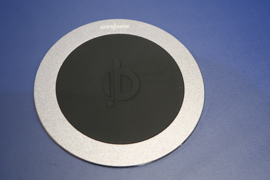 The spa suite itself was a beauty. It had a clear design. Cologne fest to be a bit more cozy to us, but the Mainz suite was definitely larger. I also liked the large bench to sit and have your drinks and food. The hydro-massage area was really cool and could be adjusted very nicely. The sunlight lights over the massage area gave a relaxing warmth as well.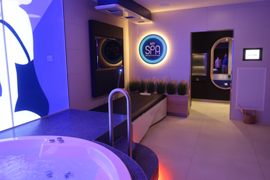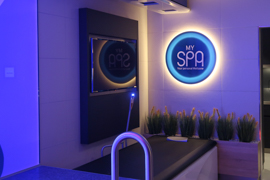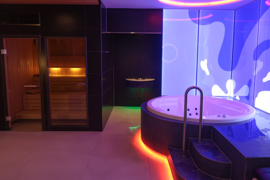 The sauna felt a bit compact, but was very fine overall. It has just been pre-heated to 60 degrees. The whirlpool was very nice as well, but could have had a bit more bubbly power in my point of view. On the other hand, I really loved your dedicated ice bowl and that the shower came with different programs. Unfortunately, each program comes with a fixed water temperature, there was no chance to have a standard shower or use the shower handle at the temperature you desire. I absolutely loved the entertainment system. Connecting to it via Bluetooth, but also via Chromecast, was absolutely easy and convenient.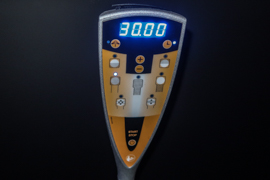 Touch Panel Controls
Similar to our previous visit, the touch panel worked as a control – e.g. to adjust the temperature of the sauna as well as to connect with the audio/video system. The screen was also the panel to order food and drinks (see below). You may also adjust the light atmosphere.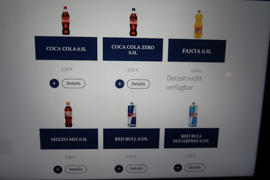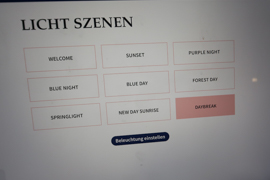 MySpa Mainz – Food & Services
The food and drink service has been an up and down in my point of view. The prices for drinks was really fair – however, the selection of items was too limited in my point of view. Visiting a place like MySpa is a special occasion for many people – you just have to be able to order a cocktail or similar drinks. When there were items in the lock, the interior illuminated and you got a message on the screen as well as a light flashing in your Wellzone. I felt that the time to complete an order was simply too long, though.
We also went for food. I have been really curious, but after trying their sandwiches, we decided to stop ordering food there. The nachos were nice – but the sandwiches did definitely not meet our expectation.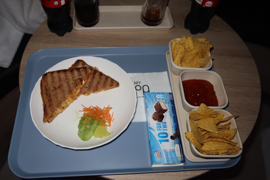 MySpa Mainz – My View
I was so much looking forward to visiting MySpa in Mainz. Unfortunately, I have to say that they did do a good job, but not an excellent one. Just having one infusion for sauna, the rather poor food and limited selection of items, not being able to shower at your temperature… There were too many things I did not understand. The staff was really kind, the massage area was great and I liked the idea of having the fog shower, for example. It has also been so easy to use Chromecast. The pricing is equivalent, but the value you receive is at least slightly worse. To me that even means that MySpa Mainz slipped out of my Top Pick! ratings.
Entertain & Relax
Zoos, Cinemas, Amusement Parks and more can be found in the Entertain & Relax section of Flyctory.com. Here are all postings:
Songs Of My Life
Here are the postings of the personal Songs Of My Life category: