In late October 2023, I had an overnight transfer at Budapest Airport (BUD). Such a special place to me, as I have so many wonderful friends in Hungary – and did not have the opportunity to travel there for quite a while. On that day, I did not even make it to the city, but opted for the only airport hotel in Budapest, which is right at the Terminal, the ibis Styles Budapest Airport. I was really curious how this place would be alike.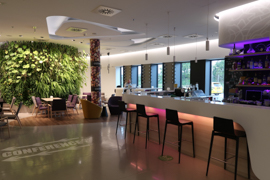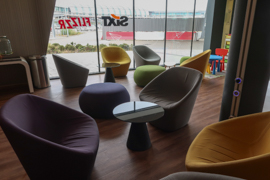 ibis Styles Budapest Airport – Location
The ibis Styles Budapest Airport is located right South of the terminal. It is however not directly connected to the terminal building. Instead, you have to walk along a covered and well-illuminated walkway, which is next to the closest car park. The walking distance from Terminal 2A is five to seven minutes, you reach Terminal 2A even quicker. The hotel does have a bar and a restaurant, but for other services, you have to use the facilities of the rather modern airport.
If  you are not using the hotel for a transfer only, you – of course- use the transport options connecting to the airport. Mainly, there are the two express buses into the city, 100E and 200E. 100E brings you to Deak Ferenc Ter in the very heart of Budapest and might be the more frequent choice for travelers. There are also taxi and shared drive facilities. You should only rely on taxis ordered by the airport or the hotel – there are scammers around. Additionally, there is also a train connection, but getting to one of the stations is bothering. Hotel guests may of course use the car park right in front of the hotel. The parking fees are airport standard, i.e. very high. There is also a shuttle from the hotel to the airport, which might be a nice option during adverse weather.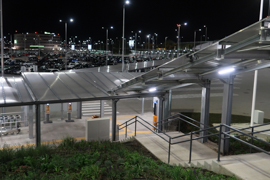 ibis Styles Budapest Airport – Room
I had a one night stay in October 2023 in the hotel. My flexible rate for one night from Wednesday to Thursday was 114.05 EUR, including breakfast. The rate is finally paid in Hungarian Forint. My booking was on a standard double room, but I feel the hotel upgraded me to a Junior Suite.I loved the room especially as it had several windows overlooking the terminal area and the runways. My room was located in the corner of the hotel, but was very large and had nice comfort. Some areas felt a bit dark, though, also caused by the partially black paint / wallpaper (which my the way had some nice paper airplane designs.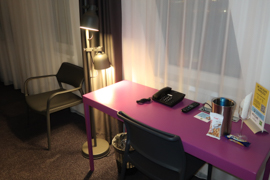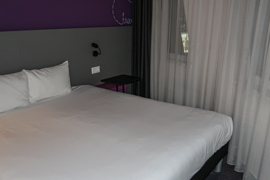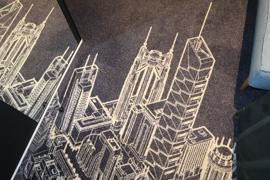 The bathroom was fine and fit for purpose. Nothing too exciting. I would have wished to have some more space for my toiletries. Amenities were provided in dispensers. The room was overall clean. However, there was a visible lack of housekeeping in some tricky areas like the corners of the windows, which were visibly dusty.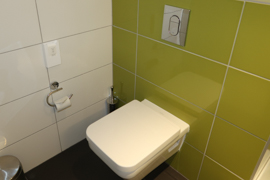 ibis Styles Budapest Airport – Breakfast
If you have an early flight from Ferihegy, you will definitely love that breakfast times are 4:00 to 10:00 during the week. Full service is from 6:00, though. It is served in the lobby, which feels posh and modern. Unfortunately, breakfast is definitely not the part of hospitality where the ibis styles is best at. They do have a decent selection of warm and cold items, but some are a bit too lousy. Especially the grapes were not good to be served any more. Of course, hotel guests then try to pick fruit which they like to consume – which typically turns the already rather soft fruit into a mess. Some other dishes, like scrambled eggs, were nice, though. The hotel is also driving a nice bar in the lobby area.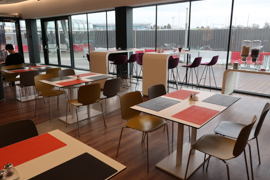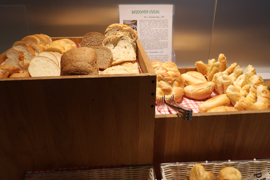 ibis Styles Budapest Airport – Service
The staff in the hotel was very nice. Free WiFi was available throughout the hotel and worked fine – I had been to quicker places in that relation, though. Before your stay and even during your stay, you receive quite a lot of text messages and e-mails. I could not complete the online check-in as I did not have a picture of my passport on my PC. Even on the day of departure, you can give an estimated check-out time and by that also request for a late check-out – which felt unusual to me at first sight, but is kind of handy. For a major number of airlines, you can check in and even label your luggage right in the hotel lobby.
ibis Styles Budapest Airport – My View
The ibis Styles Budapest Airport is a nice option for an early morning flight, a late arrival or a transfer. I really liked the hotel and my room. However, the hotel also does have some service issues, especially on the breakfast side. Nonetheless, it is very convenient.
Flyctory.com and Hungary
Here are all my postings related to Hungary:
Accor Hotels Reviews
Here are all postings related to Accor Hotels: