9th September, first matchday of the Men Bundesliga. One of the most interesting teams of the new season is likely DJK Holzbüttgen, who just promoted to top-notch German floorball. The team located between Cologne and Dusseldorf is well known for an amazing home crowd and well-organized events. On the other hand, ETV Piranhhas Hamburg is regarded to be a team, which has been very constant in the previous years of floorball. It looked like a stunning matchup to kick off the 2018/19 season in the Kaarst Stadtparkhalle.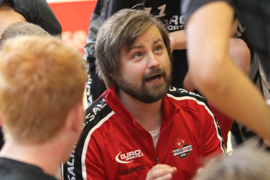 Holzbüttgen – Hamburg: Match Report
The first period has been quite even. The match was rather fast and physical with a lot of movements in both directions. Holzbüttgen had a good debut in Germany's highest division but had to learn it the hard way: Hamburg was just very efficient in the first twenty minutes. If there was a gap, they took it: after 5:34 minutes, captain Jason Tsiakas took the lead for the guests. Five minutes later, Paul Dall raised the gap to two. The Finnish addition Ilari Suuronen wrote history in the 12th minute by scoring the first Bundesliga goal for Holzbüttgen, but with 24 second left, Michael Potschin raised the lead back to two goals.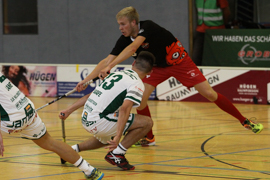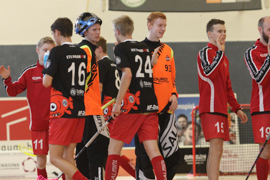 The second period showed Hamburg dominance. Four goals for the Hanseatics was a deserved score during that time. Especially at the beginning of the period, the guests played compact in defense and strong in front of Jan Saurbier's goal. The goals have been scored by Lasse Tuchfeldt (23rd, 34th), Chistipher Wilbrand (25th) and Timur Durasi (32nd).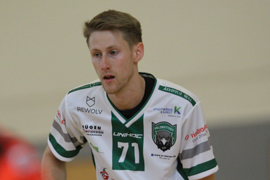 The third period however proved that Holzbüttgen may play an at least reasonable goal. Not only that Nils Hofferbert scored the only goal, so that the hosts won that period, Holzbüttgen was much more dynamic than in the previous period. In addition, Saurbier showed some nice saves.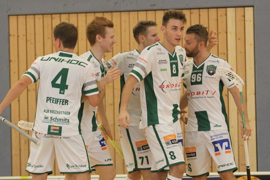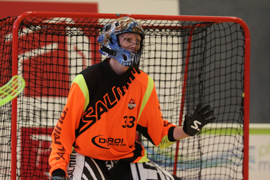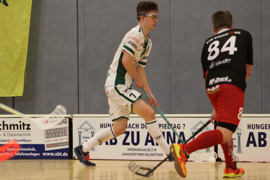 Finally, Hamburg took a high victory, but had to fight comparably hard for it. Holzbüttgen showed a decent debut in front of an amazing 310 people crowd. It will be interesting to follow Holzbüttgen during the season, while Hamburg at least showed a very convincing first match of the season.
Holzbüttgen – Hamburg: Lineup
DJK Holzbüttgen: 16 Simon Böggering, 29 Jan Saurbier – 2 Simon Lange, 4 Janik Pfeiffer, 5 Ulf Rademacher, 6 Benedikt Mix, 7 Jannik Heinen,  8 Nils Hofferbert, 9 Daniel Gayk, 13 Alexander Sagafe, 17 Felix Gilsbach, 19 Mark Jones, 21 Dennis Schiffer, 22 Fabian Schirmer, 55 Ruben Bendfeld, 62 llari Suuronen, 71 Morten Winter, 85 Christian Stange, 96 Kevin Strauss
ETV Piranhhas Hamburg: 31 Mike Dietz, 93 Jussi Kursula – 8 Philipp Lehmann, 11 Gideon Hempel, 15 Philipp Wilbrandt, 16 Christopher Wilbrandt, 19 Henning Runge, 20 Timur Durasi, 24 Lasse Tuchtfeldt, 25 Michael Potschin, 31 Jason Tsiakas, 36 Paul Dall, 42 Kubilay Durasi, 84 Timo-Tomas Koivisto, 88 Hanno Hintze
Holzbüttgen – Hamburg: Gallery
There is a full 350 picture gallery of this match in the sports gallery section:
Flyctory.com Floorball Postings
Here are all Floorball-related postings on Flyctory.com:
Postings of the Greater Cologne Region
Here are postings which are dealing with the Greater Cologne and Rhineland region: