The Hilton Hotel Group is currently opening quite a lot of new Hampton by Hilton Hotels over Central Europe. Sufficient standards, reliable design and comfort and free, quite often really nice breakfast – I had a couple of really nice stays in the recent past with that chain. After these stays (like the one at Frankfurt Trade Fair or the one in Oswiecim in Poland), I was really flattered to explore a brand-new hotel in Dusseldorf: the Hampton by Hilton Dusseldorf City Centre is located right next to the main station. A strong competitor for the ibis Dusseldorf Main Station? Here are my thoughts about this new hotel, based on a stay in early February 2022.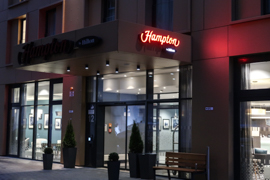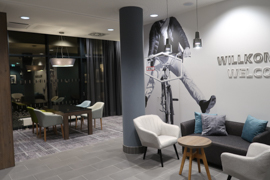 Hampton Dusseldorf City Centre – Location
The hotel is located on the city center side of Dusseldorf Main Station, just a few steps South of the terminal. This, of course, leads to excellent connections by public transport. In case you arrive by car, the hotel is charging you 18 Euro per night in a parking garage dedicated to the hotels around – there are, however, some significantly cheaper options around.
While the hotel is great for a late arrival or an early departure by rail or even an early hop to Dusseldorf Airport, the key attractions of the North Rhine-Westphalia capital are not in very close proximity. However, walking to Dusseldorf's Old Town and the River Rhine shore is possible – or just use trams or the underground for more convenient travel. Apart from the Dusseldorf Main Station options, the tram stations Stresemannstrasse and Mintropplatz are more or less right in front of the hotel. Right next to the hotel, there are two peers, an Adina Apartment Hotel and a Premier Inn.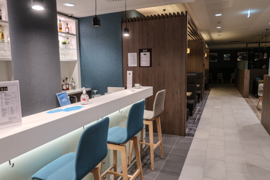 Hampton Dusseldorf City Centre – Rooms
I booked a Queen Room with sofa on a flex rate, including Hilton Honors discount of 84.55 EUR. I received a King Room in the 7th floor, which is the highest level of the hotel. The room – of course – felt brand new (they had their first gusts some three weeks before my stay) and was really spacious, featuring a comfortable sofa in the sleeping area. Similar to other new Hampton Hotels in Europe, there is a nice work desk and sufficient supply of power sockets all around the room. Despite it has been not that warm outside, the room had a rather cozy / warm temperature. I ran into issues with that kind of air conditioning in other hotels already. Even after asking the reception how to set the model correctly, it did not really lead to the desired cooling – at a peak temperature around 24.5 C.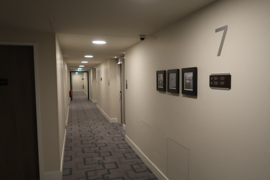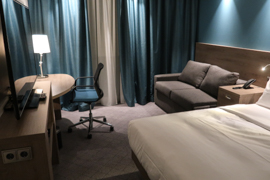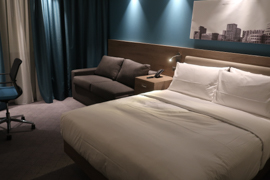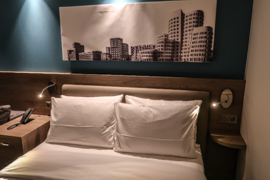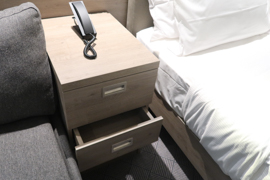 No thrills in the bathroom – standard Hampton design, nothing too special about it. However, compared to other locations, the sanitary paradise rather felt to be on the spacious side, at least. Not too surprisingly, the amenities were provided in dispensers.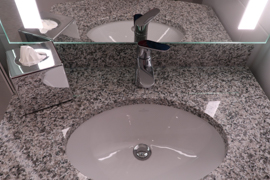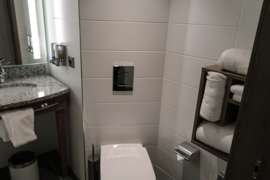 Hampton Dusseldorf City Centre – Breakfast
Weekdays breakfast time during my visit was 6:30 to 10:30 hrs. Signs said that they offer breakfast at 6:00 hrs already, which was a bit of confusing to me. When I arrived (during Covid-19 times), staff members were standing in front of one of the coffee machines, masks down, complaining and joking about online hotel reviews. They felt busted regarding the masks, but continued their discussion at another spot in the buffet area, next to the warm dishes. I could more or less listen to organizational discussion and customer behavior complaints my whole breakfast.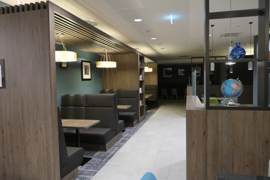 I had a few other European Hampton buffets the days before – so that I was quite happy to see some variety at Dusseldorf. They had some additional dishes I haven't seen at other places in Germany before, e.g. grilled veggies, while the variety of fruit was oranges only. The quality of the warm dishes was really good, I also loved the Bircher Muesli they served. Great to see a proper American waffle machine on the buffet as well. Some other stuff was a bit below average quality, but that's also a matter of taste, so that I was really pleased with the breakfast performance – apart from the staff behavior.
Hampton Dusseldorf City Centre – Services
Apart from the issues mentioned at breakfast, I was really happy with the staff, check-in and reception services went really friendly. The WiFi worked very nice as well. The hotel drives a really nice and spacious gym on the first floor. There are some misleading informations on the English hotel website, which for example states that the hotel golf course is closed due to Covid-19. I swear you won't put out your driver in that part of the city.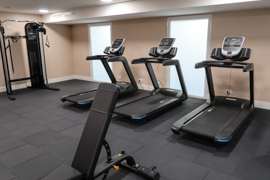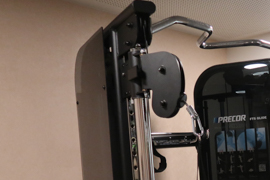 Hampton Dusseldorf City Centre – My View
Hampton Hotels picked a really nice location there. The connection to Dusseldorf Main Station and thus the whole region is excellent. The new Hampton interior design style is absolutely nice as well. The only downsides I had was the staff behavior at breakfast and the non-working air conditioning. Definitely a nice addition to the Hilton Group hotel portfolio in Germany.
Rail Station Hotel Reviews
Here are hotel reviews of places which are close to a main long-distance rail station:
Travel Postings About Cologne
Here are all my travel postings related to Cologne: