Having a cheap hotel close to the main station after the Kelvin Jones concert in October 2023. My aim, when I selected a stay in Frankfurt was having a short route for my morning train the Monday thereafter – that was about the way I went for the Mercure Hotel Frankfurt City Messe. I was especially curious about this Accor Hotel as the reviews were comparably poor. The location, right at Frankfurt Main Station, is a bit of "special" with the local drug scene being in the area. Nonetheless, I was looking forward to my stay.
Mercure Hotel Frankfurt City Messe – Location
The rail station hotel is located right North of Frankfurt Main Station, at the Düsseldorfer Straße. Thus it is right across the street from easyHotel Frankfurt City Center, which I introduced to you in a previous post. There are numerous (typically rather basic, but reliable) restaurants and cafes. As said, especially the area Southeast of the hotel is known as the drug and red light area of Frankfurt. It might feel a bit creepy here and there, but it is safe overall. Of course, the train station is providing additional services, which are useful for travelers. It is also just a short walk from the hotel to the trade fair (Messe), which lead to the name of the hotel.
Traffic-wise, the location of the hotel is great. In less than five minutes, you are in the center of Frankfurt Main Station by walking. The Hauptbahnhof features all kinds of travel connections, from international rail services (e.g. to Paris, Amsterdam, Brussels or the ECE to Milan) to local tram / underground and commuter rail lines. There are parking garages if you come by car, but I would rather opt for other locations in this case.
Mercure Hotel Frankfurt City Messe – Room
I booked a single room for my one night stay from Sunday to Monday in October 2024. The rate I used was not public. Nonetheless, in non-trade fair times you should be able to book this room at about 60 EUR without breakfast, which is very cheap regarding the location. The fourth floor room was rather compact, but not that bad. Due to its layout, you could have two major suitcases in there as well. The hotel room was functionally designed and came with a lot of power outlets. I liked the large work desk. There was even a fridge in the room, which was well cleaned and maintained.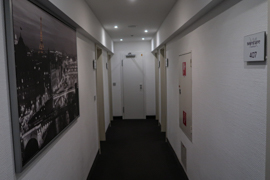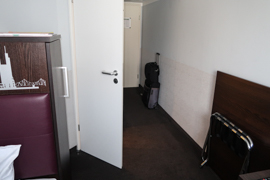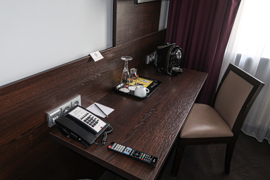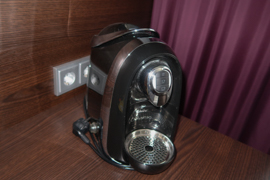 Similar arguments apply for he bathroom, which was absolutely functional and fine. I did not feel squeezed or similar. However, you could hear your neighbor in the bathroom, which also provided key amenities. The view of my room was into a patio and thus neither exciting nor boring. I guess that a street view room is much worse, though.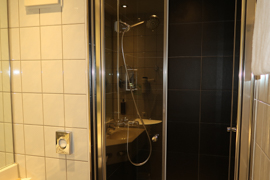 Mercure Hotel Frankfurt City Messe – Breakfast
The breakfast buffet was charges with another 21 Euro. The breakfast room is a small room behind the reception. It is not overwhelmingly large – but as the hotel is not huge either, it might be able to work out. Breakfast prices nowadays are rather high, but I liked the selection and presentation. There were even different kinds of sausages, some different fruit and a nice range of bread and condiments. The staff was friendly.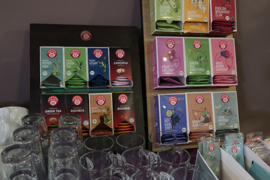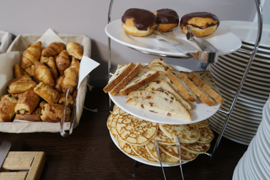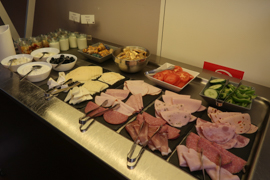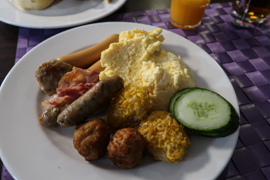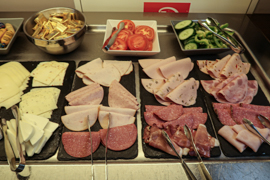 Mercure Hotel Frankfurt City Messe – Service
The reception was nice. They did not credit my Accor Gold status (e.g. a free drink), which might be fine due to the reduced rate I used. The elevator to the rooms was rather narrow and might be tricky if you travel with major luggage. The hotel provides free WiFi. However, while the downstream has been quite fine, I had quite some trouble uploading data. There is no gym or similar facility.
Mercure Hotel Frankfurt City Messe – My View
The Mercure Hotel Frankfurt City Messe is not overwhelming in regards of luxury – but it is also not overwhelming in regards of its price. Overall, I felt that the hotel is doing a good job and provides reasonable services to travelers.
Frankfurt a.M. Travel Postings
Here are all my travel postings related to Frankfurt a.M.:
Hotel Reviews – Rail Station Hotels in Germany
Here are all my hotel reviews of places close to rail stations in Germany: