The Reeperbahn area in Hamburg's borough St. Pauli has undergone quite a significant transformation. Some decades ago, the red light and party district was regarded to be a rather dangerous area with a high crime rate. Nowadays, there are strict controls and regulations and the area is safe. The more, it is interesting to listen to people who know this place well. I was just curious and booked a Kult Kieztour by Olivia Jones. Olivia is a very well-known travesty artist and drag queen, who is driving several places around the Reeperbahn. Her franchise is also driving walking tours and similar events on the "Kiez" (hood). I was just too curious about that offer and opted for a tour with Barbie Stupid and Lee Jackson.
Kult Kieztour – Location & Admission
Depending on the time of the tour, the Kult Kieztour start inside or in front of Olivias Show Club, one the places driven by Olivia Jones. They feature the show club theater itself, the Bunny Burllesque Club for burlesque dancing and a karaoke bar for porn movies (no typo in there). Especially in summer, the square connecting the places is a beautiful biergarden-alike area. Olivia Jones is also driving a bar at the road where all these places are located, the famous Grosse Freiheit. The easiest way to get there is by public transport, either by S-Bahn commuter rail (station: Reeperbahn) or by underground train (St. Pauli). There are also buses connecting to the Reeperbahn directly. 
Tours are offered with various guides. Depending on the guide, you also have a slightly different focus of the tour. It is highly recommended to book he tour in advance. I unfortunately could not spot if there are also tours in English. The price is depending on the workday and the guide you choose. The tours typically last between 90 minutes and 2 hours and close with a shot at the beer garden area of the Olivia Jones grounds. I paid 35.80 EUR for a tour on a Friday evening in August 2022.
Barbie Stupid & Lee Jackson – The Guides
Barbie Stupid and Lee Jackson are both either travesty actors or drag queens, depending on how you weigh it. While they act to be sisters in their alter egos, they are in fact a married couple in real life. They are active since more than 20 years and thus can tell a lot of stories about the Hamburg red-light district. As said, any of the guides by Olivia Jones and thus any of the tours comes with a different focus. The two ladies are very entertaining, so that the time during the tour feels to run down quickly. While you have a lot of good laughs and feel to be in a comedy show, they still give you a lot of good information.
Kult Kieztour with Barbie Stupid & Lee Jackson – The Tour
My tour was at 18:00 hrs. This has two advantages regarding a Flyctory.com coverage: first of all, there was still plenty of sunlight. Secondly, street prostitution is not legal before 20:00 hrs in the area, so that it was perfectly fine to take some pictures. At later hours, this is absolutely not recommended for obvious reasons. I nonetheless did not take that many snaps, just as it was already quite busy. The tour first went along the Reeperbahn and then towards Hans-Albers-Platz.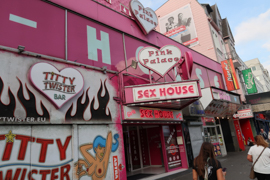 Later the tour also passed along the famous Davidwache, the famous St. Pauli police station. Just to give you a flavor of the tour, one of the anecdotes Barbie and Lee told us was that this one is the only police station in Germany with a Rolltreppe (an escalator, literally: rolling stairs) – at least according to the local slang. The rationale is: the old stony stairs are so steep, if you are drunk and are brought to one of the drunk cells in the basements, you typically don't make it all the way down… And roll down the remaining stairs. It has been an absolutely hilarious tour. Even though the walking distance was not overwhelmingly long, the 100 minute tour was in time and did not feel boring at all.
Kult Kieztour with Barbie Stupid & Lee Jackson – My View
There are a lot of Reeperbahn tours and tour providers. However, if you do speak German (or find an English speaking tour), I highly recommend you to go for one Kult Kieztour. Yeah, these almost two hours are a bit of pricey, but you really get a lot of information combined with a lot of fun. I loved the two ladies, but might even try another guide, just to get a different focus.
Hamburg – Travel-related postings
Here are all my Travel-related postings about Hamburg:
Flyctory.com about Weird Al Yankovic
Here are all postings related to Weird Al Yankovic: