Autofähre Konstanz - Meersburg
12.10 EUR (1 car one-way)
If you travel in the Western Lake Constance (Bodensee) area, you have a choice of transport: you can either shortcut the route between Meersburg and Constance (Konstanz) by ferry or drive around the lake. A tough decision to take – I did both options when I have been in the area in early June 2020. Here are my thoughts.
Constance – Meersburg Ferry – Route and Price
The car and person ferry service connects the shore of Meersburg with Staad, which is a borogh of Constance (Konstanz). The ferry route is some 4.5 km. If you compare it with the shortest possible route by car, you safe some 40 kilometers. If you are more realistic, it shortens the route between Meersburg city center (upper town) to Constance center (train station), best google route, from 75 to 10 kms. Without traffic, the reduction is only some 15 minutes (53 to 38minutes). You however have to state that both national routes affected on this trip, the B31 along the Northern Lake Constance shore and the B33 connecting the A98 motorway with Constance, are very prone to traffic congestion.
One transfer takes about 15 minutes, so that boarding / unboarding in fact is close to the trip time. During summer peak hours, there is a service every 15 minutes – but there are even hourly trips all night. The pricing for cars (incl. driver depend on the length of the car. A characteristic car between four and five meters of length is 12.10 EUR one-way (23.70 EUR return). Very small cars like Smart are 8.30 EUR / 16.10 EUR for example. Additional single adults are 3.30 EUR / 6.10 EUR, there are also family tickets and a variety of options. Cyclists pay 5.30 EUR / 10.10 EUR. A return ticket needs to be used within 24 hours. Locals of course can use season / monthly tickets and other frequent traveler options.
Constance – Meersburg Ferry – Fleet
The Constance Municipal Works (Stadtwerke Konstanz), who drive the ferry, currently run a fleet of six ships. The oldest one is the 1970 Fontainebleau, which can carry up to 40 cars. My trip was serviced by the 2004-built Tabor, which is the second-youngest one currently in service and one of three diesel-electric engine ships. Tabor is (as far as I could explore) the only ship which is accessible due to an elevator between the levels. It has a capacity of 60 cars roughly – only the 2010 Lodi can slightly serve more vehicles. They plan to roll out ships running with CNG (liquid gas) in the future.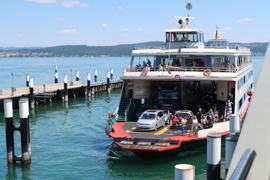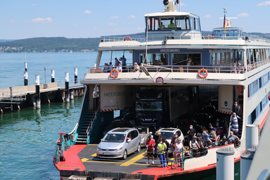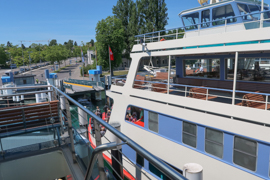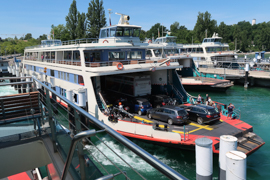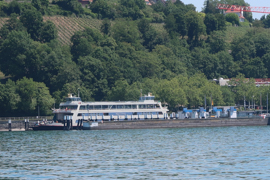 Constance – Meersburg Ferry – The Trip
As the in-fact trip with the ferry takes less than 15 minutes, crossing Lake Constance in that way is not super-spectacular: you queue on one side, are guided when you board the boat, pay on the boat and are have more or less just time to have a pee break (or grab a coffee in the snack bar, see below) and almost are ready to head back to your car or bike as you are about to reach the other city. Cyclists always have priority in favor of cars.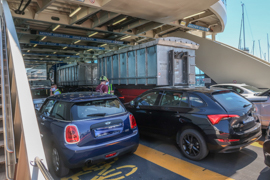 The short trip is a bit of a shame, because it is indeed quite a nice cruise with beautiful views of the lake – especially the approach to Meersburg (I took the Constance to Meersburg direction). So if you have time, I recommend to enjoy the views at least for some minutes.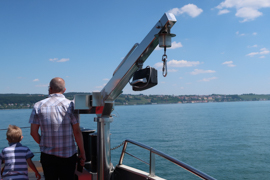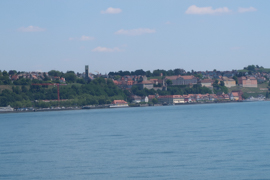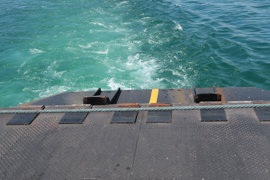 Unboarding after the trip is very quick. Overall, the organisation feels very efficient, the ferry crew was very friendly as well.
Constance – Meersburg Ferry – Services
In general, you can enjoy the short trip even more by having a short stay at the snack bar, grabbing a cake or a coffee (more likely, for take-away due to the short transport time). During Covid-19 times, the cafe / snack bar has been closed. There were toilets on the ship I was traveling with, located in the basement of it. As far as I understood, I was gifted to be on the only ship which is offering an elevator to move between vehicle level, cafe level and sanitary faciltiies.
Constance – Meersburg Ferry – My View
I do like ship cruises – and the Constance – Meersburg ferry definitely gives some nice views over Lake Constance. Without really having a source for it, my guess is that a ferry carrying forty to sixty cars over a less-than-five kilometre distance is also ecologically quite a deal compared to the cars taking the more-than-ten-times detour. In theory, the trip is of course also shorter in regards of time. These are the points in favor of taking the ferry trip. And these are the points why I definitely liked the the trip.
There are, however, quite some downsides: first of all, the pricing is quite aggressive. It feels like tourist cars are heavily supporting the local traffic here. Economically (especially with a rental car, as I did the trip), it is – very unfortunately – cheaper to take the land route, also as you likely do not really want to go to Staad, but have other destinations around Constance in your mind and thus need a detour to take the ferry. If it is really quicker to take the ferry, heavily depends on the traffic – which is a beast around Lake Constance. Especially the B31 road on the North side of Lake Constance can be very congested – but in these days, you will also likely not catch the next ferry, but have to wait for one or two crossings before you make it. Can quickly lead to a tie or even a choice in favor of the road trip.
Ships & Water Travel
Here are more Flyctory.com postings about Ships & Water Travel:
Postings about Road Trips
Here are all road trips on Flyctory.com