Professional stargazing: The European Southern Observatory, short ESO is a collaboration of multiple European countries to gather astronomic forces on the Southern hemisphere. Even though the big telescope sites are located in Chile, the head operations are in Garching, a Northern suburb of Munich. This would not be anything worth mentioning on Flyctory.com if there wasn't a posh visitor center. I visited this place on my last visit to the Bavarian capital.
ESO Supernova – Location & Admission
The ESO Supernova is located close to the Garching campus of the Munich Tech University. You conveniently reach the visitor center by taking the U6 underground train to its terminus, Garching-Forschungszentrum. If you are not too familiar with the Munich transport system: this stop already requires a zone 2 ticket for the local traffic (if coming from city center). You likely get a parking lot easily if you arrive by car as well. The place is right North of the Munich autobahn orbit, not too far away from the A9 motorway.
At the time of my visit, the visitor center was opened from Wednesday to Friday, 9:00 to 17:00 hrs. Saturday and Sunday, the museum can be visited from noon to 17:00 hrs. The visitor center is closed on Mondays and Tuesdays. Due to Covid-19 I had to reserve a time slot to visit the place – I guess that for planetarium and show visits, this is generally the case. Admission is free, planetarium shows are 5 Euro for adults.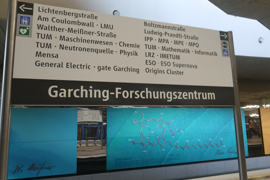 ESO Supernova – The Visit
Even though it looks a bit of old fashioned from outside, the visitor center of the ESO is really posh from inside. Most parts of the exhibitions were in spirals with the key exhibition heading upwards in the building. On ground level, there is space for temporary exhibitions. The one which was in display during my visit was about lasers.
Just as I had to lock my backpack, I first headed downstairs. The rather short trip down there is equipped with some exhibits about basic astronomic structures and phenomenons. The whole ESO Supernova is bilingual, German and English. After locking by stuff, I headed to the temporary exhibition about lasers. It was informative, but also very entertaining. For example, they also dealt with laser technology in pop culture, like the Star Wars light sabers.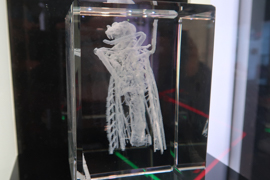 Main Exhibition
Even under Covid-19 conditions, the visitor center was pretty interactive. You start with very general questions like "What is Astronomy?", a presentation of all the different people and nationalities working at the ESO or whether there is other life in the universe. From there, you get deeper to other astronomy topics. The exhibition is good for elder kids, but still has sufficient depth and detail that adult visitor will learn about he universe and other planets.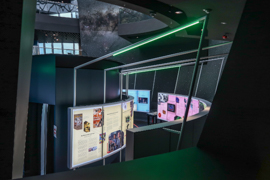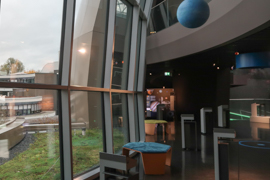 There are a lot of screens and even some contents with gamifiction elements, where you can explore differences between life and physics on Earth and other planets. Of course, there are also exhibits about how the ESO is working and about there telescope sites on the Southern hemisphere. Thereby, you also learn about past and future projects of this European project.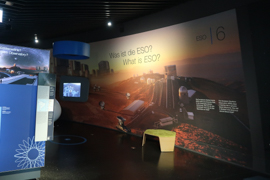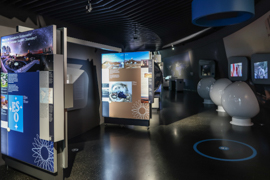 ESO Supernova – Planetarium
A key part of your visit in Garching undoubtedly is the visit of the planetarium. Unfortunately, I just could not make it on my trip – but the reviews of it are awesome. I would recommend to book a time slot in advance, though.
ESO Supernova – Services
The ESO Supernova Visitor Center is offering a small souvenir store at the reception. They in fact have some quite cool items. On top of that, the basement features a picnic area with some snack machines. Nothing special, but sufficient for a quick bite. There were some food trucks around the campus if you want to go for a more saturating option.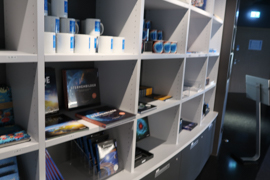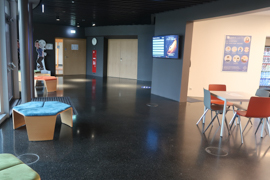 ESO Supernova – My View
Visiting ESO Supernova was just a great experience. For touristic reasons, the location is a bit of remote, but it is definitely worth the trip. The documentation is well done and easy to understand. It is fun to explore this place – and finally, you learn a lot. Last, but not least: apart from the planetarium, the place is for free Next time, I definitely have to go for this part of the visitor center as well.
Flyctory.com in Munich
Here are all other Flyctory.com postings related to Greater Munich:
Stadiums & Arenas
Here are all reviews and reports about (sports) Stadiums & Arenas: