There are quite a lot of minor deer and animal parks around Cologne, quite a lot of them mainly based on voluntary and charitable basis. One of them is the "Wildpark Reuschenberg" in Leverkusen, which is quite close to city centre. Here is a review of the deer park.
Deer Park Reuschenberg – Location & Admission
Wildpark Reuschenberg is located quite centrally, North of the A1 motorway, in Leverkusen. The small piece of forest also hosts a cemetry. Admission is free, but a donation is requested – there are collection boxes at the entrance area. The park hosts two loops, a shorter and a longer one. The longer for example includes the petting area. Finding the starting points of both loops is a bit tricky for first-time-visitors: take a left in front of the bistro / restaurant already. Signposting is in German only.
Beware that the area is very popular, finding a parking slot may be challenging – right next to the deer park is a major cemetry as well. You may arrive at the park by bus, but these do not depart that frequent – thus, taking a bike or having a walk is not that bad in peak times.
Deer Park Reuschenberg – Animals & Enclosures
There are deer in Reuschenberg, but in general, the park is concentrating on animals, which are comparably typical for local environment, like different kinds of animals used for farming and as pets, otters, foxes, and some bird species. In addition, there are some more exotic ones like alpacas. In general, I have to say that I felt the enclosures are not as modern as they could be – there are very frequent and thick fences and the glass used reflected quite a lot, so that it even has been problematic to watch the animals, not just to take pictures of them.
For a lot of animals, it was really difficult to see them at all, as they have been hidden somewhere in their enclosures. The most popular animals are definitely the alpacas (which you can feed with a large box of food for one Euro) and the animals at the petting zoo.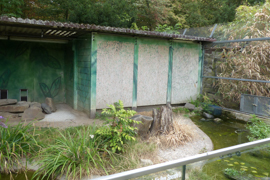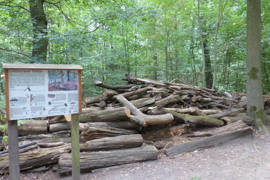 Deer Park Reuschenberg – Bistro & Services
Right at the entrance to the park, there is a nice bistro-alike restaurant with a nice terrase. They cold snacks, drinks and some typical German snack dishes. There are also some seasonal choices. We did not test it, but having a bite or a drink there was very popular and we felt it is a very reasonable offer.
The sanitary services are located below the restaurant and were very fine. A very popular spot close to the bistro was the playground, which looked really nice.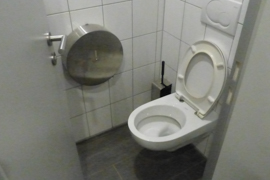 Deer Park Reuschenberg – My View
To me, it feels very hard to compare parks like Reuschenberg with other deer / animal parks, just as I feel they all do a great job with very limited economic potential and a lot of effort of volunteers and sponsors. The parks adds a lovely feature to the recreational potential of Leverkusen. Nevertheless, it feels a bit outdated: there are just too many cages around, the quality of glass, where used, is too poor. Some animals are very hard to spot. The park is compact, but kids finally love to see some animals and enjoy the nicely arranged playground in the shadow of the forest. In general, the scenery is definitely a beauty. It is not a top-notch deer park, but a nice place to spent some time here and then. Compared to Dormagen's Tannenbusch Park, Reuschenberg is absolutely not competetive – but the Dormagen one seems to have stronger support by the local government, which might be a huge factor.
Postings of the Greater Cologne Region
Here are postings which are dealing with the Greater Cologne and Rhineland region:
Flyctory.com about Animal Parks & Zoos
Here are all postings of the Zoos and More category: