As my boss is located in the Irish capital, Dublin is one of my most frequent trips for my actuarial profession. I am already quite experienced in the hotels nearby the office, with is close to Bord Gais Theater, close to the river Liffey. Some "fancy" companies like Facebook are also located there. One of the hotels I prefer to choose is the Hilton Garden Inn across the river, in close proximity to several financial companies. Here is review, mainly based on my mid December 2018 visit.
The hotel has been named Hilton Garden Inn Dublin Custom House at my time of visit. In the meantime it changed its name to Hilton Garden Inn Dublin City Centre. 
Hilton Garden Inn Dublin City Centre – Location
The Hilton Garden Inn City Centre is located in close proximity to  several financial companies, the Convention Center and the 3 Arena. It is right on the North Bank of the river Liffey, The Sean O'Casey Bridge (pedestrian only) is right across the hotel entrance, so it is quite handy even if your daytime destination is on the other side of it.
Right in front of the hotel is a bus stop, which covers quite some regional buses, but also the 747/757 Airport Express services. The LUAS tram system is just a short walk to the hotel. However, if you want to head to Dublin shopping district or Temple Bar, I would recommend to take a walk. Taxis are widely available in Dublin, but you should always bear in mind that the city center traffic may be very messy in the Irish capital.
Hilton Garden Inn Dublin City Centre – Room
During this stay, I had a King Room with River View, which was about 165 Euro per night. On other dates, I had lower rates in the H.G.I., so I feel you might have a better deal when you travel in. This rate was a non-breakfast rate, but I could opt for it as Hilton Gold Member. I loved the room. It is spacious, the view is nice (even in winter, when it is dark when you leave to the office and dark when you come back), the working area is sufficient as well. The room as no minibar, but a fridge due to the Pavlilion Lounge concept (see below), which I prefer much more to a minibar. The power plugs close to the bed also came with USB ports, which I feel to be very helpful.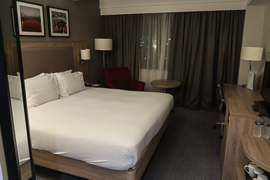 The bathroom was very nice as well. I was however wondering that the H.G.I. concept does not seem to included glasses or similar, when you want to brush your teeth. I don't use it anyway – and as I am typically travelling with a comparably huge toilet bag, that maybe gave me the space to put it somewhere. There was just not too much space around the sink.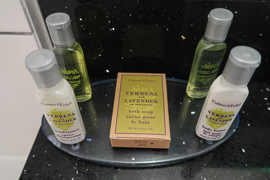 Hiton Garden Inn Dublin City Centre – Breakfast
Oly's Bar is the breakfast and meal restaurant in the Hilton Garden Inn. It has a small coffee bar at the entrance, serves breakfast in the morning and meals. The meal menu has a quite nice variety. The area is lovely and quite relaxing.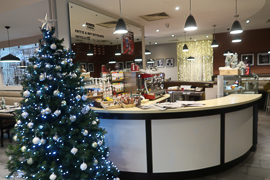 Breakfast ist served from 6:30am. The quality of the dishes is fine. I especially loved the variety of breads. The remaining buffet looks very nice, but in fact there is a certain limitation in variety. The service was limited on both days of my stay. For example, though there is a porridge bowl, I haven't spotted the traditional breakfast dish on any morning. There is an egg dish live cooking (what I love), but on Day 1, it felt impossible to find a chef who is driving it. Though I was just some 20 minutes later, it was (as expected) much more crowded on Tuesday morning, where I felt that the team reached its limits. Nevertheless, the breakfast experience is definitely within a reasonable range.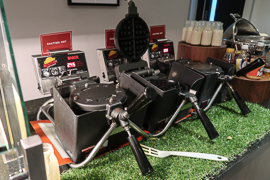 Hilton Garden Inn Dublin City Centre – Services
WiFi in the hotel is free without password. I was a bit disappointed on the housekeeping, as they just removed my used towels without replacing them. It may not be absolutely necessary to replace amenities, which have been partially used – but this is also rather standard. Reception staff was very friendly and professional, even though I had a difficult problem with my invoice – German tax authorities are very picky on some rules.
Close to the reception area, Hilton Garden Inn Dublin offers the Pavilion Lounge, which is in fact an area where you can grab some drinks and snacks and pay them at the reception. Next to it is a small business center and the gym.
Hilton Garden Inn Dublin City Centre – My View
This time, the Hilton Garden Inn could not give me the perfect stay I felt to have in the past. Especially the lacks at breakfast service and housekeeping lead to some negative impressions. Nevertheless, the location is great, the breakfast is nice and I like the design of the room. Having a river view room is definitely a nice feature as well, even though I could not make that much use of it. Thus, I can absolutely recommend Hilton Garden Inn Dublin City Centre, which is much more than just a solid option to me. Of course, it is not as posh as a "real" Hilton like the one I recently visited in Manchster.
Hilton Hotels – More Reviews
Here are all my reviews of Hilton Hotels:
Flyctory.com – Best in Travel 2022
Here are all Travel-related postings published in 2022 with a rating of 4.5 or better: