Similar to the Europarad Ferris Wheel in Cologne, Munich is hosting a giant mobile ferris wheel, which is offering its guests views over the city center. The original name of the ferris wheel is Umadum and it is the largest mobile ferris wheel in the world. It has been, however, previously marketed as Hi-Sky, which may be a bit confusing (as there are some other mobile ferris wheels in Munich, which are stationary during Covid-19).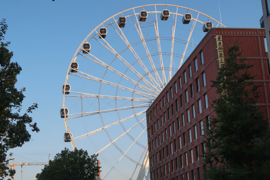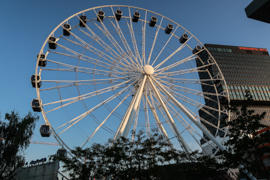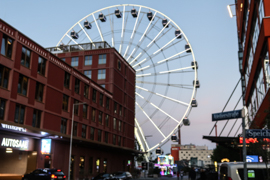 Umadum Munich – Location & Admission
The Umadum ferris wheel is located in the Werksviertel Mitte area, a former industrial area, which is currently under city redevelopment. The area is very easily accessible, as it is just a short walk away from Munich East Station (München Ostbahnhof), which even has very scattered long-distance connections. The area is currently featuring some other fun fair attractions. There are also a lot of bars and restaurants, so that it is a very popular area in Munich's free time.
Umadum is opened Tuesday to Friday from 14:00 hrs to 22:00 hrs. Saturday and Sundays, the ferris wheel already opens at noon. A single adult ticket is 12 Euro. There are also reductions like family tickets. There are also special tickets like Munich Weisswurst (white sausage) breakfast, a VIP gondola with posh seating or a picnic baskets. During my visit, there were also combined tickets with the rollercoaster and the free fall tower set up in close proximity. If you are a local or just an observation wheel addict, you might also go for the annual pass, which is 60 Euro.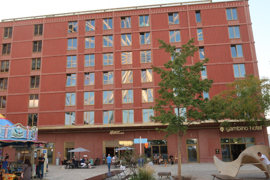 Umadum Munich – The Ferris Wheel
The original name of the Umadum ferris wheel (Umadum means "all around" in Bavarian German) has been Hi-Sky. Under that label, the ferris wheel has been set up to its nowadays site in April 2019, i.e. already before and independent of Covid-19. The ferris wheel, which needs 80 ship containers to be transported to another place, is expected to stay at its location until the beginning of the construction of the Munich Concert Hall at that spot. This will not happen before February 2022.
The ferris wheel has a height of 78 meters. The wheel itself has a diameter of 74 meters. There are 27 cabins with a maximum capacity of 16 people each, so that there is a total capacity of 432. As a Covid-19 measure, they did not put multiple parties into one cabin, so that you have a very intimate and comfortable atmosphere. You typically ride one full revolution of the wheel, which takes 30 minutes (in theory, the R80XL, how the ferris wheel is technically called, could however do four rotations per hour). There are some packages, mainly including food, where you do multiple rotations with one ticket. The wheel is powered by eight AC motors.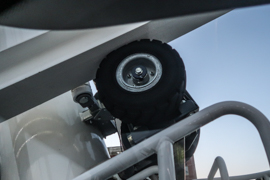 There are different cabin setups. The standard one is having seats similar to a bench in the middle. Especially if you go for a picnic option, you will have a proper table with chairs around. There is also a very posh VIP cabin. The cabins feature a monitor – this was, however, not in use. Therefore, Umadum Munich features air condition.
Umadum Munich – The Ride
I have to say that I was very impressed about the the detailed, thought-through hygienic concept of the ferris wheel ride. The waiting / queuing area has been structured in a way that distancing was always possible. For contact tracing, you had to fill out a form with your contact details (you could also do that during the ride). Parties were fully separated before you could enter your gondolas for the thirty minute ride, which was really enjoyable. You could also take very reasonable pictures from above – meaning that the glass of the cabin is not too reflecting.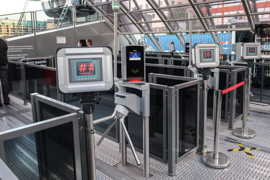 Umadum Munich – Service
The whole staff ot the ferris wheel was really kind and welcoming. Everything was well-structured, so that you did not run into any distancing issues.
Views from Umadum Munich
Finally, that's what the ride with an observation wheel is about – the views you may enjoy. Apart from a greened rooftop nearby, which even had sheep, the direct neighborhood of the wheel might not be too thrilling (you may enjoy the train traffic maybe, if you are a rail junkie). However, the view over the city and to the alps was beautiful. You could also see more distant sights like the Olympic Tower, the Olympic Stadion, Allianz Arena and similar places.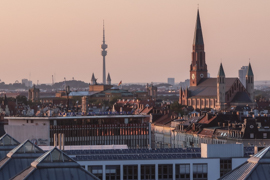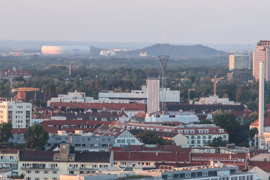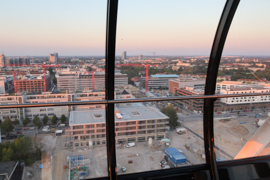 Umadum Munich – My View
Visiting the Umadum ferris wheel was just a lot of fun. As my father's family roots are from Munich, the city is always a special one to me – and watching the sunset from over 70 meters above the ground was magical. The organization is perfect, the hygienic measures were exemplary. The price was absolutely fine, I like the idea of having season tickets as well. Thus, it has been a really nice visit.
Flyctory.com Views from Above
Here are all postings tagged as Views from Above, dealing with any kind up-in-the-air viewpoints:
Flyctory.com in Munich
Here are all other Flyctory.com postings related to Greater Munich: