To me, Paris is toughest destination world-wide to find a reasonable hotel accommodation for an affordable price. Spacious rooms with a touch of comfort are rare. Especially when there are events like the Fashion week or the Tennis French Open, even comparably small and narrow chambers may cost several hundreds of Euro. Even for a business trip, where a higher fare may be less critical, finding good locations is a mess. I stayed in Paris for business in May 2019 for four days. Here is a review of Hotel du Bois, which I selected to stay in.
Hotel Du Bois Paris – Location
Apart from good ratings at booking.com, the key argument to choose this hotel was its proximity to the offices located at Avenue Kleber. From Hotel du Bois to Arc de Triomphe, it is less than five minute walk. The hotel itself is located in a quiet street. As Paris is quite steep in these areas, you need to walk up quite some stairs if you come from Avenue Victor Hugo. Even from the opposite side, you have to take some stairs down to the hotel, so that it is not accessible in case of physical deficiencies.
The area is really nice. Yes, if you want to enjoy a beer in one of the cafes at the street, you may have to pay a tenner for it, but it is still very enjoyable. Some other tourist sights like the Eiffel Tower are not too far away. There are several restaurants around. A nice supermarket is just down the stairs at Avenue Victor Hugo. During the business trip, I visited the Tutankhamun exhibition, which was a 30 minute bus ride through dense Paris roads.
Hotel Du Bois Paris – Rooms
I had three nights in Hotel Du Bois in mid May 2019. There was no exceptional event in Paris, so that the rate per night was roughly 255 Euro – the following week, the rates would have been significantly higher. This standard room price included the breakfast buffet. The room was comparably spacious for Paris relations. You just should not arrive in these Paris hotels with more than one suitcase. Housekeeping worked very well and the room was clean. There was a minibar (for a charge) as well. The workdesk was quite small, especially as it also featured the water kettle. The corresponding chair was rather a stool.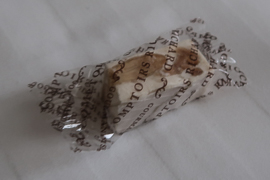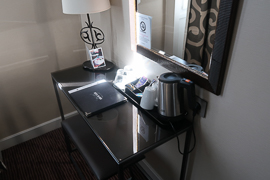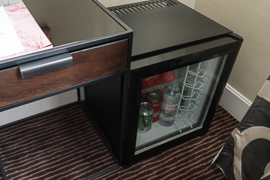 The bathroom was very nice and even featured a bathtub. It felt quite comfortable to me and I could even place my (quite large) toiletary bag somewhere. There was also a selection of amenities.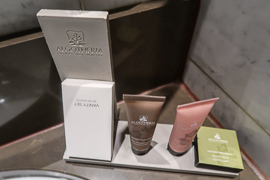 Hotel Du Bois Paris – Breakfast / Food
Paris hotel breakfast buffets are very often as limited as the hotel rooms are. Hotel du Bois offers comparably nice breakfast. On the bread side, there are croissants, pastries and baguette on the bread side. The healthy options include yogurts, cereal and a selection of fruit. There is also some cake and various cold cuts. The buffet is small, but the options and especially the quality is definitely good. You may also order an omelette from the kitchen (no ingredients like cheese / ham available).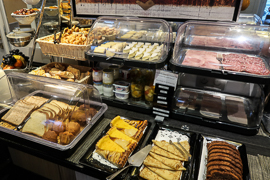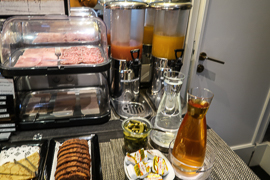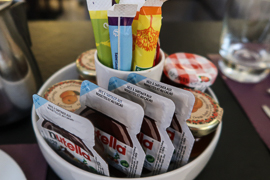 The hotel also offers a bread a cold cut platter in the evening. The price of 10 Euro for it looks very reasonable.
Hotel Du Bois Paris – Other Services
The service in the hotel was really good. All the people were nice and did an accurate job. I felt welcome. The hotel Wifi was reliable – not top speed, but also not that slow. I had several worse experiences in France's capital already.
There are no other exceptional services like a gym in the hotel.
Hotel Du Bois Paris – My View
Assigning a fair rating to a Paris hotel is really a challenge. On the one hand, the value for money, compared to other cities is just ridiculous. Shall I rate down a hotel just because it cashes in market prices for its location? I feel it would not be fair to do so – even if Hotel One Farrer gave me so much more value just some weeks before for a lower price in the pricey accomodation city of Singapore.
Hotel Du Bois does a much better job than several of its peers. Thus, it deserves a good rating. If you want to have a great, relaxing budget stay, you will likely not end up in Paris anyway. I liked my stay there (and was happy that it was paid by company account).
I reviewed the hotel as part of a business trip for my employer, SCOR SE. SCOR paid my travel expenses. This did not influence my judgement on the hotel.
All Hotel Reviews
Here are all postings about hotels and other accomondation:
Flyctory.com about Business Class & More
Here are all articles related to Business Class and First Class travel: