In mid June 2021, I again had a night in Hamburg. As I was aiming to come back late from by FRS Halunder Jet cruise to Helgoland daytrip and connect to the rail home, I was aiming for a location as close as possible to the Main Station. Thus, I opted for another stay at an outlet of the IntercityHotel. Here is my experience of staying at IntercityHotel Hamburg Hauptbahnhof, i.e. Hamburg Main Station.
IntercityHotel Hamburg Main Station – Location
The hotel has a really excellent location right Northwest of the Main Station. You should be aware that some of the trains like the S-Bahn commuter trains run from the opposite side of the train station, so that other locations like the Reichshof Hamburg are a much better choice. Vice versa, the IntercityHotel is great if you want to connect by long-distance or underground trains. It does also feature its own parking garage, but I guess that in general the hotel is majorly visited by guests using public transport.
The main station offers you all kinds of touristic services. There is also a quite good small supermarket in Hamburg Main Station. The hotel is also just a short walk to the main shopping districts of the city. The connection to the harbor area featuring attractions like Germany's top rated one, the Miniatur Wunderland, are nice as well. There are a lot of restaurants around.
IntercityHotel Hamburg Main Station – Rooms
I went for a Business Room in the hotel. My reservation was a bit late, so that I had to pay 128 Euro for a flexible rate including breakfast. The business room is just a bit more spacious compared to a normal one. The design of the room was simple, but absolutely fine. I liked the large workdesk and there was definitely sufficient space to store my luggage. I always appreciate to have a free bottle of water in my room. The room had a fridge / minibar (not filled due to Covid-19 restrictions), air conditioning and a laptop safe.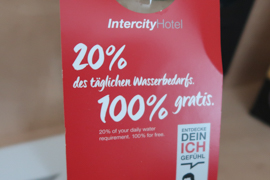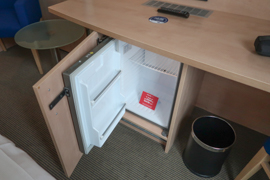 The shower bathroom worked out very for me as well. I enjoyed to have sufficient space for my toiletries. The room was absolutely clean, so that it absolutely met my expectations – not as posh as the room I stayed in the night before in Saarbruecken, but a really good one!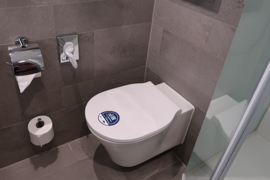 IntercityHotel Hamburg Main Station – Breakfast
The restaurant hosted the morning buffet breakfast. Again, the hotel did a very good job – this time, I even enjoyed the selection more than the Saarbruecken one. The staff was very nice and attentive as well. Gloves as a pandemic measure were not necessary (masks were of course mandatory).
IntercityHotel Hamburg Main Station – Service
Overall, I loved the staff in the hotel. Check-in and check-out were very efficient and friendly. The small reception area was very well organized. The premium internet connection I received as a member of the Deutsche Hospitality frequent traveler program H-Rewards worked very well, so that I could work in the night without any issues. One signature feature of IntercityHotels is that you receive a ticket for the public transport valid for the entire stay. The Hamburg version includes two very nice features: first of all, it is valid for all Greater Hamburg and thus also includes places like Lueneburg. Secondly, it is valid for the First Class compartments as well. A very nice feature if you travel a crowded city on a Saturday.
Remark: I had a stay in March 2023. You still receive a Hamburg regional ticket, but it is only valid for second class.
IntercityHotel Hamburg Main Station – My View
The IntercityHotel Hamburg Main Station definitely provided me with a very good to excellent stay. All the needs I had for that trip have been fulfilled very well. The staff was great, breakfast was very good and it was a good place to explore the city a bit apart from just working and sleeping in the hotel. A definite Top Pick!.
"Rides on Rail" Postings
Here is everything about trains, trams and other rail vehicles:
German Hotels
Here are all Flyctory.com postings dealing with hotels located in Germany: