As part of my overnights bridging the night between two mandatory days at the office in Cologne, my last stay in June and July 2023 in the city was the Pullman Cologne. I really looked forward to this stay, as we had some fabulous events in the past there. Unfortunately, I cannot share some of the view from the top 12th floor – the level was locked during my stay due to maintenance.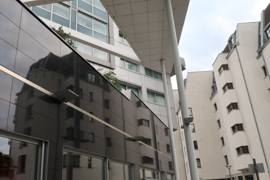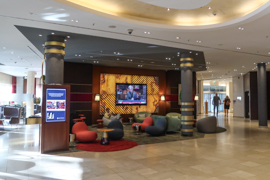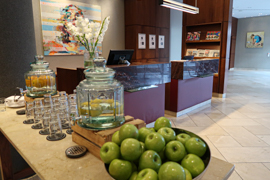 Pullman Cologne – Location
The Pullman hotel is close to a lot of Cologne attractions. However, you have to say it is not next to any of them. Cologne Cathedral is a ten minute, the shopping area is a few steps away and if you want to hang out in the evening, the Ringe (Cologne inner city ring road) are just a few minutes away as well.
The traffic situation is similar. The next underground train options are Friesenplatz and Appellhofpllatz, both serving several tram lines. A taxi ride to Cologne main station is a few minutes, to Cologne/Bonn Airport (at reasonable traffic) some 20 minutes. The Pullman Cologne offers a parking garage for a daily fee of 29 EUR.
Pullman Cologne – Room
I booked a Superior Room with Cologne Cathedral view. My Accor Gold status lead to an upgrade to an eleventh floor suite, which was simply amazing. There were two desks, one in the living room and one in the sleeping area. The living area was really spacious and relaxing. The mini bar is complimentary in that room category and featured juice, beer, water and even a small bottle of sparkling wine. Next to that area was the dressing room, which even had a guest toilet. Some of the furniture is a bit of run down – but the view from the room is just too amazing. I absolutely loved it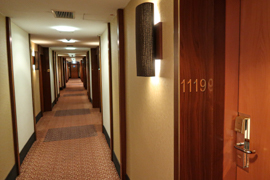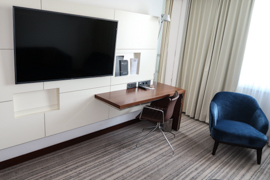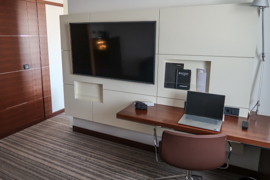 A lovely feature of the bathroom was to be able to raise and lower blinds in there – this mea that you had cathedral view (at least somehow) even from the bathtub, which I absolutely loved. Hyatt Regency Cologne does come with the best Cathedral view in Cologne – but this one is really close. There were a lot of amenities in the room as well. The room was absolutely amazing.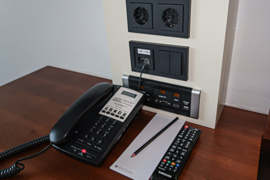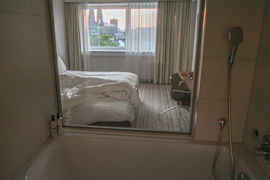 Pullman Cologne – Breakfast
The Pullman has a really good breakfast. The buffet as such might not look to be too large, but they have a nice selection and good quality. They even served dishes like Weißwurst (Bavarian boiled sausage), which is one of my favorite. I also liked the selection of healthy items. Additionally, there are treats like waffles and live cooking for egg dishes. On the negative side, the breakfast has been charged with 31 Euro nominal price. Later in the upgrade offer process, I received an offer to have breakfast for 20 Euro, which would have been an absolute bargain. Werid thing, by the way, that the process offered me something I already had paid for.
Pullman Cologne – Service
Below are some impressions of the really nice gym. There is also a spa and sauna area, which I did not manage to visit. Unfortunately, the 12th floor was closed for summer maintenance – it does not only feature a nice bar, but also one of the best views of Cologne Cathedral. Not that heartbreaking, as my room was just one floor below. The staff was very nice and attentive. However, despite there were rather few guests in line, I felt that both, check-in and check-out, took a bit too long. WiFi in the hotel worked excellently.
The hotel also runs a gym and spa area. I did not make to the spa with sauna during opening times, but the gym really looked nice and was also well maintained. Interesting that they even offer deodorant to the guests after a workout- I liked that proof of attention.
Pullman Cologne – My View
Despite you could see here and there that the hotel is not Cologne's latest one, it is still one of its best options. The reception was too slow, but the services and the location are nice. Having a room with Cathedral View has been a lovely experience. Loved it!
2023 Hotel Reviews
Here are all my hotel reviews published in 2023:
Travel Postings About Cologne
Here are all my travel postings related to Cologne: