Cologne Cathedral and a 25 meter high Christmas tree – these are the key ingredients, which turn the Christmas Market at Roncalli Square (Roncalliplatz) and Cologne Cathedral to the most visited one in Germany. I felt to skip this place with Flyctory.com, as it is massively crowded in most evenings and especially during the weekends. Fortunately, I found a good time to go for this review.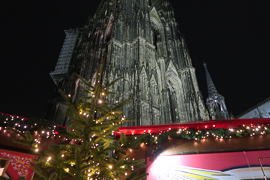 Roncalli Square Christmas Market – Location
Roncalli Square is right South of Cologne Cathedral. The square is adjacent to the Roman-German Museum as well. The connections of the Christmas market are excellent, as the place is right next to Cologne Main Station, which is linked to the German high-speed rail system. Furthermore, there is plenty of regional and local traffic, majorly rail. The banks of River Rhine are just a short walk away.
In 2019, Roncalli Square Christmas Market opened on Monday, 25th November 2019 and will close on 23rd December 2019. The daily opening times are 11:00 to 21:00 hrs. On Saturdays, the market already opens at 10:00hrs, while it closes at 22:00hrs Thursday to Saturday. Entrance is free.
Roncalli Square Christmas Market – Atmosphere
No discussion: especially if you enter the market from the Main Station side, the combination of the festive atmosphere of the stands and Cologne Cathedral, the icon of the city, is just unique and leads to a special atmosphere. During evenings and nighttime, the Cathedral is illuminated. The stores are small huts, all decorated with light.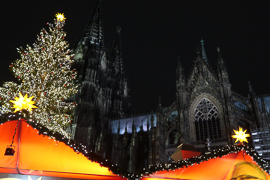 Another very atmospheric part of the market is the natural Christmas tree. The height is 25 meters. In addition, there is a carpet of lights above the heads of the visitors, which even adds the winter-romantic touch.
There are some additional elements and attractions, which add a lot of atmosphere. At the edge of the grounds, there is a steel manger, while there is a major stage quite at the center of the market. Next to it is a carousel and a children theater. You may also find Santa Claus in this area.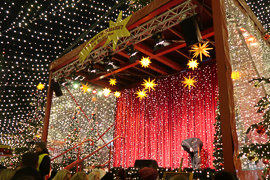 Roncalli Square Christmas Market – Food / Drink
Compared to other christmas markets, there is quite some variety of food. For example, there are a couple of Swiss stores, one of them is offering bread with melted cheese. There is also Bavarian and Alpine cusine. Medieval-touch food or Oriental one is comparably rare, though. On the liquid side, mulled wine is just the favorite – maybe on nearly any German Christmas market.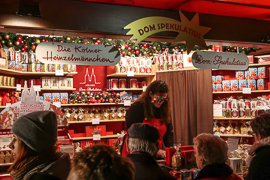 Roncalli Square Christmas Market – Products
Especially as Cologne is offering so many Christmas markets, I am always very happy to spot some rather unique products. For example, I liked the hand-painted sneakers or the handbags made out of used soccer balls and basketballs. Of course, you will be able to stock your Christmas decoration as well.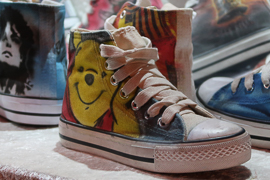 Roncalli Square Christmas Market – My View
Of course, this Christmas market is special and a signature place for the city of Cologne. On a day like the one I visited it at, just on the second day of opening 2019, it is just great and gives lovely winter wonderland atmosphere. You will likely not be as lucky as I am – masses of locals and tourist may give you a comparably worse experience, but nevertheless, if you are around Cologne at Christmas time, you may got for a walk and try to meet Santa there.
Flyctory.com about Christmas
Here are all Flyctory.com postings which deal with Christmas in any way:
Postings of the Greater Cologne Region
Here are postings which are dealing with the Greater Cologne and Rhineland region: