Especially after all the Covid-19 restrictions, my wife and I were really looking forward to two relaxing hours in a private spa. There are a couple of franchises nowadays, who offer that at least in major cities. After a couple of pandemic-related postponements, we finally made it to the outlet of MyWellness in Cologne. As I felt that could be an option for travelers as well, I hereby publish our experience on Flyctory.com.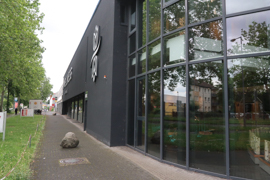 MyWellness Cologne – Location
The outlet of the private spa company is located in Cologne-Ehrenfeld. The borough is quite a popular and vibrant part of Cologne, MyWellness is however rather located on a remote site. You likely access it best by car, either from city center or by the motorway orbit, Köln-Bocklemünd exit. The parking lot looked like being at most just right in size – you might have to watch out for some parking around.
MyWellness Cologne – Pricing
The pricing for your stay at MyWellness depends on several factors: the major factor is of course the number of people and the quality of the spa suite you are booking. At least in Cologne, the typical suite is likely the Superior one (see below), which is 24 Euro per person and hour. The basic suite, Comfort, is 16 Euro per person and hour. On top of that, you can book packages of textiles (e.g. bathrobe, slippers, bath towel, sauna towel) and drinks and snacks. We had the 75 Euro Premium Package, which included six drinks, four snacks, two full texile packages and three wellness extras like peeling salt. Thus, a two stay with that package was 171 Euro. First-time visitors need to buy a check-in card for 3 Euro. The major suites can be booked with up to four people.
MyWellness Cologne – Our Visit (Superior Suite)
We were a bit too early for our stay. The suite was already ready and the staff was very attentive. We could select a first infusion for the sauna and then were guided to the suite. The whole area felt very clean and well organized. The functions of the room (apart from the sauna, which is pre-heated naturally) did only work from the booked point in time, but we could already make ourselves familiar with the suite and its facilities. The front area is the wardrobe, which you can use to change dresses. It also contains a touchscreen, which is used to control the room and its functions as well as to place orders.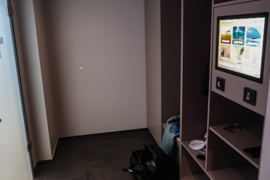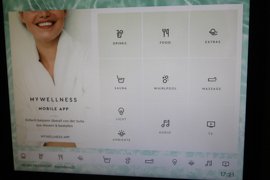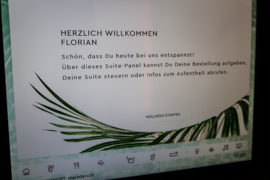 The spa was really beautiful. The two key features are a sauna and a comfortable whirlpool. The sauna can be set to different temperatures (but just changed once per hour) and also included an infrared sauna. There is also an alternative version of the Superior suite which comes with a steambath instead. Another nice features was the hydrojet massage area and the beautiful and cozy relaxed seating. The shower contained one section with a cold water shower and one normal one, which also had a "sunshower" functionality. There is also a TV set, if you want to watch some TV and you can listen to music. Bluetooth is available so that you are able to connect your own device. The suite also features WiFi.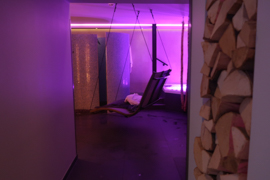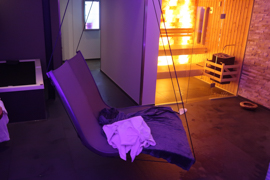 One really nice feature is that you can adjust the ambience and the light in the spa between different styles. The styles match the different infusions and aromas for the sauna, which I felt was a really nice idea. The bathroom right next to the wardrobe area was spacious and featured all you need during your stay. Like the whole suite, we had a really good impression regarding the hygienic standards and the cleanliness of the whole place. One thing which is very remarkable is that they manage to turn-around a suite within 15 minutes, i.e. fifteen minutes after a suite is left by a previous guest, they are already ready to open it for the following one (based on an employee I asked).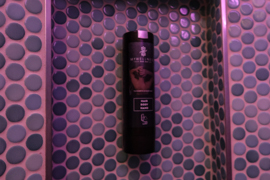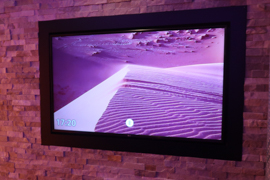 The Final Countdown…
Ten minutes before your stay is finishing, this is announced via the screen and loudspeakers. The light is always changing while announcements, which I felt is a really good idea. During the last five minutes, you are unable to place any kinds of orders.
MyWellness Cologne – Food / Services
The whole service was awesome. If you are not a first-timer, you can use a fully contactless check-in approach, but the staff was really helpful. They always wore masks, which gave a nice feeling of safety. If you have to wait for your suite, the lobby area is really beautiful.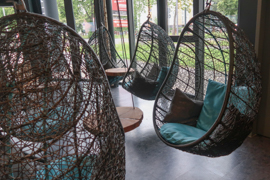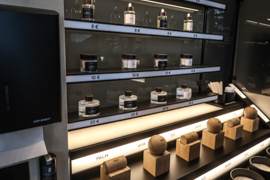 Great Ordering System
The touchscreen is allowing to place all your orders. The orders are put into a drawer, so that your whole time at the spa is contactless. After items have arrived, the drawer is illuminated and an automated announcement is made. On the drinks side, they also serve alcoholics like cocktails or prosecco. There are bowls (rather salad than rice/poke style), but also small pizzas, desserts like the chocolate cake below and also snacks like crisps. The pricing was really good. I mentioned above that our package included food and drinks. Any individual item of that kind up to eight Euro has been included, which lead to a wide selection (more or less anything apart from champagne).
What I really loved is that the package did not charge your first six drinks and four food items, but that you could actively choose whether you pay an item on your order or if you use the contingent. The quality of the food and the cocktails was really nice. Due to safety reasons, they of course used (nice) plastic cups and plates. The ordering system could also be used for different sauna infusion, scrubs and similar items. The service was amazingly fast – even the pizza did not take longer than five minutes.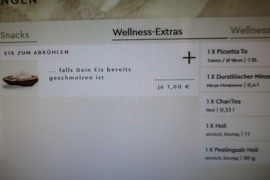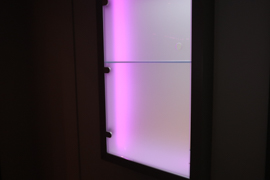 If you order the stuff without a package, the pricing is really reasonable. The bowls were 8 Euro, the pizzas 5 and the cocktails about five Euro as well.
MyWellness Cologne – My View
My wife and I have been really curious about this experience – and finally, we absolutely loved it. Yes, you pay some money, but you get a really good and well thought-through experience. If you like spas and need some relaxing time on your own or with your partner, I feel that the MyWellness spa suites are definitely a good option. We will definitely give them another visit!
Travel Postings About Cologne
Here are all my travel postings related to Cologne:
Luxury Hotels
Here are all my postings related to Luxury Hotels: