I love having some warm days and sunshine in the cold fall and winter season. For that reason, I love to fly to the Emirates. The flight is comparably short and the weather is amazingly reliable. In February, I had a prolonged weekend in Abu Dhabi staying in the Hilton Capital Grand Abu Dhabi hotel. Here is a review of the hotel.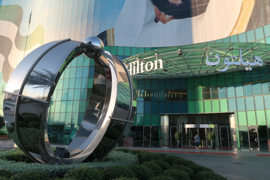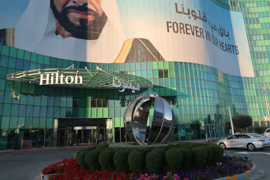 After writing this hotel, the hotel has been closed down. I am uncertain about the current state of the place. During my last visit to Abu Dhabi, it was just a closed, non-branded building.
Hilton Abu Dhabi – Location
The Hilton hotel is located East of the city center. The most close-by attractions are the Zayed Sports City complex and Al Bateen airport, which is just servicing general aviation.
I feel that the location is quite idea, as you are quite quick at Yas Island and also to Dubai, while on the other hand it is just a short drive to Corniche and city center if you dare the traffic jams. There is a Carrefour supermarket and a KFC fast food restaurant right across the street. From a few points, you can look to nearby Al Bateen (Executive) Airport.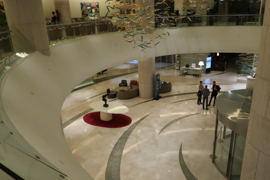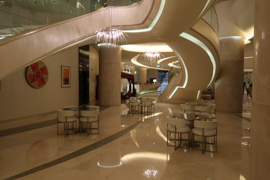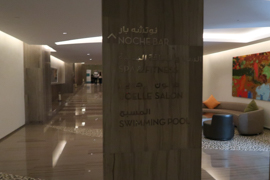 Hilton Abu Dhabi – Rooms
I booked a King Deluxe room with Pool View for a two-night rate of 803 AED, roughly 200 EUR, including all tax. My Hilton Honors Gold Status gave me an upgrade to a Superior Room. In addition, the room welcomed me with two complimentary bottles of water and a selection of fresh fruit.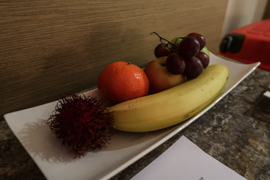 The room was very spacious. The working desk was a bit limited in space and also just had one power plug, which was that low above the table that I had to plug some adapters into each other to use it. The bed was very comfortable and there was a lot of storage space in the room. There were also complimentary coffee making facilities. However, I missed bathrobes and slippers.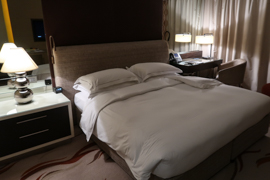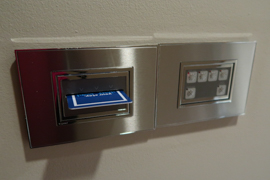 The bathroom was amazing. The bathtub, which was separate from the shower, was huge and the whole bathroom was very generous. All basic amenities were in the room. However, additional ones like shavers were not in room.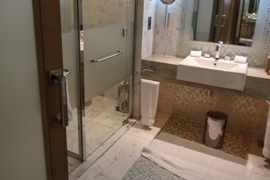 Hilton Abu Dhabi – Breakfast
The breakfast room, which is also used as a buffet restaurant, is a beauty. It is like a huge winter garden at one end of the building. The buffet is close to the entrance, while there are many seats close to the windows / glass front. I happened to have the same table both mornings. On the first day, it was sticky – on Saturday, it was even more sticky. Did not like that, obviously.
I felt that the selection of breakfast items was quite nice. However, it was also a bit boring to me. I cannot really you what made the difference, but, for example, I liked the buffet at Novotel Al Barsha in Dubai more. Nevertheless, you have a nice fusion buffet from noodles and Indian curries to croissants and oatmeal. Fruit and smoothies were stored in a large cooler. There was no egg station, but you could order some egg dishes at the waiters.
Hilton Abu Dhabi – Services
I liked the staff at Hilton Capital Grand Abu Dhabi during my stay. The reception staff was very kind and helpful as the concierge guys. The breakfast stuff was a bit over-organized in my view. Housekeeping was quite accurate as well though I first thought they forgot to service me as my room was done at 16:00hrs. What I did not like is that the housekeeping guy was ringing at my door asking if everything was fine – but in fact wanted to have a positive comment on his work.
In addition to the buffet restaurant, the hotel offers a small cafe on the first floor, a grill restaurant and another dining option. There is also a bar-alike facility close to the pool and a nightclub, which feels to be quite popular.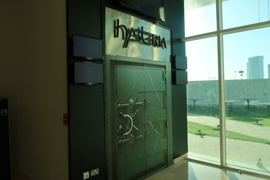 The pool area is amazing. The pool is not straight and it is described to be 25 meters long. During my stay, I mostly used the pool on my own with some people sunbathing. You can also order food and drinks from the nearby bar. There is no complimentary water which is served to you poolside, like I enjoyed it in other Emirates locations.
The hotel also features a spa with fitness area. The spa pictures look very nice as well as the fitness ones. However, I did not manage to visit these places. I did, however, visit the cozy Executive Lounge, which also has a nice pool view.
On the first floor, there is an all-you-need vending machine, selling from travel accessories to items boosting your erectile powers, when necessary.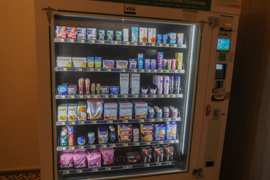 Hilton Abu Dhabi – My View
The hotel had quite mixed reviews in the past. I had a very good stay in it, though, and cannot fully reconcile it. The location is quite ideal to me, as it is close to the center, but still sufficiently away that you do not catch any traffic jam. The proximity to Al Bateen may also be quite attractive for some of you. Somehow, I did not fully fell in love to the breakfast and felt some minor lacks in service. Thus, I rate my stay with very good four stars.
Hilton Hotels – More Reviews
Here are all my reviews of Hilton Hotels:
United Arab Emirates – More Postings
Here are all posting of related to the United Arab Emirates: