Going to Frankfurt by rail after work, watching a concert there and taking an early morning train back to Cologne, where my employer is based – this schedule for a July 2022 one-night stay in the German financial center felt ideal to check out one of only two easyHotels in Germany. The brand (which belongs to the same group as easyJet) is having a concept of very low budget accommodation. I haven't covered that many similar locations so far – the more I looked forward whether I liked the easyHotel Frankfurt City Centre or not.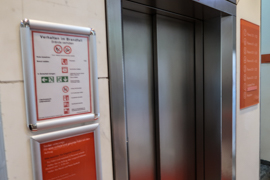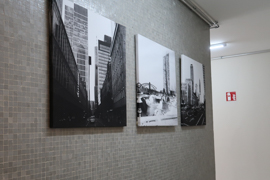 easyHotel Frankfurt City Centre – Location
The hotel is located right North of Frankfurt Main Station. The area East of the station is likely even "worse", but as I already described in other reviews of that area, e.g. the Hilton Garden Inn Frankfurt City Centre, it is the key drug hotspot of the city. On the other hand, it is not really unsafe there and you have a lot of restaurants and shops, so that you cannot deny a certain level of convenience.
Trams are running right in front of the hotel and you are at the station with local, national and even international connections (e.g. Amsterdam, Brussels or Paris) in less than five minutes.
easyHotel Frankfurt City Centre – Room
I went for a Business Room for one night in July 2022. The rate was 54 EUR. You have to pay at the time of booking, but the rate was refundable up to two days before arrival. The room was really spacious. The design is simple, but efficient. There were just three power plugs in the living area, though, two at one side of the bed (plus 2 USB ones) and one at the large mirror. I do miss a table or work desk in the rooms general design, though. Especially when you are on a city trip, the room likely got all you need. The room did not feel cheap at all and I had a really nice sleep.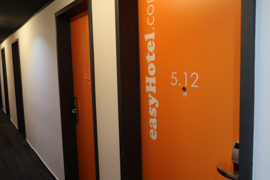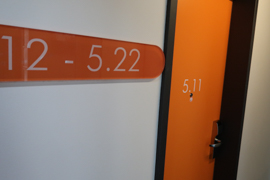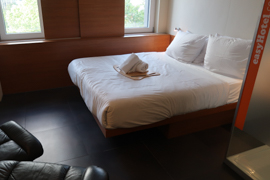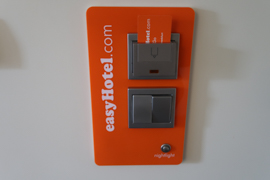 The bathroom is integrated into the room. The shower was actually really nice. It might look a bit narrow, but it was absolutely okay, even with my body size. I had a bit of issues with the narrow toilet, though. Towels were provided as well as soap / shower gel via dispensers.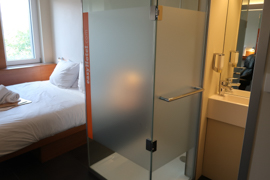 easyHotel Frankfurt City Centre – Food
One of the concepts of easyHotel is that there is no breakfast or similar food. Due to the hotel's location, the lack of a restaurant is not that much of an issue. Frankfurt Main Station is offering some options for breakfast.
easyHotel Frankfurt City Centre – Service
Check-in was very efficient and friendly. You can book some extra services like better WiFI for an additional charge. I might have opted for that in case I had a lot of pictures to process or feel like streaming a lot of stuff – but for ordinary things, the WiFi is fine. Luggage storage is also charged. The hotel used to have vending machines, but they are not operating any more.
easyHotel Frankfurt City Centre – My View
I wouldn't opt for the easyHotel for a business trip or a photo trip – but for a short stay, it is actually a really nice option. The organisation and reception is nice, the room is larger than I expected and the location is amazing (if you can ignore the drug and red light district around). Due to the "special spirit" of Frankfurt Main Station area, you may find similarly priced options with better service around, though.
Frankfurt a.M. Travel Postings
Here are all my travel postings related to Frankfurt a.M.:
Postings about Concerts
All postings about concerts I visited: