The first "real" night of my Four Countries, Four Trains trip to Italy in summer 2020 lead me to Milan. As a Hilton Hotel Group addict, I of course went for the Hilton Milan – especially as the rates were very competitive (in order to avoid to say: ridiculouosly low) and the location ideally suited my travel plans. Here are my thoughts about my first night in Milan since quite a bunch of years.
Hilton Milan – Location
The hotel is located right next to the train station – if you leave Milan Centrale to the left from the main entrance, you more or less already see the Hilton building at Via Luigi Galvani. Overall, the walk will take you less than five minutes.
The area is very handy for travelers. Milan Centrale offers a metro connection as well, the same block as the Hilton features an Europcar car rental office and an Aldi discount supermarket. I had a lovely pizza in a bar right behind the hotel – but there are sufficient other options around. You may also use the tram system to get around.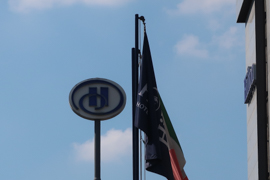 Hilton Milan – Rooms
I booked a Queen Room in the Dream Away rate, which you may cancel up to one day before arrival. The rate was roughly 100 Euro. As a Hilton Diamond member, I received a nice upgrade. The sealed room was really nice and spacious – maybe a bit on the traditional side, but a lovely size, a great work desk and nice features like the two additional chairs. The room, of course, featured coffee / tea making facilities.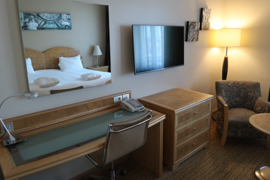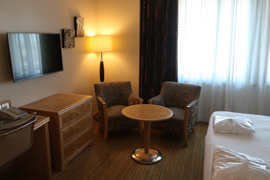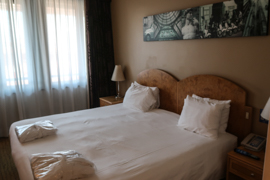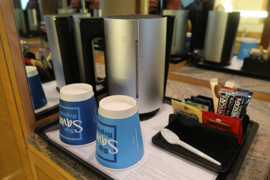 The bathtub bathroom was absolutely fine as well. No surprise – neither on the positive nor on the negative side. I liked that the hotel provided additional disinfection wipes.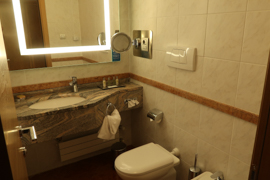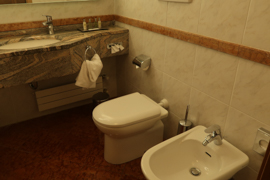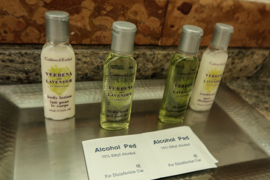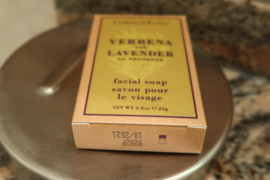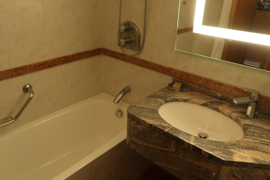 Hilton Milan – Breakfast / Food
Due to my Hilton Honors status, breakfast was automatically included in my rate. The hotel offered a breakfast buffet – but due to the strict hygienic rules in Italy at that time, you told the waiter what you like and he brought it to your table. This worked extremely well. There was also a hot menu (by QR code), including egg dishes, waffles and other delicacies. Even though the breakfast staff partially just was limited in English, this system worked very well – the staff was super-welcoming and friendly as well. Thus, I really had a lovely breakfast experience.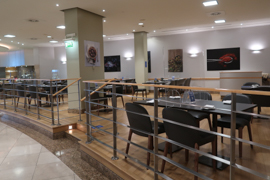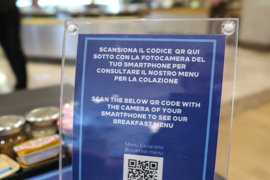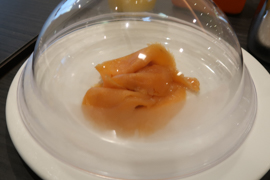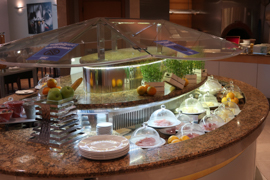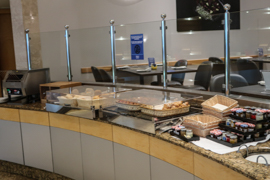 As the Executive Lounge was closed due to Covid-19, I had been provided with a two drink voucher for the lovely hotel bar in the lobby. I was really surprised when I ordered a Sprite and some water that I in fact received a large bottle of water.  Even more lovely, they also provided me with a lovely snack dish with pizza-alike snack, some warm pasta and a salad. They even offered me a refill of that – but as I just had a pizza right before, I thankfully declined. Lovely food and a nice gesture.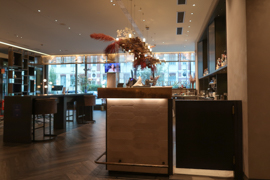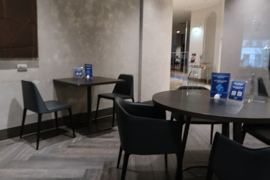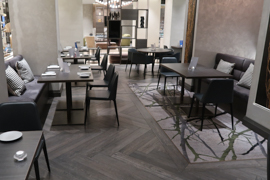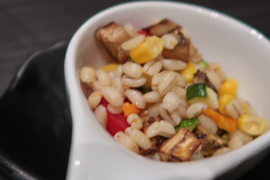 Hilton Milan – Services
I felt very welcome in the hotel. A day before I arrived, I already received a mail with all relevant Corona information, including special hygienic measures. The person who sent me that mail happened to be my check-in receptionist. She was absolutely lovely and spoke perfect English. Apart from breakfast, where it was still absolutely sufficient, I was amazed by the high level of English spoken in the hotel. I always felt very welcome and was treated super-friendly.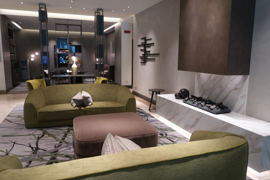 The hotel offers a gym, which was in operation during my visit. Unfortunately, I simply forgot to take a look into it.
Hilton Milan – My View
I have been really lucky to spot that rate (few weeks later, when I looked for another stay in Milan, the rate almost doubled) – but even if you pay a bit more, you receive a very well driven hotel with great staff and the level of comfort you would expect from a Hilton (maybe even rather more). I absolutely loved that stay – and after having almost eight hours in the ECE 451 before, this was a great opportunity to relax.
Flyctory.com about Italy
Here are all postings related to Italy:
Hilton Hotels – More Reviews
Here are all my reviews of Hilton Hotels: