What has started as Stuttgart 21 – the refurbishing of Stuttgart Main Station including changing the main travel direction and putting the operations below the ground – is currently estimated to be finished around 2025. So long, the situation around the train station is chaotic – especially if you want to transfer from regional to long-distance transport, add some buffer to your travel plans. Nonetheless, German Rail Deutsche Bahn manages to operate a temporary DB Lounge for their premium customers. During my recent trip to the city, I felt to share my impressions with you.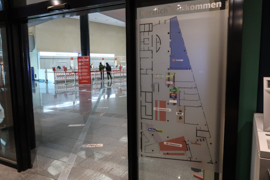 DB Lounge Stuttgart – Location and Access
As the Reisezentrum, the traveler center, where you may also buy tickets, the temporary DB Lounge is located in a building West of the "traditional" terminal station tracks. As far as I understood, it belongs to the LBBW, which is a state-owned bank of the State of Baden-Wuerttemberg. The lounge is located in the rear of the Reisezentrum, there are signs to it. As said above, especially if you connect from the Underground or the S-Bahn commuter trains, it may take you up to ten minutes from leaving the train to reaching the lounge. Long-distance and major regional connections can be reached in a few minutes, though.
At my time of visit, the DB Lounge at Stuttgart Main Station was opening Monday to Friday, 6:00 to 22:00 hrs and 7:00 to 21:00 hrs on Saturdays, Sundays and public holidays. As in all DB Lounges, you may enter either as a first class guest with a flexible ticket (no ticket which has a fixed train booking) or as being one of their bahn.comfort frequent travelers. If you are "flying" on a Lufthansa Express Rail Service (which is in fact a section of the ICE high speed train), you may either use the lounge with a First or Business Class ticket or as a HON Circle or Senator status member, presenting the boarding pass for your trip. There is no Premium Area for First Class travelers in Stuttgart.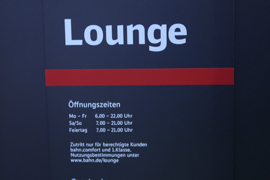 DB Lounge Stuttgart – Atmosphere
Despite the room the German Rail service is using has not been built to operate as a DB Lounge, they really created a cozy design. This is even valid under Covid-19 conditions, where some capacity has to be reduced. There are different kinds of seating areas, from bistro / restaurant style seats to barstool seating at work desks. The rear part of the lounge features some relaxing armchair-alike options.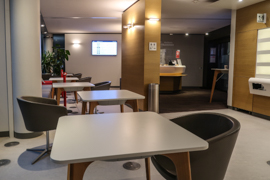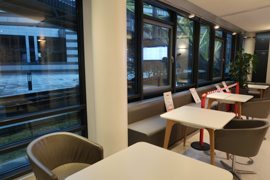 There were some magazines close to the reception during my visit. One special characteristic about this temporary solution is that the toilets for the lounge are in fact outside the lounge, across the aisle. A key code ensures that only lounge visitors and staff are able to use the toilet.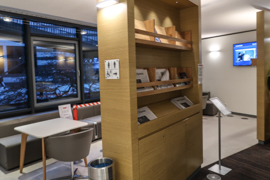 DB Lounge Stuttgart – Food & Drink
As in all German rail lounges without a Premium area, the DB Lounge Stuttgart only serves drinks, there is no food. It felt to be tolerated to bring food with you, though. There is a selection of hot and cold beverages, which is indeed a nice way to refresh before a trip.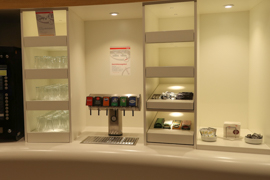 DB Lounge Stuttgart – My View
Of course, the lounge is finally not as nice as other DB lounges, e.g. the DB Lounge Frankfurt Airport. It is also too small. During peak times, it will be packed and you might not get access at all. Nonetheless, I am grateful for that temporary solution. Especially with all the chaos around Stuttgart Main Station, I appreciate a place like this even more than in other locations. The friendly staff added a lot to a good stay in the lounge.
Lounge Reviews on Flyctory.com
Here are all Lounge Reviews on Flyctory.com:
Rail Station Hotel Reviews
Here are hotel reviews of places which are close to a main long-distance rail station: